Tea drinking is an old practice with a rich history brewed in tradition. Retailers all over the world are enhancing the experience by providing delicious teas served within their retail shops. In this article, we will list the best tea houses worldwide to help you know where to enjoy your cup of tea while traveling or while on vacation.
Our Best Tea House Review
Samovar Tea Bar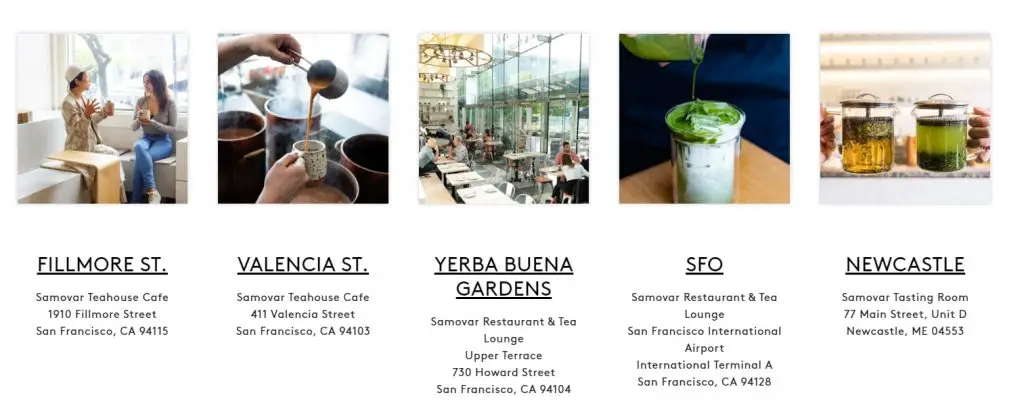 Samovar boasts of five locations in San Francisco and one in Newcastle. Its Newcastle location offers a great chance to taste a variety of tea flavors ranging from chai to green tea, black to white tea. While at the location, you will also get an opportunity to learn about what makes each tea different, how to steep delicious teas, and how to taste tea.
Teaware and tea are also available for purchase to allow you to take the experience to your workplace, business, or home. However, you will first need to sign up for Samovar tea tasting for a selection of either afternoon or morning teas. The tickets are offered free of charge so you don't have to worry about paying any money.
The brand's tea favorites include Ryokucha, which features notes of popcorn, buttered toast, steamed kale, and cut grass. Their Green Ecstasy has notes of grey salt, cut grass, and roasted shishito peppers.
If you like Samovar's seasonal teas, you can try Velvet Cacao tea. This has roasted and chocolate flavors. Their Turmeric Spice tea has an infusion of licorice, ginger, turmeric, and lemongrass.
The company also hosts private events at its tea lounges in San Francisco. Additionally, they offer options for outdoor, indoor, or both as well as fully-private or semi-private use with healthy dining options that take care of all dietary requirements.
Boba Guys
Boba Guys was started in 2013 by two friends, Andrew and Bin after their favorite Boba shop was closed down. The brand's mission is to use the finest ingredients when making their teas, be transparent in their business, and source responsibly.
The brand offers onsite service in some locations. It also has two other locations in New York and Los Angeles. The Boba Guys team serves their best quality drinks in branded cups using freshly made boba.
Moreover, their "bobarista" service includes assembly time in advance before an event can begin. It also includes up to one hour of interacting with your guests.
For smaller gatherings of less than 120 drinks, Boba Guys provide an in-store pickup service. You place your order and pick up from their select store locations. For larger events, you will have to contact them first to give them time to make proper arrangements.
If you need a delicious energy kick, it will be worth trying their Classic Black Tea Latte. It's made using their high-quality loose leaf tea, homemade syrup, and organic milk. No preservatives or powders are added and it is only brewed in their San Francisco location.
Tea Studio 278
Tea Studio 278 was founded in 2012 in Bar Harbor, Maine. The company began by selling tea bags and eventually migrated to gourmet tea bags before discovering full loose leaf teas. Currently, the brand is located in Colorado. It has transitioned into a beautiful tea garden to allow tea enthusiasts to enjoy their exceptional tea and service.
At the garden, you will find sweet teas and accessories. They also have new teas discovered by Marti Mayne, founder, during his frequent trips to source tea in China. The venue is appointment-based. You can be given individual attention when it comes to tasting, selecting, and enjoying the flavors of different teas.
You will also be guided on how to select the teas, brewing methods that will bring out aromatic flavors of each tea, and how to use your preferred teaware. Tea Studio 278 sources its tea from small organic tea plantations that have been cultivated over the years by the same families. The tea is handpicked and manufactured using traditional methods.
Happy Earth Tea
Happy Earth Tea is a family run business that was founded in 2011 and is located in Rochester, NY. The company provides fresh and quality organic teas. It only works directly with tea farms that are organic certified. It also visits farmers to check on the teas, choose the best quality, and taste teas.
The brand also offers tea classes. You can learn the best ways to prepare teas, different varieties of teas such as matcha, puerh and oolong, and discover their origins. During the class, you will also learn how to brew tea using Chinese traditional methods and how to determine the quality of tea.
The classes are held once each month to help you deepen your knowledge of tea. However, you will have to reserve a seat in advance. Happy Earth Tea also contributes annually 1% of its sales to a non-profit organization, Finger Lakes Land Trust, to preserve the natural heritage of the Lakes region.
Plain of Six Glaciers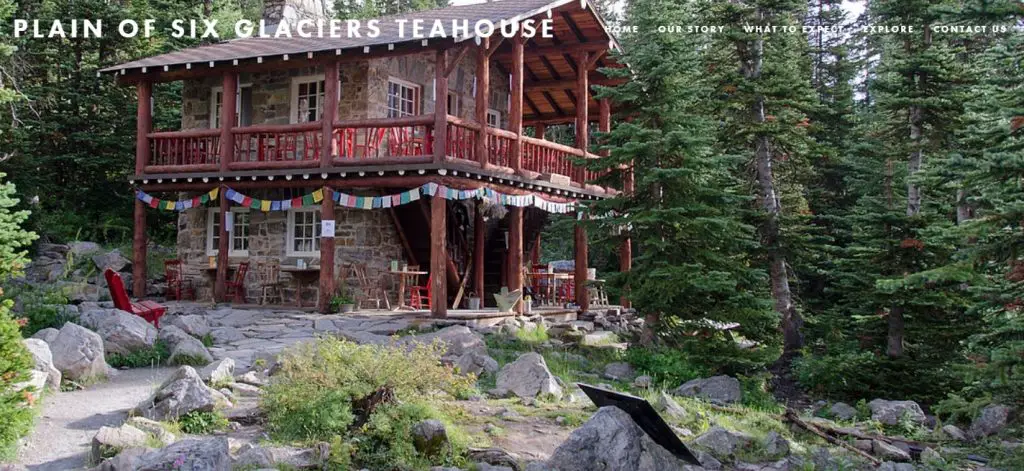 Plain of Six Glaciers tea house is only accessible by horseback or a four-mile hike up the mountains. It is located in Banff National Park and rests above Lake Louise at 7,000 feet. The tea house provides breathtaking views of the nearby mountains.
You will also have a wilderness experience while visiting the Plain of Six Glaciers. The tea house does not have running water or electricity. The tea house offers tea, light lunches, and homemade pastries prepared on propane stoves.
If you are planning to visit the tea house, remember to carry cash with you. There is no electricity to process other methods of payments.
The Random Tea Room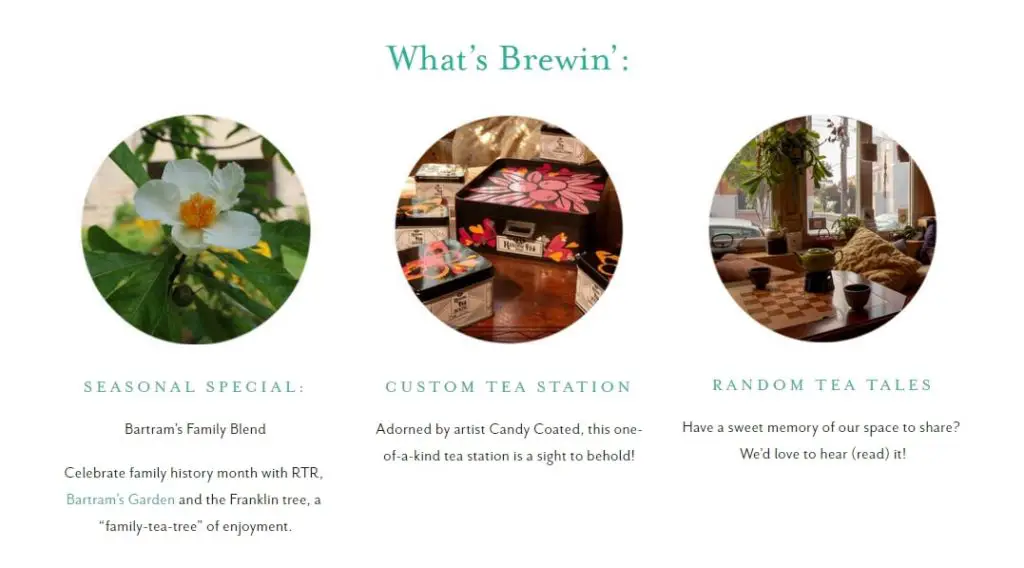 If you are looking for a place that offers a diverse sensory selection, then The Random Tea Room is ideal for you. You can also shop for furniture while at this tea house. The owner likes changing the furniture occasionally in the outdoor and indoor space.
Tea drinkers can enjoy some of the blended herbal infusions and loose leaf teas as well as the 40 artisan teas on offer. Favorites at the Philadelphia tea house include gluten-free cakes and organic Simmer Down prepared using passionflower, lemon balm, peppermint, chamomile, and lavender.
The brand also values wellness and offers different massage techniques such as Swedish, sports injury, and deep tissue massage through their certified therapists. The Random Tea Room also provides monthly herb and tea subscriptions. You can continue enjoying expertly curated herb and tea blends no matter your location.
The tea house refillable tea station program is equipped with six refillable tea containers, steeping bags, instructions for brewing tea, and measure tea scoop packed in an attractive footprint tea station. The station is perfect for caterers, businesses, and co-working spaces.
Rx Tea Time
Rx Tea Time provides a variety of healthy teas to heal and refresh your soul and mind. The tea house is located in Cheyenne and is modeled after the Victorian era. Visitors are required to reserve a setting for tea time, pick a cup of tea, and enjoy it with scones. The company offers four tea settings which include:
Cream Tea – You will enjoy scones with Devonshire cream, fresh fruit, jam, lemon curd, and served with a cup of tea.
Garden or Princess Tea – Rx Tea Time Princess Tea includes what the Cream Tea setting offers. The only addition is the sweets. Their Garden Tea substitutes the sweets with fresh garden salad since it is a healthier version.
 Afternoon Time – The setting includes a teacup that is served in courses, sorbet, assorted tea sandwiches, fresh fruit, lemon curd, sweets, jams, and scones with Devonshire cream.
Royal Tea Setting – The tea is made for royalty.
Reservations are required to help the company prepare your food and set your table to ensure you enjoy the best Victorian Tea experience. Rx Tea Time provides a wide selection of teas with respective caffeine content, antioxidant levels, and health benefits.
Proper Tea
Proper Tea is a modern tea house with a twist on the traditional due to its cheery setting, white furniture, and tall windows. It's located at the Manchester Cathedral. This quiet garden setting makes it the ideal spot to sit down and enjoy a cup of tea away from the busy city.
The menu includes cakes, cream teas, afternoon teas as well as sandwiches, soups, and stews. Loose-leaf teas include Jasmine Flower tea, green mulberry, whole rosebuds, and peppermint super grade.
Other attraction sites you can visit while at the Manchester Cathedral include the Royal Exchange Theatre and the historic Shambles Square.
Tranquil Tea Lounge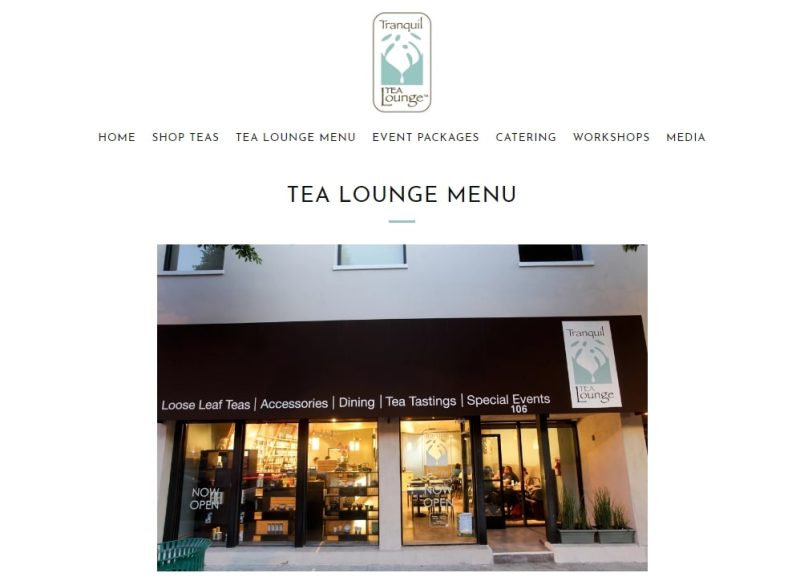 Tranquil Tea Lounge is located in Fullerton, California. The lounge is an award-winning retail store, event venue, and modern urban restaurant. Its extensive menu of more than 75 loose leaf tea varieties is ideal for novice tea drinkers and tea aficionados alike. The lounge also offers gift box sets and handles to-go and table service orders.
Tranquil Tea Lounge also provides five catering options for people holding special meetings or events. The lounge is perfect for business meetings, birthday celebrations, baby showers, and bridal showers. Their private event room can seat up to 14 guests, tea lounge 40 guests, and their main dining room can accommodate up to 28 guests.
Yumchaa Tea House
Yumchaa is driven by the desire to make delicious teas. The London-based tea house only curates high-quality loose leaf teas as it firmly believes in the no-teabag policy. The brand provides a selection of fruit, white, black, oolong, and green teas that are blended with complementary flavors and teas to make the most mouth-watering teas.
The company also has a tea school. You can learn how to brew different types of teas as well as caffeine level, taste, and color of the teas. Yumchaa has also partnered with Aviator Coffee to provide quality roasted coffee to coffee lovers.
Perchs Tea Room
Perchs was built in 1835, making it one of the oldest tea houses worldwide. The tea house has locations in Copenhagen, Oslo, and Aarhus. It specializes in evening tea and offers over 150 quality teas from different parts of the world. The brand also provides Champagne, scones, sandwiches, cakes, and lunchtime meals. 
You can also make reservations if you intend to celebrate special events. Perchs has a delicate menu that focuses on the flavors of their teas. They complement the sweets, sandwiches, and scones served with the tea. The company does not serve coffee, however they do serve alcoholic drinks.
The Well Group (TWG) Tea
Built in 1837, the TWG Tea is another old tea house with many locations all over the world including Asia Pacific, Europe, the Middle East and North America. It offers a collection of quality teas sourced from different parts of the world.   
The high-end tea house offers tea lovers a fine collection of exclusive blends and harvest teas served with handmade pastries and tea-infused delicacies in a luxurious setting. TWG Tea provides a variety of loose leaf teas, tea bags, and gift sets.
DavidsTea
DavidsTea has more than 230 shops in the US and Canada to provide a welcoming and fun tea experience. With the biggest collection of infusions and organic teas, the company brews more than 100 teas. You can choose from flavored and pure matcha, exclusive blends, traditional teas, and seasonal collections.
If you are searching for a sweet treat, try their classic black tea with a vanilla-laced spin. Or, try premium teas like Ceremonial Matcha if you want something traditional. DavidsTea also offers beginners a guide to different types of loose leaf teas, steeping methods, and health benefits of drinking tea.
Conclusion
The tea houses featured on our list are among the best in the world as they offer quality teas sourced across the world. Thus, try any of them if you are looking for a place to unwind while you enjoy your favorite cup of tea.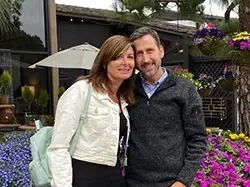 Scott is the founder of TeaMinded. He enjoys tasting and discovering teas from across the globe, with green teas and ceremonial matcha from Japan being among his favorites. He's grateful to be immersed in the tea community, always learning and sharing along the journey.