If you buy something through a link in our posts, we may get a small share of the sale.
Last Updated on May 28, 2022 by Scott
Even though there are a multitude of different tea names and flavors on the market, there are only four "true teas;" black tea, green tea, white tea, and oolong tea. These are all made from the same strain of plant, the Camellia sinensis. Most other teas that we see and drink on a regular basis are based on leaves of that plant, and jasmine tea is no exception.
Jasmine tea is created by adding an infusion of jasmine blossoms, either with a process called "scenting" or by adding extracted oils to a true tea. The true tea used is traditionally green tea, but black, white, or oolong may also be used. Herbal teas are very rarely used as a base. Even though teas from green to oolong may be the primary ingredient, the overwhelming scent of jasmine blossoms causes the final product to normally be categorized as simply "jasmine tea."
In addition to the scent of jasmine and the base tea, other spices, extracts, flowers, or other ingredients may be included to add depth, as well as richness, to the flavor and aroma. 
The primary tea used to create jasmine tea can provide specific health benefits, but jasmine itself has its own upside as well. Typically known for its calming benefits, breathing jasmine flower has been shown to be an effective sedative and anxiety reducer.
Top Jasmine Tea Reviews
As with most teas, the best jasmine teas will come as full-leaf teas. Most of the best brands of jasmine tea will arrive in a "pearl" arrangement. These are small, hand-rolled balls of tea that expand when placed in hot water. Be sure when purchasing any pearl teas that the infuser, bag, or pot they are steeped in have enough room for the leaves to expand, they do so even more fully than other loose leaf teas.
Brand
Best Overall
Rishi Tea Organic Jasmine Pearl Loose Leaf Tea
Best for the Money
Tea Forte Organic Green Jasmine Tea
Best Cheap Pick
Taylors of Harrogate Green Tea with Jasmine
Product



Origin
Chinese tea leaves blended and packed in the UK
Best Overall
Brand
Rishi Tea Organic Jasmine Pearl Loose Leaf Tea
Product

Best for the Money
Brand
Tea Forte Organic Green Jasmine Tea
Product

Best Cheap Pick
Brand
Taylors of Harrogate Green Tea with Jasmine
Product

Origin
Chinese tea leaves blended and packed in the UK
Best Overall Jasmine Tea: Rishi Tea Organic Jasmine Pearl Loose Leaf Tea
The Rishi Tea brand focuses on providing quality teas as a Direct Trade importer, and Rishi Tea Organic Jasmine Pearl is no exception. While the title states that this is loose leaf tea, it is in fact hand-rolled green tea buds that were harvested in spring.
Tea details:
Loose Leaf or Tea Bags: Loose Leaf Pearls
Amount: 3 Ounces
Country of Origin: China
True Tea Base: Green Tea
Organic: Organic Green Tea scented with Jasmine, EU-Compliant
Packaging: Metal Tin
A blend of savory Fuding and sweet Yunnan tea buds, the Rishi jasmine tea base of green tea leaves are harvested in the springtime from March to April. Springtime tea leaves are known to be delicate with a load of umami flavor, making them pair perfectly with sweetly fragranced jasmine.
This tea is scented in the traditional manner when jasmine blossoms bloom in late summer. Jasmine blossoms are picked during the day when they are closed, then placed on top of green tea leaves that are laid out on tables. In the evening, the jasmine blossoms open, and the scent is naturally infused into the tea leaves overnight
Rishi Tea Loose Leaf Herbal Tea, Makes 40 Cups,...
JASMINE PEARL GREEN TASTING NOTES - Tender tea leaves, hand-rolled and deeply infused with the sweet...
SAVOR & ENJOY - Mix 1.5 tbsp, 12 oz water in a teapot. 1st infusion, Steep for 3 minutes at 180...
GOOD FOR YOUR HEALTH - USDA Organic, Non-GMO, and grown without the use of agrochemicals like...
Rishi Tea is very transparent in the way they define the organic nature of their teas. Jasmine blossoms on a commercial scale are not able to be viably grown without the use of pesticides, so even though the effect of jasmine on the tea is purely aromatic, they feel it is more responsible to not define the product as compliant enough with the rules to be classified as USDA organic.
Jasmine pearl tea produced in the classic way is not officially organic by USDA regulations, due to its high level of contact with jasmine blossoms. Rishi jasmine pearl tea can go through 9-12 rounds of scenting vs. 3-4 rounds for a standard loose leaf tea.
They are, however, 100% in step with the EU-Compliant Conventional, the most stringent set of regulatory limits on pesticide residues. The base green tea for their jasmine pearl tea is still certified USDA organic. We have no problem endorsing this tea as our number-one choice even though it does not officially fall under the realm of organic in the United States.
Best Jasmine Tea for the Money: Tea Forte Organic Green Jasmine Tea
Tea Forte has long been known for their high quality blended teas, but they also distribute excellent true teas and scented teas like Tea Forte Jasmine Green.
Tea details:
Loose Leaf or Tea Bags: Loose Leaf
Amount: 3.53 Ounces
Country of Origin: China
True Tea Base: Green Tea
Organic: USDA Organic
Packaging: Metal Tin
The base tea of this jasmine tea is green tea from China's Fujian region. This is a Chung Hao loose leaf tea, displaying silver tips at the ends of the tea leaves. Chung Hao style jasmine tea is very light and refreshing with a flavor that Tea Forte describes as "vegetal, mild and even slightly sweet or nutty." The scent is dominated by a strong jasmine fragrance with a candy sweet finish.
The Tea Forte Organic Jasmine Green Tea is very easy to over-extract, so be sure to follow the instructions regarding temperature and time. The official recommendation is to steep in water that is 175F (80C) for 2-4 minutes. The tea is a standard loose-leaf so there is no need to add the extra steeping time that jasmine pearls require.
Tea Forte Organic Green Tea, Makes 35-50 Cups,...
ORGANIC GREEN TEA in our reusable and recyclable tea tin, each canister makes approximately 35 - 50...
JASMINE TEA pair superbly with salty and spicy foods, complementing without overpowering, our...
HANDCRAFTED BLENDS begin with uncommon, limited in availability loose full-leaf tea leaves,...
While the flavor and scent are not as strong as the overall choice of Rishi Jasmine Tea, this Tea Forte jasmine tea is certified organic due to loose leaves not having as much time in contact with jasmine blossoms as opposed to tightly woven pearl teas. All Tea Forte organic teas meet both USDA Organic and EU compliance standards. In addition, their jasmine green tea and many of their other teas are Kosher Certified.
All of Tea Forte's products are GMO free. This includes not only their wide selection of teas and tea blends, but also their patented pyramid infusers (used with other teas) and natural flavorings they add in other blends. They are also Fair Trade Certified and promote fair wages, safe working conditions, and no child labor in the farms that they source their teas from.
Best Cheap Jasmine Tea: Taylors of Harrogate Green Tea with Jasmine
While tea bags are not the recommended means to make jasmine tea, sometimes it makes sense to spend a little less money to see if you like the idea of the flavor. For the price, Taylors of Harrogate Jasmine Green Tea is a great entry-level choice as an introduction to jasmine tea.
Tea details:
Loose Leaf or Tea Bags: Tea Bags
Amount: 50 Tea bags
Country of Origin: Chinese tea leaves blended and packed in the UK
True Tea Base: Green Tea
Organic: 100% Natural Ingredients
Packaging: Box
Although these tea bags may not have full leaf tea within them, they are made on the same scenting tables that many other loose leaf teas are sourced from. The main difference is that full leaves are packaged for loose leaf producers, and the broken leaves are used to fill tea bags such as these.
Steeping instructions that are printed on the box follow the standard recommendations for green jasmine tea, but simplified.
Boil fresh water and leave to cool for a minute (this should reduce the temperature to within 175F-185F, or by their calculations 90C)
Use one teabag per person
Infuse for 1-2 minutes.
Enjoy just as it is.
Taylors of Harrogate is an independent family company with roots all the way back to 1886. With over a century of experience in sourcing and tea making, their products are extremely consistent and often show a higher quality than you would expect for the price.
Sale
The company is based in the Yorkshire region of the UK and imports all their teas for blending and packing. They are concerned with challenges to the global food chain and are committed to making a difference with both tea growers and buyers.
Best Loose Leaf Jasmine Tea: Numi Organic Tea Jasmine Green
As one of the most respected tea companies in the world Numi has made a name for itself with its fair trade practices and commitment to organic and non-GMO products. Numi Organic Jasmine Green Tea reflects well on the company with a pure and natural background and fantastic flavor.
Tea details:
Loose Leaf or Tea Bags: Loose Leaf
Amount: 16 Ounces
Country of Origin: China
True Tea Base: Green Tea
Organic: USDA Certified Organic
Packaging: Resealable Pouch
Going back to pure loose leaf teas, Numi's jasmine tea is full leaf with no tea dust or fannings. These large, full green tea leaves, harvested in China's Hunan Province, maintain their flavor and scent much better than tea bags, but not quite as well as loose leaf pearls. This region is especially known for very fragrant tea leaves.
Numi Organic Tea Jasmine Green, 16 Ounce Pouch,...
JASMINE GREEN TEA: Fragrant organic jasmine flowers are laid atop organic green tea leaves as their...
BRIGHT, FRESH GREEN TEA: Whether you're looking for jasmine tea, gunpowder green tea, or matcha...
LOOSE-LEAF TEA: Numi's organic full-leaf quality teas come in convenient, resealable pouches to keep...
This jasmine green tea goes through the traditional scenting process with freshly picked organic jasmine flowers being laid over the top of the leaves overnight and then repeated. The process lasts through three scentings, imbuing the tea leaves with a wonderfully fragrant jasmine aroma.
Brewing instructions are not listed on the package. The Amazon page recommends to "Steep 1 heaping tsp. tea in 12 oz. hot water for 2 minutes." Since green tea is the base of this tea, we would recommend that hot water temperature to be between 160F – 180F (71C – 82C).
Jasmine Tea Facts
History of Jasmine Tea
Using jasmine flowers to scent tea is a process that has been used since around the fifth century, but jasmine tea was not considered popular until tea began being exported from China to the West in the 1800's. It was one of the first flavored teas to spread to the Western World.

The jasmine plant is native to different tropical and temperate areas of the old world, but many of the earliest records note their use in Iran (formerly Persia) and western China. It is currently cultivated. There are around 200 different species of jasmine, but Jasminum officinale (common jasmine) and Jasminum sambac (or Sampaguita) are the two primary species used for making jasmine tea.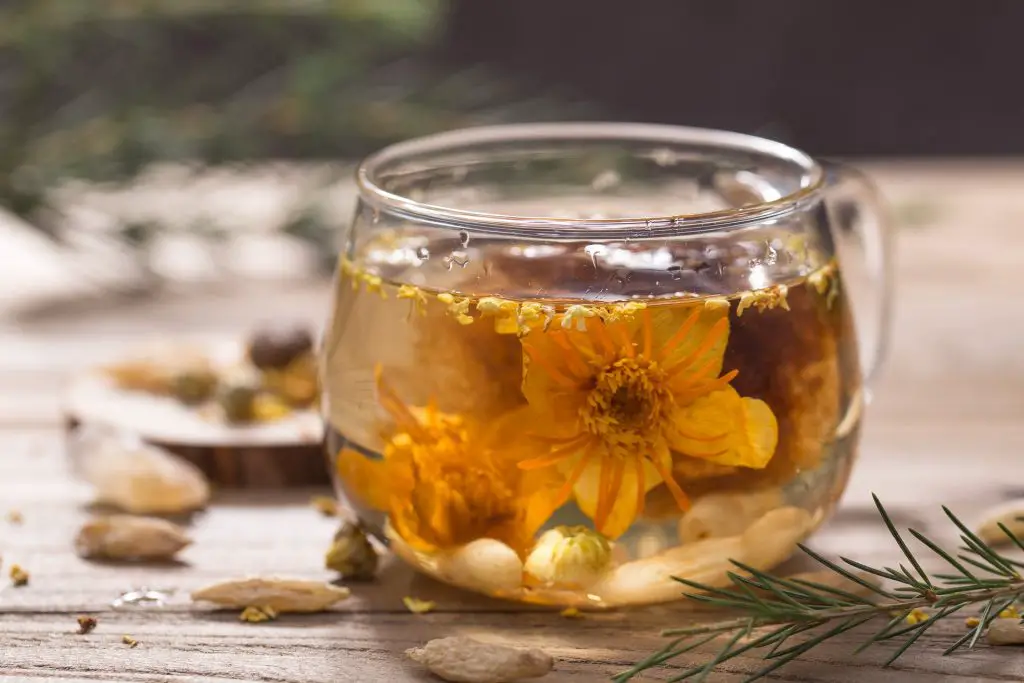 Sampaguita grows commonly in the Himalayan region where much of the world's green tea is harvested, making for a short distance between harvesting and scenting. Some of the best jasmine tea is considered to come from the Fujian province near the Chinese coast. Their tea leaves are produced in nearby mountains at a range of 600 to 1,000 meters above sea level, while jasmine is planted alongside rivers that flow through the region.
How is Jasmine Tea Made?
Jasmine tea is known as a scented tea, alternatively as a flavored tea, similar to Earl Grey (which is scented with bergamot). It is not necessarily a blend, which combines the leaves of different teas as well as other flavoring ingredients in the final packaging. 
The difference is that the scent of jasmine is infused into the tea leaves themselves instead of the flowers being added to water when the tea is steeped.
The process of making Jasmine tea starts with the picking of tea leaves. The most popular tea to infuse with jasmine is green tea, the best leaves of which are picked in the springtime. They are immediately dried and stored, being sure to preserve the best flavor and aroma.
Jasmine flowers bud primarily during summertime. When summer arrives, the green tea leaves are removed from storage and spread over scenting tables in a closed room, often with a recirculating ventilation system to promote moving the aromas by air throughout the room.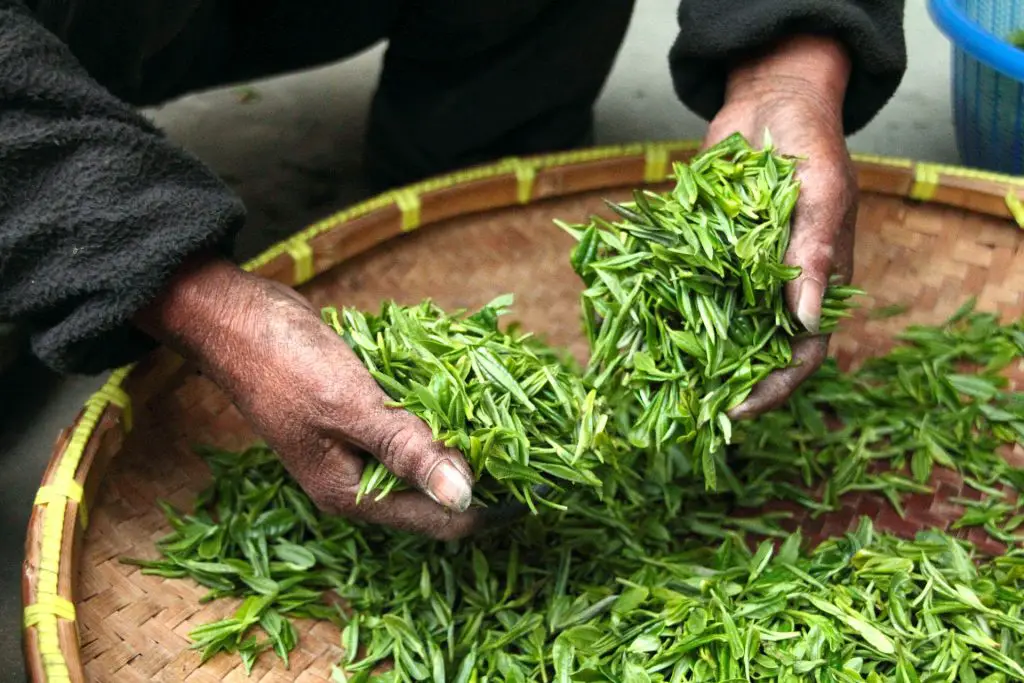 The jasmine buds are harvested during the daytime when the buds are closed, then distributed on top of the dried tea leaves. Once night arrives, the buds open up and release their fragrance, infusing with the tea leaves underneath them.
In the morning, the jasmine flowers are removed and discarded. The tea leaves will have absorbed a decent amount of moisture during the scenting process, so they are dried again and prepped for the next round of scenting.
Open loose-leaf tea leaves will generally need approximately 3 rounds of scenting, but sometimes go up to 7 scentings. Rolled "pearl" leaves will generally take up to 9 rounds of scenting to be sure enough jasmine essence is infused and that the aroma and flavor will stand out in the finished product. Because of the extra scentings, pearl jasmine tea generally has the deepest jasmine infusion.
Once the final scenting process is complete, the tea leaves are fired (dried) again and then sorted into loose leaf or tea bags. The best tea leaves are generally used in loose leaf teas, while broken leaves and "fannings" (small broken leaves and tea dust) are reserved for tea bags.
Sometimes a jasmine tea producer will leave the dried jasmine flower blossoms in the final product, but most of the time they are removed before packaging. This is mostly ornamental, as the dried blossoms will provide little to no flavor or aroma in a steeped tea, and can clog up an infuser.
Since the traditional process of infusing jasmine into tea is so laborious, cheaper and faster ways to produce jasmine tea have been created. These normally consist of adding natural or artificial scents to tea leaves as part of the manufacturing process. This process has the benefit of being able to send a less expensive tea to market year-round, but the quality does not match teas infused by the traditional method.
How Does Jasmine Tea Taste?
Opening a package of jasmine tea brings the immediate aroma of jasmine straight to your nose. The mingling with tea leaves makes that scent a bit more rich than might be expected, and the two together bring perfumed and subtle nuances to the overall experience.
The taste of this tea will depend on what tea base is used. Jasmine green tea will be sweeter, while jasmine black tea will be a little more bitter and astringent. White jasmine tea will be the most delicate tasting of the three with a bright sweetness and more of the jasmine present.
The aroma from the floral infusion of jasmine works best with green and white teas. Black tea, with its high oxidation, has a deep rich scent of its own that causes jasmine to take a back seat and become a subtle undertone.
What Types of Jasmine Tea are Available?
Any tea leaves, or even herbal tea, can be made into jasmine tea, although jasmine tea infused into herbal tea is very rare.
Jasmine Green Tea – The traditional and most popular jasmine tea. The flavor is slightly sweet and has a very fragrant aroma.
Jasmine Black Tea – Not as popular as green jasmine tea, but popular with those who want a higher caffeine content. The taste is more astringent and pairs well with milk or cream.
Jasmine White Tea – A light to medium-bodied tea, white tea has a very mild flavor and a slight, delicate aroma, so the addition of the jasmine infusion is very obvious.
Jasmine Oolong Tea – Oolong is already a semi-oxidized tea, which naturally occurs during the multiple steps used during jasmine tea's scenting process. However, anything branded as jasmine oolong will normally start with the leaves fairly oxidized, resulting in a product somewhere between jasmine green tea and jasmine black tea. Jasmine is usually the only scent added to oolong tea since it already has strong floral characteristics.
Jasmine Herbal Tea – While very rare, herbal teas infused with jasmine do exist. Our general thought is that infusing jasmine into other dried herbal elements will overpower the natural fragrances that herbal teas are known for. One choice for those who love the scent of jasmine is to brew dried jasmine flowers directly in water.
How to Prepare Jasmine Tea
With the different base teas available for jasmine tea, there are many different ways to brew it. Jasmine green tea will require a lower temperature than jasmine black tea, and the steep time of jasmine white tea is significantly shorter.
The form of the jasmine tea you purchased will also have a large effect on the manner in which it is brewed. Pearls, loose tea leaves, and tea bags will all have different instructions. The recommendations below are just a starting point.
Best Water for Jasmine Tea
Since the main attraction of this tea is the fragrance added from jasmine blossoms, it is important to be sure that every step of the steeping process is using items or products that do not add any additional scents or off-odors. Water from different sources can sometimes produce this.
One of the biggest odor culprits with water is the sulphur smell sometimes brought along from well water. Private wells, while they can produce excellent natural water if placed in the right location and treated properly, can also suffer from a buildup of hydrogen sulphide. For overall water use this is not a health concern, but the smell is bound to ruin the enjoyment of your tea.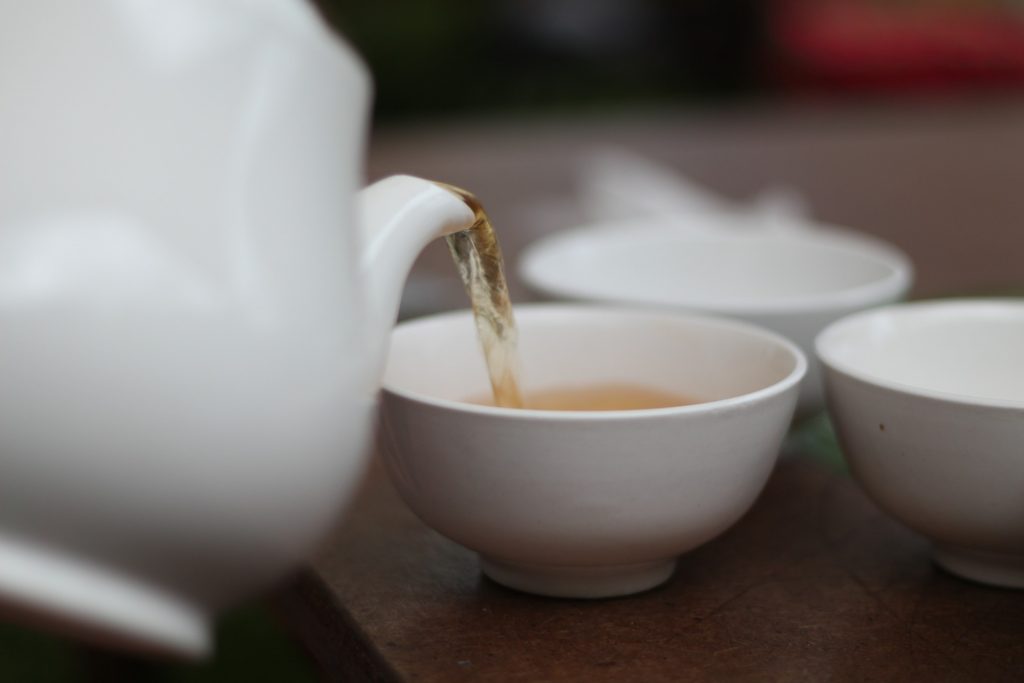 Fresh spring water would be the best water choice for brewing this tea. There will be enough minerals present in the water to add liveliness to the final flavor of the tea, but not too many that they would add any unpleasant tastes or odors. Bottled spring water is another excellent choice.
Straight tap water is not recommended unless the city's water source is nearby and not treated with any/too many chemicals. Age and material composition of the pipes that bring the water to your house can also change the flavor or smell of tap water, so even if your water source is completely natural, the water may have picked up a few too many additives on its way to your house.
In many cases, a home water filter can take care of a lot of the problems with municipal water by removing impurities. An inline filter installed as an extra faucet in the kitchen sink is handy to have, but containers with integrated filters like Brita pitchers can also work very well if you have the space for them.
One final note on water for tea: avoid using distilled or previously boiled water. If there is a health concern with the local water supply, of course, do what you can to keep your family healthy. In all other instances, the use of distilled water will almost suck away the flavor of brewed tea, making it seem flat and lifeless. 
If distilled water is really the only choice, the addition of something like Third Wave Water Packets can add the minerals necessary to bring the flavor profile back. These mineral additives were originally packaged as an addition to distilled water for coffee, but may work to amplify flavor for tea as well.
Best Water Temperature for Jasmine Tea
Just like the taste of jasmine tea being different for every base tea, the water temperature required to brew its different forms will cover a range as well. As a general starting point, try the low end of the brew ranges listed below. Higher temperatures will extract more flavor, but will often make delicate teas like white or green tea develop a bitter taste.
Many tea manufacturers will include an instruction sheet with their tea leaves, or print temperature/time guides on the external packaging. Check for these first before using our recommendations.
Jasmine Green Tea – 160F – 180F (71C – 82C)
Jasmine Black Tea – 200F – 212F (93C – 100C)
Jasmine White Tea – 160F – 165F (71C – 74C)
Jasmine Oolong Tea – 185F – 205F (85C – 96C)
Jasmine Herbal Tea – 212F (100C)
Keep track of your brewing time and temperature. When changes occur to the flavor or aroma you will be able to more easily find what could have caused the difference.
Brewing Time for Jasmine Tea
Again, different base teas call for different brewing times. Keep in mind when examining your tea that darker tea leaves generally call for longer steep times, and lighter tea leaves should steep for a shorter period of time. The longer the brew time, the stronger the tea, but if left too long the tea will become bitter from over extraction.

Follow the manufacturer's instructions if available, or use our recommendations below. These recommendations are for loose leaf jasmine tea. If using tea bags, cut the amount of time in half.
Jasmine Green Tea 

1-3 minutes loose leaf
2-5 minutes balled/compressed leaves

Jasmine Black Tea

3-5 minutes loose leaf
5-8 minutes balled/compressed leaves

Jasmine White Tea

1-3 minutes loose leaf
2-5 minutes balled/compressed leaves

Jasmine Oolong Tea

2-3 minutes loose leaf
3-5 minutes balled/compressed leaves

Jasmine Herbal Tea
How to Brew Jasmine Tea
Jasmine tea is very versatile in the ways in which it can be brewed, whether Eastern or Western style, but one manner of brewing should be avoided: the Gong Fu brewing method. Gongfu brewing involves the use of porous clay pots that absorb the flavors of the tea brewed in them, but also express the flavors of past teas into a fresh pot. The delicate floral scent of this tea does not handle this brewing method particularly well.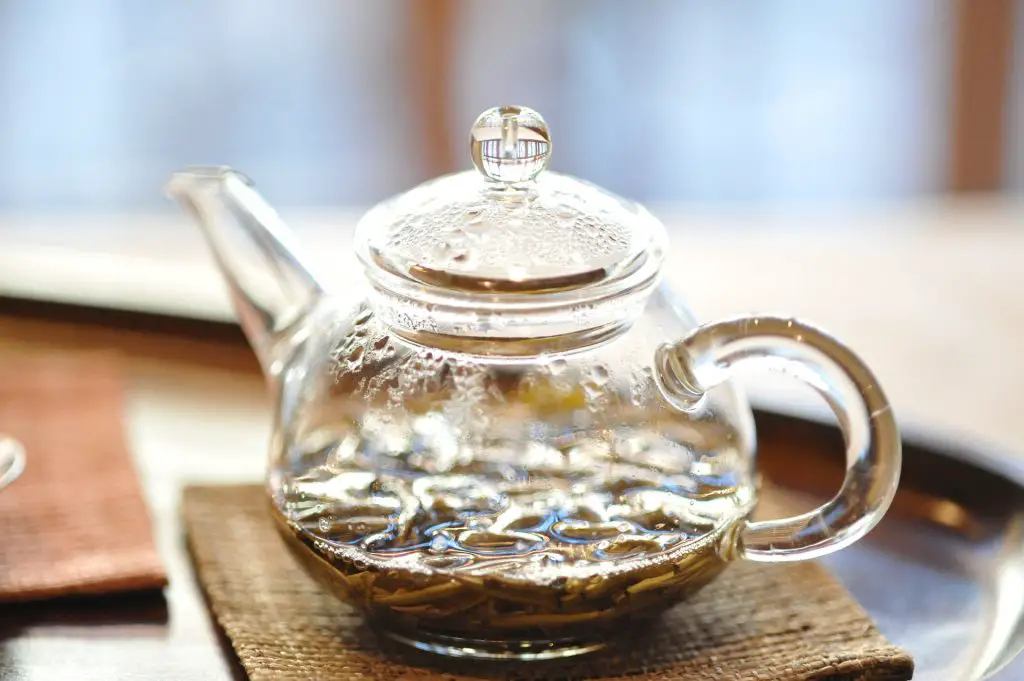 Jasmine tea leaves can be used to steep more than once, but every successive brew will have a lighter jasmine scent, and the flavor will also diminish.
Eastern Brewing for Jasmine Tea
When following the Eastern method of brewing jasmine tea, the brewing receptacle of choice is the lidded gaiwan. Tea is prepared in this simple bowl without an infuser, and the leaves are held in the bowl while pouring water out of the slightly open lid. Be sure that the interior is glazed with a material such as porcelain so that the pot does not absorb or express any flavors.
Place the tea leaves in the bowl, approximately 1tbsp per 8 ounces.
Gently pour water heated to the desired temperature into the bowl.
Cover with the included lid.
Let steep for the correct amount of time.
Decant into teacups while holding the lid on top – this will help to prevent the majority of tea leaves from entering the tea cup.
Western Brewing for Jasmine Tea
Western tea brewing involves the use of an infuser, a container with holes in it to keep the tea leaves in one place while letting the hot water move around and through the leaves. This produces a final tea that should have no tea leaves in it at all, but some purists claim it changes the mouthfeel of the tea.
Place the tea leaves in an infuser, approximately 1tbsp per 8 ounces.
Place the infuser into a teapot.
Gently pour the correct amount of water heated to the desired temperature into the teapot.
Cover with a lid.
Let steep for the correct amount of time.
Remove the infuser.
Pour into teacups.
Health Benefits of Jasmine Tea
The scent of Jasmine has long been touted by Chinese herbalists and aromatherapy fans as a calming influence on the body. That is not just a factor of the pleasant aroma, but also a chemical response backed up by science.
Studies have shown that the smell of natural jasmine is not only pleasing, but can act as a mild sedative similar to the effects of valium. The scent molecules are inhaled, then sent through the lungs to the brain, causing an increase in GABA levels. GABA is a neurotransmitter in the brain that, when levels are high can boost your mood and/or have a calming effect.
In addition to the calming properties of jasmine itself, the underlying base tea will also have its own benefits.
Health Benefits of Jasmine Green Tea
Low to medium levels of caffeine speed up metabolism
L-theanine amino acids have a calming effect and slow the absorption of caffeine, helping prevent caffeine jitters
Antioxidants
May help prevent cancer
Good for stomach health
Good for skin
Health Benefits of Jasmine Black Tea
Medium levels of caffeine to increase metabolism
Antioxidants, especially flavinoids (which may lower the risk of heart disease)
Tannins and alkylamine antigens help boost the immune system and reduce tooth decay
Anti-inflammatory effects
Conclusion
As you pick out the best jasmine tea for you, remember to keep in mind the different flavor profiles that each type has so that you can select one that goes along with various foods you're eating.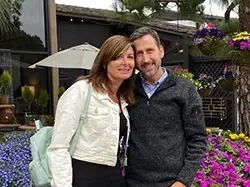 Scott is the founder of TeaMinded. He enjoys tasting and discovering teas from across the globe, with green teas and ceremonial matcha from Japan being among his favorites. He's grateful to be immersed in the tea community, always learning and sharing along the journey.