If you buy something through a link in our posts, we may get a small share of the sale.
Last Updated on April 5, 2022 by Scott
Black tea is arguably the most popular form of tea in Western culture. Iced tea, sweet tea, and the refreshing Arnold Palmer are almost always made with black tea. English teas such as Earl Grey or Breakfast Tea are black tea blends. The common Lipton bags you find at the local diner, you guessed it, consist of black tea.
Best Black Tea Reviews
As a true tea, along with its brethren white, green tea, and oolong tea, black tea is an excellent basic tea to start with while exploring the options available to tea drinkers.
Beyond the typical bags available in the closest supermarket, there are excellent black tea choices that have different flavors and aromas you might not expect. Black tea can also be found as a base tea in herbal tinctures and flavored teas.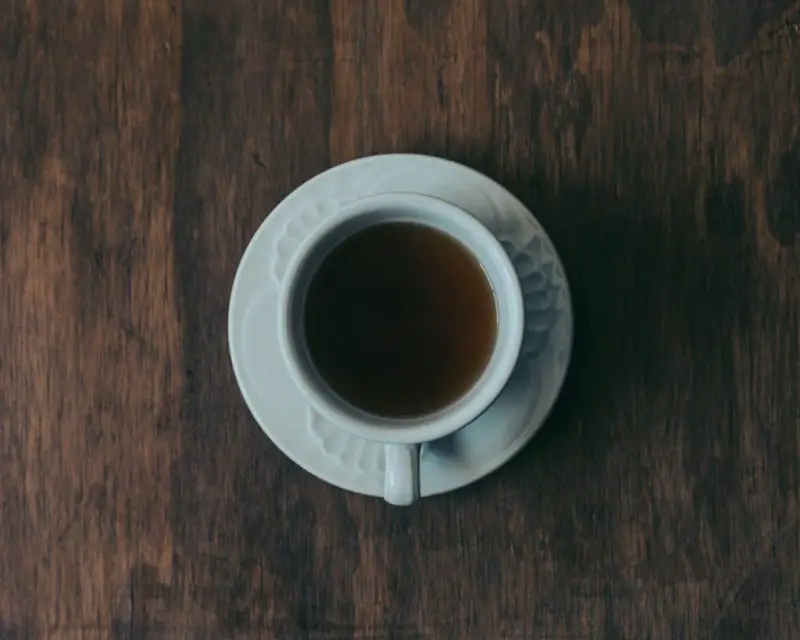 All of the "true" teas are made from the same plant. The only difference between them is the level of oxidation, or fermentation, that is provided to the leaves.
Black tea is completely oxidized, and is the darkest of the four with arguably the strongest flavor. When brewed correctly with quality leaves, it is also one of the most delicious of all the teas.
Most black tea is classified by its country of origin. Cultivation is dominated by China, India, and Sri Lanka. We've gone through and reviewed the best black tea choices and compiled a list of the top rated ones. 
Brand
Best Overall
Positively Tea Company, Organic Assam
Best for the Money
Organic English Breakfast Black Tea
Best Cheap Pick
Twinings of London Earl Grey Black Tea
Product



Best Overall
Brand
Positively Tea Company, Organic Assam
Product

Best for the Money
Brand
Organic English Breakfast Black Tea
Product

Best Cheap Pick
Brand
Twinings of London Earl Grey Black Tea
Product

Best Black Tea Overall: Positively Tea Organic Assam
Originating from Assam, India, this delicious Organic Assam black tea is certified as USDA Organic and free of GMOs. 
It is a complex and textured tea, traditionally enjoyed as a breakfast tea. This blend is high in caffeine, which is why it is more commonly had in the mornings rather than afternoons or evenings. 
This organic tea has a single origin in Assam, India. The sweet and robust flavor is preserved by a resealable pouch.
Positively Tea Company focuses on providing specialty teas from all over the world. All of their teas are fresh and do not contain artificial flavors, harsh chemicals, or GMOs.
When brewing, it's recommended that you steep it at 212 degrees Fahrenheit for three minutes. 
Tea Details
Loose or Bags: Loose Leaf Tea
Packaging: Resealable Pouch
Country of Origin: India
Other Notes: USDA Organic
Best Black Tea for the Money: Organic English Breakfast Black Tea
English breakfast tea is a classic black tea blend that works well at any time of the day. These Organic English Breakfast Bags are filled with a premium blend of clak teas. They mix keemun tea from Chinese and Assam from India to create an excellent blend of smoothness and astringency.
As opposed to standard bags, the eco-conscious English Breakfast tea bag discs used by Feel Good Organics are made from unbleached hemp fiber, with no dyes or glue to interfere with the taste of the tea. The leaves used are certified USDA organic by California Certified Organic Farmers (CCOF).
Organic English Breakfast Black Tea Bags | 100 Tea...
ENGLISH BREAKFAST BLACK TEA BAGS - 100 Tea Bags filled with a premium blend of black teas.
ORGANIC CHINESE KEEMUN TEA & ORGANIC INDIA ASSAM TEA - The tea is blended, filled into tea bags and...
100 ECO-CONSCIOUS TEA BAGS - Our premium tea bags are constructed of Abacá Hemp Fiber Paper. They...
Tea Details
Packaging: Resealable Pouch
Country of Origin: China/India/US
Other Notes: USDA Organic
Best Cheap Black Tea: Twinings of London Earl Grey
Brewing all the way from London, the Twinings of London Earl Grey is a good contender for a warm and flavorful tea that's light on the budget. With fragrant flavor notes of both citrus and bergamot, this earl gray tea comes in bags that are perfect for a quick pick-me-up on a mellow afternoon.
Not only does this drink warm up your heart and stomach, its leaves are also hand-picked by expert blenders who have cultivated them to create the perfect balance of smoothness and taste.
For an even more wholesome experience, these bags were created without any artificial flavorings. That way, you can enjoy your hot cup of freshly brewed tea with the natural sweetness of earl gray tea.
Simply steep in water at the right temperature for 3 minutes or as strong or mild as desired.
Tea Details
Loose or Bags: Bags
Packaging: Box
Country of Origin: London
Other Notes: Prime Pantry
Best Decaffeinated Black Tea: Harney & Sons Decaffeinated Hot Cinnamon
For those who love the taste of tea but would like to do without the effects of caffeine, Harney & Sons Decaffeinated Hot Cinnamon is an excellent choice. This decaffeinated Ceylon tea maintains the taste and scent of the "real thing."
Harney & Sons uses three different types of cinnamon, orange peels, and sweet cloves in this blend. In addition to the flavor of Ceylon leaves and a brightness from the orange peels, the scent of cinnamon and clove are standouts.
Sale
Harney & Sons Decaffeinated Hot Cinnamon - Ceylon...
DECAFFEINATED TEA - Harney & Sons Decaffeinated Hot Cinnamon - Ceylon Black Tea with Three Types of...
50 COUNT - 50 Sachets per Bag
FRAGRANT - Like its caffeinated counter-part, Harney & Sons Decaffeinated Hot Cinnamon Tea smells...
Tea Details
Loose or Bags: Sachet
Packaging: Resealable Pouch
Country of Origin: Sri Lanka
Other Notes: Decaffeinated 
Best Black Tea Unique Blend: Kusmi Tea Prince Vladimir Russian Tea
Kusmi Tea Prince Vladimir Russian is an interesting Russian blend of earl grey tea with vanilla and a multitude of different citrus fruits and spices. Bergamot, grapefruit, and lemon all come to the forefront when smelling this wonderful black tea blend.
Developed in 1888 to celebrate the 900th anniversary of the Christianization of Russia by Vladimir the Great, Prince Vladimir tea is based on a unique blend created by Pavel Kousmichoff. The leaves, spices, and citrus are all visible in the plant-based PLA bags so you can be sure of the quality of the product.
Kusmi Tea - Prince Vladimir - Russian Black Tea...
LOOSE LEAF BLACK TEA: One of Kusmi's most memorable Russian teas, Prince Vladimir offers a truly...
CITRUS, VANILLA & SPICES: A Russian blend of Earl Grey black teas with hints of bergamot, lemon,...
THE PERFECT WAKE-UP: Caffeine never tasted so enchanting. Rise from your slumber to the alluring...
Tea Details
Loose Leaves or Bags: Bags
Packaging: Decorative Tin
Country of Origin: China/Russia
Other Notes: Plant-Based Bags
Best Smooth-tasting Black Tea: Art of Tea English Breakfast Tea
The Art of Tea English Breakfast Tea is the ideal morning brew if you love malty notes. Unlike the other black teas, this Sri Lankan tea from Art of Tea doesn't have a bitter aftertaste. Instead, it starts with robust yet smooth flavors, then ends with a clean and milder taste than Earl Grey. 
However, this one is medium caffeinated, so expect some woody notes to linger in your mouth. For only one tablespoon, you can fill a cup and get a flavorful way to incorporate antioxidants into your diet. Each drink also delivers antimicrobial properties that deal with gut bacteria, improving digestive tract health. 
Finish a three to five-minute steeping time to maximize the flavor. After that, you can enjoy drinking this Black English Breakfast Tea with or without honey and milk.
Tea Details
Loose Leaves or Bags: Loose Leaf
Packaging: Decorative Tin 
Country of Origin: Sri Lanka 
Other Notes: Medium caffeine 
History of Black Tea
Just as many new discoveries occur, the first black tea was a happy accident. Many sources reference the Ming Dynasty in the early 17th century when a tea factory faced a delayed production, brought on by an unexpected army sheltering there.
This delay caused the leaves to dry longer than normal, developing more oxidation. These darker, smokier leaves turned into a tea called Lapsang Souchong; named after the mountainous Lapsang area where the leaves were grown, and the Souchong small leaf tea trees that they were harvested from.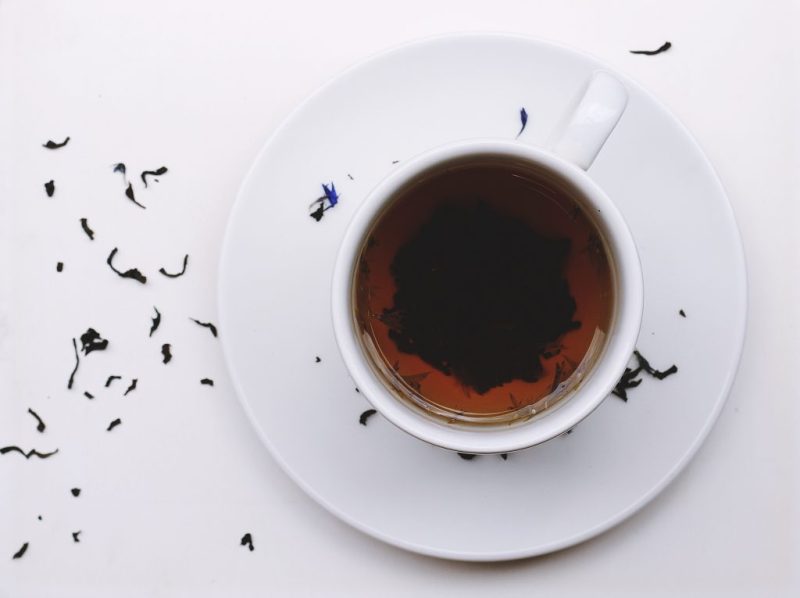 This type of tea was popular as an export because the leaves kept their flavor during the long trip from China to Europe and the British Isles, and would often became better with a bit of age.
As tea became incredibly popular and the Dutch increased their grip on the Chinese tea market, British traders turned to different sources. They found a certain strain of the plant that could be grown in bulk on farms in the Indian region of Darjeeling.
This strain produced a bolder tea, the flavor that was popular in Great Britain, creating both a new source of income and a new national drink.
What is Black Tea?
Black tea is the result of heavily oxidizing leaves from the Camellia Sinensis plant. As an example, green tea is only slightly oxidized up to 7%, and oolong tea oxidation is anywhere from 8% to 85%.
Black tea is categorized by any level of oxidation above 90%, but dried leaves normally have 100% oxidation. With a strong and sometimes malty flavor, black tea is definitely the most robust of all the true black teas when it comes to flavor and aroma. 
Loose Leaf vs. Bags
While bags are incredibly convenient, many of the standard grocery store bags use a dried out, lower grade tea leaf. That is not to say that these black teas are bad, but they may not have the same depth of flavor that you can get from loose leaves.
With loose leaves you will have the opportunity to view and smell the processed leaves directly, making sure that they are fresh and fragrant. These whole leaves will have more of the full flavor range of tea and health benefits when steeped.
Some teabags contain whole leaves, and this can be an enticing balance between the standard CTC bags and loose leaves. Be sure that the bag, or sachet, that the leaves are in provide enough room for the leaves to expand. Many bags can keep the leaves compressed as they expand in hot water, limiting their extraction.
Black Tea Processing
There are two main methods of processing for packaging and export for leaves: the Orthodox method, and the Cut, Tear, and Curl (CTC) method.
Orthodox Black Tea Leaf Processing
The orthodox method is generally considered the proper way to handle leaves, but because of the extra steps the cost can be significantly higher. There are four main steps involved: withering, rolling, oxidation, and drying.

Withering: After the leaves are picked, they are left out in the open air for 10-18 hours in order to dry out a bit so they can be rolled easily.
Rolling: Leaves are rolled in a manner that twists and presses them to break the cell walls, expressing oils and preparing the leaves for oxidation.
Oxidation: In a moist, controlled temperature environment, the leaves are left to oxidize, breaking down the chlorophyll and changing the polyphenol levels.
Drying: In order to stop the oxidation process, the leaves are heated at temperatures above 100° Fahrenheit. Different methods are used, some by setting the leaves out in the sun, placing them in a machine, or heating them in a large pan.
CTC Black Tea Leaf Processing
The crush-tear-curl method is responsible for the majority of bags available today. CTC processing creates shredded leaves and compressed pellets which can actually produce very good tea in the right circumstances.
CTC production keeps the withering and drying steps of the orthodox method, but the main difference is that the rolling step is replaced by a machine process that cuts the leaves into small pieces, more suitable for bags.
Varieties of Black Tea
Best Black Tea from India
While black tea may have originated in China, the bulk of high quality modern black teas available in the West originate from India. The popular astringent flavor of this variety of tea is widely pronounced in Indian black tea leaves.
Assam: The Assam region in India is the largest tea-growing region in the world. It is one of the strongest tasting black teas with a slightly astringent and malty flavor. This varietal is sometimes called the tea version of coffee.
Darjeeling Tea: From the high mountainous region of Darjeeling, this tea keeps the astringency of Assam but has a more smooth, herbal flavor with a bit of a floral nose. You may also get a bit of fruit flavor with certain brews.
Nilgiri: One of the lesser-known names in Indian tea production, Nilgiri tea has a sweeter taste with a more moderate body and is very fragrant. The plants that produce these leaves are grown in the Blue Mountains of India, which reaches up to 8000' elevation.
Best Black Tea from China
Known as the birthplace of tea, China has a long history of processing the best black tea leaves.
Lapsang Souchong: Considered the original Chinese black tea, leaves produced in Lapsang Souchong has a smoky flavor. This high quality Chinese black tea was originally produced by campfires lit when caravans stayed near the tea factories but lapsang souchong is now recreated by the leaves being smoked over pine. 
Yunnan: Also known as Dianhong cha, Yunnan Chinese black tea is a lighter, smoother tea with a slightly sweet taste. The color is closer to amber than black, and the taste is delicate yet flavorful.
Keemun Tea: Keemun Tea has an interesting red color that looks very distinct in a teacup. Keemun Tea, while mild in the sense of astringency, is also very flavorful and is considered a delicacy in China.
Best Black Tea from Sri Lanka
Since 1867, this country has been producing and exporting tea leaves. A Scotsman named James Taylor planted the first farm, then known as Ceylon, on 20 acres near Kandy.
Ceylon Black Tea
The original name of the country was "Ceylon," hence the name of the Ceylon teas. Because the name of this varietal spans an entire country, it is hard to define the specific flavor profile.
Ceylon tea leaves grown at a higher altitude are lighter in color and have a more mild flavor, while leaves from lower elevations tend to be darker with a more robust flavor.
Best Black Tea from Africa
In general, black teas from Africa are dark roasted and use the CTC (crush, tear, curl) method of processing. The end result is a bold, flavorful tea, but their leaves tend to have less bitterness than other teas produced in this way.
Kenyan Black Tea
Assamica varietals of Camellia Sinensis, similar to the plants in India, produce the black tea from Kenya. This variety produces a red brew similar to the Chinese Keemun instead of being a darker brown. The flavor is strong and bold but not bitter.
Black Tea Blends
Even though brewing with pure leaf black tea is considered the classic way to drink tea, some of the most flavorful teas in the world are blends.
Earl Grey Tea
One of the most popular teas in the world, Earl Grey is a delightful blend of black tea and dried rind of the bergamot orange. Some Earl Grey tea blends will use the extracted oils from bergamot in addition to or as a replacement for the rind.
Bergamot oranges are a bit different than the standard mandarin oranges normally purchased in the states. The shape is closer to that of a lime, and the taste is somewhere between a grapefruit and lemon.
Earl Grey tea has the classic maltiness of black tea combined with very citrusy notes, reminiscent of orange and lemon with a floral tone.
English Breakfast Tea
The English breakfast blend is thought to have been originated by American settlers, not the British as the name would suggest. It is a full-bodied, rich, and robust blend that stands up well to the addition of milk and sugar.
Normally blended with an assortment of different black teas, English breakfast tea usually combines Assan tea with Ceylon, Kenyan, or any of the well-known black teas. The only standard is the bold taste generally attributed to the style.
Irish Breakfast and Scottish Breakfast Teas
Irish Breakfast and Scottish Breakfast Teas are variations of the English breakfast blend that are stronger than the British version, in part because the softer water in those areas needing leaves that would help create a more bold taste.
Scottish breakfast tea is the strongest of the three, with Irish breakfast tea representing a good balance between them.
Masala Chai Tea
A blend of Assam black tea and various herbs and spices attributed to India. Some of the blends can contain ginger, cinnamon, pepper, or cloves, but the one ingredient that gives all Chai blends its famous flavor is cardamom.
Masala Chai is another very potent black tea blend. Masala Chai is highly recommended to add milk to give it a creamy finish.
Water Temperature for Brewing
Because these tea leaves are fully oxidized and contain a large number of tannins, higher water temperatures should be used while brewing as opposed to the lower temperatures required of green tea or oolong teas.
An electric kettle with temperature control can be a good investment if you drink black or green tea often, and becomes even handier if there are multiple types of teas you drink on a regular basis. These tea kettles are able to heat and hold to specific temperatures, taking the guesswork out of brewing tea.
The general temperature range is from 200°-212° Fahrenheit or 94°-100° Celsius. Consult the leaf black tea packaging, or ask the seller what temperature they recommend for brewing.
If no specific temperature is given, a good rule of thumb is to bring water to a rolling boil, remove from heat and let it sit for about a minute.
Instructions
Begin to heat water in the tea kettle.
Measure approximately 2 tablespoons of loose tea per 6 ounces of water
Transfer the leaves to a tea ball, strainer, or infuser.
Place the infuser in a cup or teapot.
When the water is at the correct temperature, pour the desired amount over the tea leaves.
Let steep as per the manufacturer's instructions. If no instructions are provided, steep for at least 3 minutes, but do not go beyond 5 minutes.
Remove leaves from the teapot and serve.
Black Tea Storage
When storing loose black tea leaves, the main enemies of preservation are sunlight, heat, oxygen, and moisture. Be sure to choose a vessel that is air and water-tight, blocks ultraviolet rays, and keep it in a cool, dark place.
One of the ways to extend tea leaf preservation is to keep the leaves in a refrigerator. If you do this, it is very important that your storage vessel does not let any air in. Tea can easily absorb odors from other foods that are stored in the refrigerator.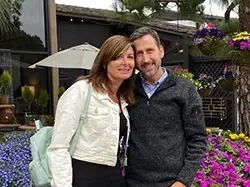 Scott is the founder of TeaMinded. He enjoys tasting and discovering teas from across the globe, with green teas and ceremonial matcha from Japan being among his favorites. He's grateful to be immersed in the tea community, always learning and sharing along the journey.