Sipping on hot tea is helpful to your immune system, especially when you have a cold. It makes the symptoms more manageable and helps you get over them quickly. The warm drink boasts antibacterial properties that help kick colds faster while soothing sore throats.
However, some teas are good at boosting your immune health, while others can help fight and soothe flu symptoms. We have compiled a list of the best tea for flu like symptoms to help you fight a cold and get back on your feet.
Our Top Tea for Flu-Like Symptoms Reviews
Brand
Best Overall
Harney & Sons Organic Peppermint Tea
Best for the Money
Organic Elderberry Tea
Best Cheap Pick
Organic Echinacea Tea
Product



Best Overall
Brand
Harney & Sons Organic Peppermint Tea
Product

Best for the Money
Product

Best Cheap Pick
Product

Best Overall Tea for Flu Like Symptoms: Harney & Sons Organic Peppermint Tea
A few sips of the Harney& Sons Organic Peppermint can make you feel better. The tea is deliciously refreshing and boasts of a tingling flavor. Made from peppermint grown in Oregon and Kosher certified, this tea doesn't contain caffeine, while the refreshing aroma can help fight respiratory infections.
The peppermint leaves contain menthol that can help you suppress your cough. Menthol can also help unblock your blocked nose or congested chest. The Harney & Sons tea is great if a sore throat goes with your cold.
The coolness of this tea can help numb the pain you may be experiencing in your throat. However, it's important to mention that the tea can cause acid reflux to flare up. So, consume it in moderation.
If you need to warm up due to feeling cold, drink hot organic peppermint tea. You can also consume iced peppermint tea if you have a sore throat to numb it quickly or bring down a fever.
This tea can also help soothe the flu-like symptoms like vomiting and nausea. Steep the tea for 5 minutes in hot water before drinking it. Sweeten it with honey to soothe a sore throat.
What We Like
Made from peppermint grown in Oregon
Can help fight respiratory infections
Fresh, invigorating flavor
Kosher certified
Caffeine-free
What We Don't Like
Can cause acid reflux to flare up
High price point
Best Tea for the Money: Organic Elderberry Tea
Made from fresh elderberries, the Organic Elderberry Tea packs a lot of health-boosting antioxidants. The tea boasts many health benefits like supporting upper respiratory health and strengthening the immune system. It's also a great source of vitamins A, C, and B, as well as copper, phosphorus, zinc, and potassium. 
This smooth-tasting organic tea doesn't contain caffeine, so you can enjoy it any time of the day. The tea doesn't include any additives as it only uses wild-harvested berries and organic ingredients. The package comes with 18 bleach-free wrapped individually tea bags.
The bags are unbleached to ensure you don't drink chemicals after steeping your tea. The box is made from 100% recycled materials to ensure the tea is good for you and also environment-friendly. It's also sealed with foil to ensure your tea remains fresh once the box is opened.
The Elderberry tea features a sweet and aromatic delicate floral flavor and you can enjoy it without any sweetener. However, some users have complained that the elderberry flavor is weak even after steeping the tea for a long period. Overall, this tea is great for flu-like symptoms as it can help lessen their duration and reduce their severity.
What We Like
Strengthens the immune system
 Can lessen the duration of flu
Great source of antioxidants
Doesn't contain caffeine
18 organic, unbleached tea bags
What We Don't Like
A bit expensive
Some may consider this to be a weak flavor
Buddha Teas - Organic Elderberry - Herbal Tea -...
ELDERBERRY TEA - Our Elderberry Tea is an excellent way for the body to receive its dose of free...
EARTHY TASTE - This blend has a slightly earthy taste with a hint of tartness. Elderberry is amazing...
NO CAFFEINE - Our Elderberry Tea is caffeine free, crafted without additives, and uses only organic...
Best Cheap Tea for Flu Like Symptoms: Organic Echinacea Tea
The Organic Echinacea tea is rich in antioxidants and is made from herbaceous flowers of the Echinacea plant. It can also be made using the leaves and roots of the plant. The Echinacea tea has a fresh, mild mint flavor taste with a twist of citrus and doesn't contain caffeine.
The tea can help treat and prevent respiratory infections as it supports the immune system. The tea can also help activate and stimulate the immune cells. Additionally, it can shorten the duration of the flu and help you recover quickly.
The tea can also help reverse the inflammation caused by the flu resulting in symptoms like sore throat and a congested nose. The good thing about this tea is that it blends with other teas for the flu, like the elderberry. So, it will be worth trying it to keep the flu at bay.
For best results, you should consume the organic tea the moment you start experiencing the flu symptoms. You should also start drinking this tea regularly, especially if you live with someone that has the flu.
The only issue with this tea is that some users have complained about receiving smashed and damaged packages. However, you can always reach out to the company, and they will make a replacement.
What We Like
Supports the immune system
Mild mint flavor
Caffeine-free
USDA organic
Inexpensive
What We Don't Like
Some possible smashed and damaged packages
Other Teas for Flu Like Symptoms
Tea is a great drink for flu, as it can help you recover quickly. Sipping a hot cup of tea can: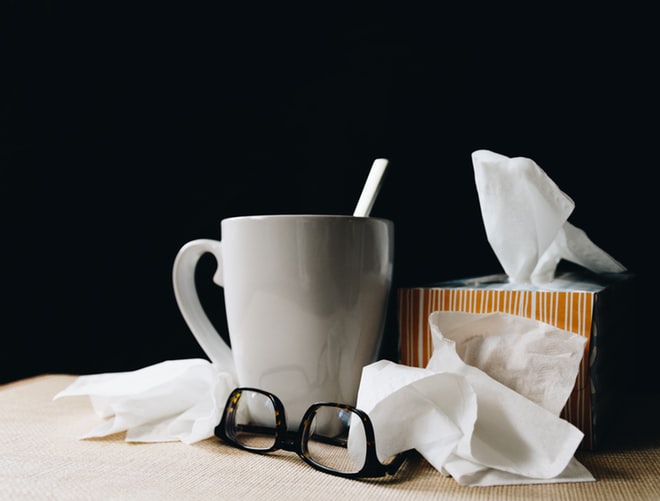 Flush out the virus and bacteria from your immune system
Keep you warm if you are feeling cold
Loosen blocked nose
Keep you hydrated
If you are looking for a home remedy to help you get rid of your flu quickly, any of these teas will help you.
Green Tea
This tea is refreshing and a great drink to consume when you have the flu. It will replenish your energy with low levels of L-theanine and caffeine. The tea can also soothe your chest, nose, and throat if they are inflamed from the flu as it's an anti-inflammatory drink.
Additionally, green tea is rich in antioxidants that neutralize bacteria and free radicals that can worsen your flu.
Steeping green tea is easy. Put one green tea bag or one teaspoon of green tea in boiling water for three minutes. You can also blend it with spices, honey, and lemon to fight off your flu.
White Tea
This type of tea is the least processed, making it suitable for healing the flu. Compared to green tea and other types of tea, it contains the highest levels of antioxidants. White tea also has high levels of caffeine since the buds are richer in caffeine than the lower leaves.
However, this doesn't mean it has high levels of L-theanine (an amino acid that promotes calmness). So, a cup of white tea is perfect. Steep one teaspoon of white tea in hot water for two to three minutes then strain out the tea leaves.
Black Tea
Drinking a cup of hot black tea every day can shorten the duration of your flu. The tea contains catechins that can fight off viruses and bacteria that cause the flu. Like all other teas, it contains L-theanine to ensure you don't end up having the caffeine crash.
The tea is also great for soothing an inflamed, sore throat as it reduces inflammation. However, avoid drinking your black tea with milk; take it with a teaspoon of honey.
Ginger Tea
This is the most popular herbal tea for flu-like symptoms. Ginger compounds and antioxidants can kill the viruses that cause colds and flu. Gingerol, a compound in ginger, can cure a sore throat quickly while the warming, fiery flavor is perfect for keeping you warm.
You can consume two to three cups of ginger every day to help you recover quickly from your flu. Ginger is a strong flavor when taken on its own. So, you can try it with a slice of lemon and a teaspoon of honey to create a powerful drink to fight off your flu.
Lemon and Honey Tea
These two are a classic flu combination, especially when combined with fresh ginger. The lemon provides your body with vitamin C while boosting your immune system at the same time. On the other hand, honey offers you some energy if you have lost your appetite. It also relieves you of coughs and sore throats. Put a slice of lemon in hot water with a teaspoon of honey and enjoy your tea.
Clove Tea
A cup of clove tea can help if you have flu as it can prevent flu from weighing you down and make breathing easier. Cloves have a strong flavor and aroma that some people don't like. Try infusing one clove in hot water with your favorite spices like nutmeg or cinnamon.
Conclusion
If you have the flu, make a cup of tea using any of the flu-fighting teas we have reviewed above to help you manage symptoms of flu or cold. The teas will help you eliminate sinus congestion, running nose, and soothe a sore throat. Steep a cup of tea, and you will easily beat the flu.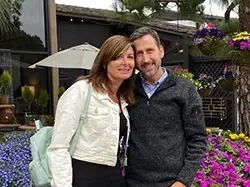 Scott is the founder of TeaMinded. He enjoys tasting and discovering teas from across the globe, with green teas and ceremonial matcha from Japan being among his favorites. He's grateful to be immersed in the tea community, always learning and sharing along the journey.