Chamomile tea is not a true tea like black or green tea, and normally it is not even considered a tea blend. It belongs to a special subsection of tea called herbal teas, where flowers, herbs, fruits, and/or other natural non-tea items are infused in hot water. Other examples of popular herbal tea include, but are not limited to, peppermint tea, hibiscus tea, and lemon balm tea.
Top Chamomile Teas
When looking for the best chamomile tea, it is a good idea to consider what you are looking to get from the tea. If you are looking for the calming effects of chamomile by itself, make sure the only ingredient is 100% chamomile. 
Because the flavor of chamomile tea is so light, some people may be more interested in blends that include chamomile as one of its components. There are many herbal blends available, so when searching keep in mind other herbal tea flavors you may have enjoyed in the past; there's a good chance that chamomile has been blended with them.
Brand
Best Overall
Wild Foods Herbal Chamomile Tea
Best for the Money
U.S. Wellness Chamomile Tea
Best Cheap Pick
Taylors of Harrogate Organic Chamomile Herbal Tea
Product



Packaging
Resealable BPA-Free Kraft Pouch
Best Overall
Brand
Wild Foods Herbal Chamomile Tea
Product

Best for the Money
Brand
U.S. Wellness Chamomile Tea
Product

Packaging
Resealable BPA-Free Kraft Pouch
Best Cheap Pick
Brand
Taylors of Harrogate Organic Chamomile Herbal Tea
Product

Best Overall Chamomile Tea: Herbal Chamomile Tea by Wild Foods
Wild Foods Herbal Chamomile Tea is a very simple resealable pouch containing dried chamomile flowers. As with all other herbal teas, this product is 100% caffeine-free. Since this product consists of loose herbs, an infuser or other types of filter is recommended when steeping.
Tea Details:
Loose Herbs or Tea Bags – Loose Herbs
Amount – 8 Ounces
Type of Chamomile – Egyptian Chamomile
Organic – Yes
Packaging – Resealable Pouch
The chamomile flowers used by Wild Foods are organically grown Egyptian chamomile. Pure Egyptian chamomile, grown natively in the Nile delta, is widely regarded as the best grade of chamomile tea. It presents with an earth-forward flavor underscored by a fruity finish and mild herbal scent. The loose herbs will be more effective during the steeping and extraction process than broken herbs and herb dust that appear in many tea bags, providing the most health benefits from chamomile.
Wild Foods has a mission to specialize in real foods sourced from small producers who provide non-GMO, sustainable, and earth grown ingredients. Many of the farmers they source from are generational and live on the farms where they work, ensuring that the care and effort of growing their own crops shows in the final product.
When preparing this tea to drink hot, you will want to use 1 teaspoon per every 8 ounces of water. Ideally, steep it for 5-10 minutes at 205 degrees. 
Herbal Chamomile Tea by Wild Foods Egyptian...
IMPROVE SLEEP QUALITY. Chamomile naturally relaxes the nervous system, which not only aids against...
REDUCE ANXIETY AND STRESS. This natural stress-reducer has been used for thousands of years in...
CALM AN UPSET STOMACH. If you suffer from a stomach ache, it's best to treat it with a natural and...
While the proportions look correct, we would recommend either increasing the steeping temperature to 212F, or increase the steeping time to 10-15 minutes. Herbal teas are notorious for needing a stronger extraction, and chamomile tea is no different. Alternatively, you could try increasing the ratio of tea to water. Feel free to experiment, as with all teas.
Wild Foods Herbal Chamomile Tea has a 100% money-back guarantee if you are not satisfied. In addition, at the time of this article, they have a code available to save at checkout when you buy multiple Wild Foods products from Amazon.
Best Chamomile Tea for the Money: Chamomile Tea 1LB from U.S. Wellness
Another package of pure chamomile flowers, U.S. Wellness Chamomile Tea is very simple in what it provides: an ethically grown, pure representation of chamomile tea. U.S. Wellness uses German chamomile flowers for this tea, providing more of the apple scent and taste rather than the floral fruit flavor found in other strains of chamomile.
Tea Details:
Loose Herbs or Tea Bags – Loose Herbs
Amount – 16 Ounces
Type of Chamomile – German Chamomile grown in Egypt
Organic – Yes
Packaging – Resealable BPA-Free Kraft Pouch
The chamomile flowers are imported from Egypt, then packed and processed in the U.S. Wellness organic certified facility in Ohio. This chamomile herbal tea is 100% certified organic by OEFFA (Ohio Ecological Food and Farm Association) and bears the USDA seal, providing the assurance that it is farmed and packaged free from unnatural pesticides.
A lot of care was put into the packaging for this chamomile tea. The 1lb bag that it arrives in has an interior of multi-layer BPA-free polymer, and the outside is coated with a Kraft surface (construction grade paper). The free standing packaging is resealable and should keep the chamomile flowers stable for approximately two years.
As far as sourcing, U.S. Wellness sends its own representatives to travel to Egypt and interact with all members of the supply chain. They meet the farmers, processors, and exporters who produce their chamomile flowers in order to verify that all compliances are being met. All NOP certificates are checked on being up to date, and the main goal of their international checkups is to ensure that a consistent level of quality is being provided.
Chamomile Tea 1LB (16Oz) 100% CERTIFIED Organic...
ORGANIC: WE packed these flowers in DOA (Department Of Agriculture) of Ohio certified facility. 100%...
A LOT OF FLOWERS: 1lb of chamomile flowers is sufficient quantity to make your own CHAMOMILE...
EASY: Each order comes in a 1 lb bulk bag made with BPA free multi-layer polymer and Kraft surface....
All of the loose leaf teas that U.S. Wellness manufacture comes in bulk and at very reasonable prices for the quality of the product that they offer. In addition, they provide a 100% satisfaction guarantee.
Although steeping instructions are not provided, we would recommend using the same time/temperature/ratio as the Wild Foods Herbal Chamomile Tea above, considering they use very similar chamomile flowers.
Best Cheap Chamomile Tea: Taylors of Harrogate Organic Chamomile Herbal Tea
We have mentioned Taylors of Harrogate before on this site, specifically for other "cheap" teas. When it comes down to it, they provide high quality tea bags for an inexpensive price, and that's something to consider before dropping a lot of money on a flavor of tea you haven't tried before.
Tea Details:
Loose Herbs or Tea Bags – Tea Bags
Amount – 20 Teabags
Type of Chamomile – Not stated
Organic – Yes
Packaging – Box
Taylors of Harrogate's Organic Chamomile Herbal Tea exemplifies what Taylor's does best, packaging high quality tea in a convenient and affordable manner. The flavor of this tea is mild and fresh. It may not have the depth or subtlety of loose herb chamomile tea, but the initial sip provides an excellent example of the herb's pure and fresh flavor.
The only ingredient in these tea bags is 100% organic chamomile. They import their leaves from different sources, but guarantee that each bag is certified organic. They proudly display the following certifications:
USDA Organic
Soil Association Organic
EU Organic Logo
With the three of these certifications combined, anyone can be sure that they are receiving a completely 100% organic product.
Taylors is committed to supporting the people who are part of their supply chain. They focus primarily on sourcing from smallholders and giving back to the communities that support local farms. With their key suppliers, they identify local issues that can affect both tea farms and the families who work them.
When it comes to steeping instructions for Taylors of Harrogate's Organic Chamomile Herbal Tea, they suggest that each person uses their own tea bag, and boiled water should be poured over that for 4-5 minutes. 
We agree with these steeping instructions, but will also point out that a longer steep time will not harm the taste of this chamomile tea in any way.
Best Chamomile Blend: Tealyra Tranquil Dream Chamomile Honeybush Lavender
The previous chamomile tea recommendations were all based on pure 100% chamomile flavors, but we would be ignoring a lot of the market if we were to leave out herbal chamomile blends. Tealyra's Tranquil Dream blend is a delicious herbal loose-leaf tea with other herbs meant to complement chamomile's relaxing properties.
Tea Details:
Loose Herbs or Tea Bags – Loose Herbs
Amount – 4 Ounces
Type of Chamomile – Not Stated
Organic – Organic Chamomile with Other Herbs, Some Organic
Packaging – Foil-lined Reusable Pouch
This complex blend of ten herbs and botanicals is one of the most flavorful chamomile teas available on the market. While it seems like cheating to compare the taste of a blended herbal tea to pure chamomile, it is also important to point it out as an option especially considering the other calming herbs included in this tea.
Tealyra - Tranquil Dream - Chamomile Honeybush...
Tranquil Dream is an intoxication blend of flowers, and herbs to encourage a blissfully sound sleep....
If you have problems getting to sleep or sleeping through the night, try a soothing cup of Tranquil...
This is a beautiful blend of calming, rest inducing herbs and botanicals such as chamomile, lemon...
Here are the Herbal and Botanical Ingredients in Tealyra's Tranquil Dream:
Organic Honeybush – Floral and has a taste of honey.
Organic Chamomile – Calming, mild sweet flavor.
Lemon Verbana – Fragrant, helps with digestion.
Linden Flowers – Calming, strong sweet flavor.
Strawberry Leaves – Vitamin C, mild and fruity.
Passion Flowers – Grassy taste, may reduce anxiety.
Lavender – Mint-like flavor and aroma, mild flower scent, calming.
Orange Blossoms – Heavily fragrant with citrus notes, calming.
Red Peppercorns – Adds a spicy kick, may improve brain function.
Cardamom – Spicy and sweet, adds antioxidants.
With this many herbs and botanicals included in one herbal tea, it is easy to see how the flavors might work against each other, but they don't. Overall it has a light flavor that leans toward what can be described as a citrus earthiness. The scent is very floral with lemon and mint notes hovering in the background.
The chamomile, linden flowers, passion flowers, lavender and orange blossoms combined are a quadruple threat sleepytime mix that will encourage a blissfully sound sleep.
While the honeybush and chamomile in this herbal tea are organic, the remainder of the ingredients have not been certified. It is very rare for a blend like this to be 100% organic, and Telyra has a trustworthy background on the healthiness of their products.
When it comes to the steeping instructions for Tealyra Tranquil Dream, they recommend to use between 1-1.5 teaspoons of tea for every 8 ounces of water you plan on having. The water should be heated to 205 degrees while steeping for about 5 minutes.
Since this is an herbal tea with a combination of a lot of different botanicals, we recommend following Tealyra's instructions, at least the first time you brew this tea. You may find that you prefer a stronger flavor, and a hotter/longer steep may provide the taste you are looking for.
Chamomile Tea Facts
Herbal teas generally do not contain caffeine that is derived naturally from tea leaves, making them a good alternative for anyone who loves to sit down with a good cup of hot tea but doesn't want to experience the waking effects of caffeine. Decaffeinated versions of true teas are available, but their flavors can sometimes be lacking as compared to the originals. Herbal teas bring something new to the table.
The flavor of chamomile is very light and floral, and the scent can be earthy, sweet, and sometimes reminiscent of fresh apples depending on what variety of herb is used. The color of the brewed chamomile tea is a clear gold color that can look like a cup of sunshine.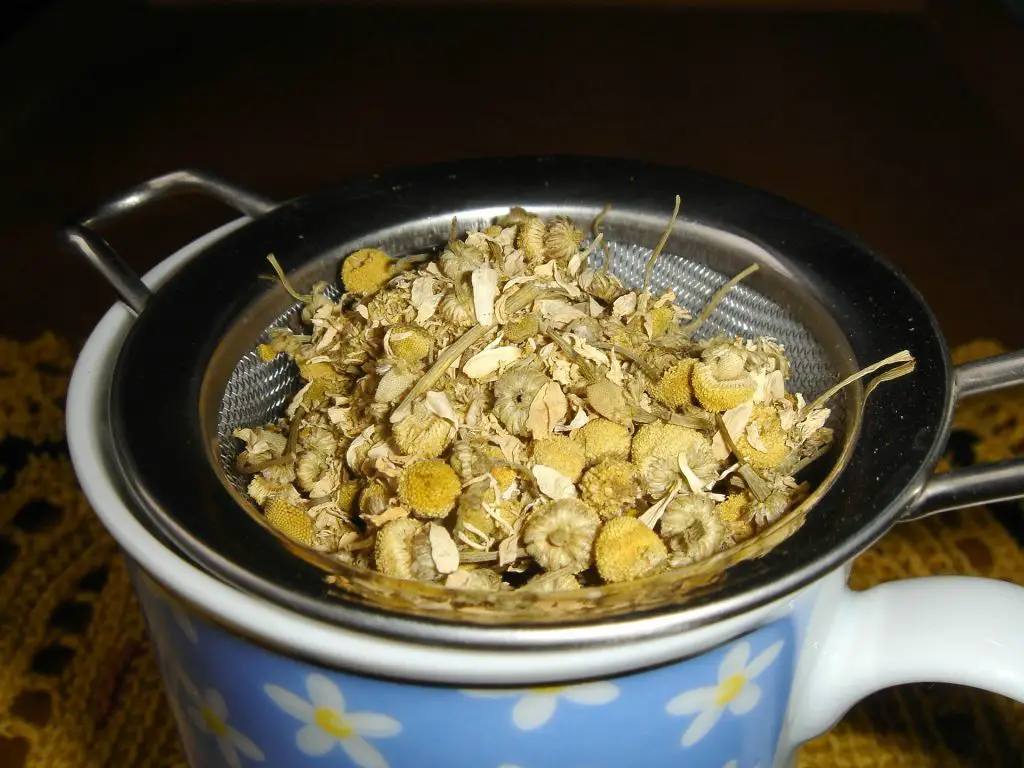 Dried chamomile flowers will often be mixed with other herbs, spices, and fruits to create a more complex herbal tea blend. Some combinations include other herbs known for their relaxing and calming properties such as lavender and lemon balm. Other herbal chamomile blends will add ingredients meant to amp up the flavor such as spiced apples, licorice, or different varieties of mint.
Chamomile is a flowering herb that resembles a daisy. It comes from the same family, Asteraceae, as sunflowers, marigold (calendula), chrysanthemums, and echinacea. The name "chamomile" comes from the French translation of the Greek word for "earth apple," chamaimelon.
Used as an herbal infusion, chamomile tea provides a delicate flavor and scent that will not overwhelm the senses, but instead help provide a sense of calm. With the other health benefits that chamomile tea provides, it is one of our favorite beverages to drink late at night.
History of Chamomile Tea
The use of chamomile tea as a health booster is recorded as far back as ancient Egypt, where it was prescribed by herbalists as a calming beverage or cold remedy. Hippocrates and other scientists in ancient Greece and Rome recognized chamomile's medicinal value. In medieval times it was commonly used to reduce fever.
There are two main strains of the chamomile plant, German chamomile (Matricaria recutita) and Roman chamomile (Chamaemelum nobile). While they look very similar, the two strains have different tastes and properties. German chamomile is what is most often seen in chamomile tea, whereas Roman chamomile is better used for essential oils and tinctures.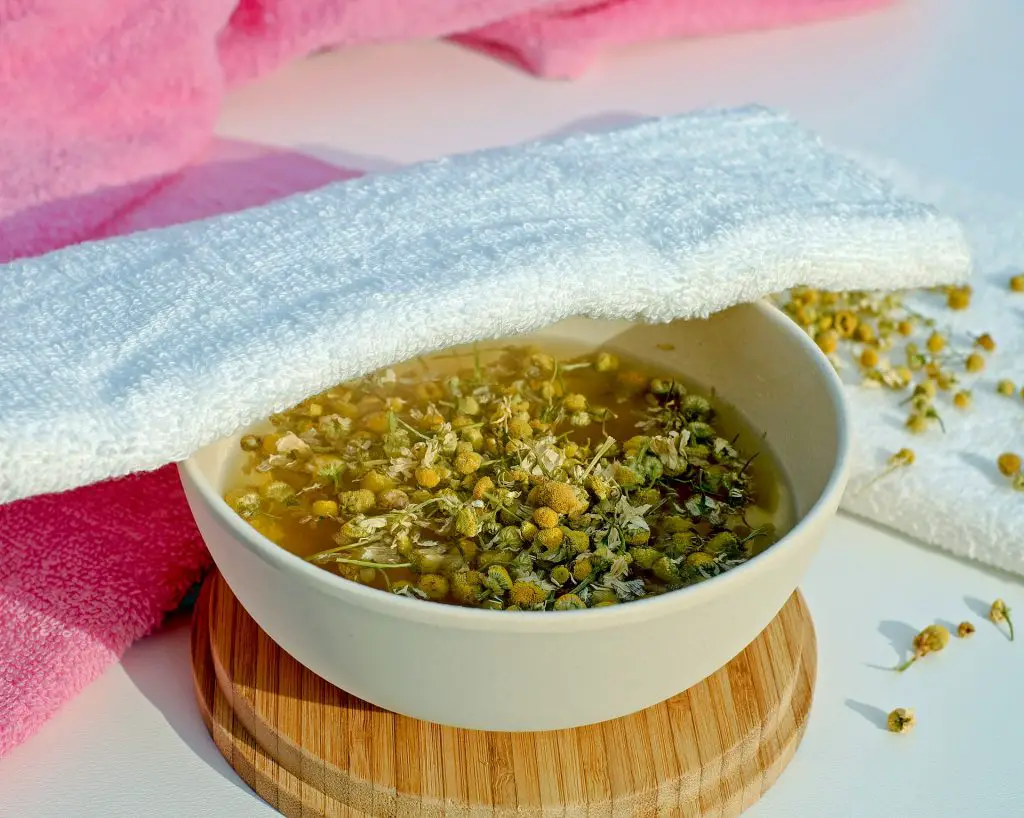 Health Benefits of Chamomile Tea
Chamomile herbal tea is often thought of as a sleepytime or relaxation tea, and for good reason. However, there are other benefits that the tea can bring as well.
Calming Effects of Chamomile Tea
Chamomile tea contains a large number of antioxidants and bioactive components. One of these is a flavonoid known as apigenin. This helps reduce stress and works as a mild sedative by binding to benzodiazepine receptors in the brain.
Other compounds present in chamomile may also bind GABA receptors, adding to the calming effect, but these compounds have not been able to be scientifically identified.
Chamomile Tea for Stomach Issues
There are a variety of stomach issues that chamomile tea may help with, including gas, ulcers, or just an upset stomach. Studies have shown that chamomile can lower gastric acidity, one of the main causes of these issues.
Drinking Chamomile Tea for the Common Cold
In addition to the general help that drinking a warm beverage may have when we have a head cold, breathing chamomile steam has been shown to help alleviate common cold symptoms.
Drinking Chamomile Tea to Combat Cancer
While we would never claim that any type of tea will cure cancer, certain teas like chamomile can help fight certain cancer-causing elements. Apigenin, discussed previously, has been shown to inhibit tumor growth. Tests are ongoing using chamomile and other botanical extracts to fight cancer cells, and the future of its efficacy look promising.
How to make Chamomile Tea
As an herbal tea made out of a fairly rugged plant, making chamomile tea is pretty straightforward. Whereas tea leaves need to be handled with care in both temperature and steeping time, herbal teas will often stand up to very high heat and a long steep time.
Loose herbal tea can often have small pieces contained in their packaging, so it is recommended to use an infuser when preparing chamomile tea. The small particles from the chamomile plant will not always break down into soft pieces like loose leaf whole tea and can be unpleasant when accidentally swallowed.
We recommend the ratio of 1tsp per 8oz of water. For tea bags, one bag per 8oz of water.
Steeping Loose Chamomile Herbal Tea
Heat water to a boil.
Place the herbs into an infuser.
Place the infuser in a teapot.
Pour the correct amount of boiling water over the infuser.
Steep for 10-15 minutes.
Remove infuser and pour the tea into teacups.
When steeping chamomile tea bags, feel free to reduce the steep time by half. The smaller pieces of flower will extract much more quickly than whole herbs.
Both tea bags and loose chamomile can be steeped more than once, but be sure to increase the length of time for each consecutive steep.
Conclusion
Chamomile tea in and of itself is not a very exciting tea as far as complexity or rarity. However, it should be a staple in everyone's pantry for times when a hot beverage is called for and a relaxing mood is desired.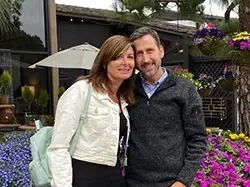 Scott is the founder of TeaMinded. He enjoys tasting and discovering teas from across the globe, with green teas and ceremonial matcha from Japan being among his favorites. He's grateful to be immersed in the tea community, always learning and sharing along the journey.