In today's fast paced environment and with ever evolving technologies and products, some may fear that traditions risk being cast aside in favor of the new and up-and coming.
Fortunately, this is not the case in the world of tea — with more independent tea shops and vendors creating new and inventive ways to market tea, and a growing amount of options to loose leaf tea and tea equipment. What is, and was, an ancient tea tradition is fast becoming popular today.
Where Did Tea Originate From?
While there are many legendary tales, historical accounts point to tea being first discovered in China, in 2737 BC, when the Chinese emperor Shen Nung whilst holding boiled drinking water noticed some leaves from the tree next to him falling into his cup and creating a change in color. He then sipped from it, smiled, and thus tea was created.
The use and art of tea have been depicted in many paintings throughout history as well, circling across the globe from China, to Japan and Europe. It was indeed the Japanese monks, who after witnessing the tea practices from China brought tea seeds into Japan and soon created intricate tea ceremonies (the matcha ceremony being just one example).
Best Places to Find Loose Leaf Tea Online
Not sure what tea brand to try? Having a hard time checking where to buy quality loose tea leaves? Worry not! We're sharing our top online sources of the best loose leaf teas online. 
Material Matcha Uji 
Material Matcha Uji is the ultimate source of all your matcha tea needs. It offers matcha packs, matcha starter kits, and tea brewing accessories. Whether you are a beginner or a seasoned tea drinker, you can enjoy tasting the store's 24 tea varieties. 
Furthermore, Material Matcha Uji works with farmers in practicing ancient roasting methods to keep the purity and quality of leaves. As a result, it can provide the rarest of teas. They don't even produce some variations, like the loose green tea grade, for more than 100 kilograms a year. 
Art of Tea 
The Art of Tea is widely known for its selection of high-quality tea leaves at affordable prices. Hence, you can try inexpensive sample packs and still taste diverse, yet exquisite loose tea leaves that Art of Tea sources from different countries. 
The shop features organic and Kosher-certified teas, as well as customized tea blends for its Private Label program. The Art of Tea also hosts a tea club wherein you can choose a subscription to try the classic teas, single-origin tea from China and India, or explore a variety of blends. 
Teabloom 
Teabloom develops its blends to promote therapeutic benefits for the mind, body, and soul. It works with artisans to hand-sew edible dried flowers and high-quality tea leaves. As you brew the leaves, you get an exotic floral taste and aroma, along with healthy antioxidants. 
Besides exquisite flowering teas, Teabloom also provides basic yet stylish tea wares to combine function and aesthetics. Each time you prepare a tea, the whole package aims to prepare you for the day, uplift your mood, and help you relax. 
What You Need To Know When Just Starting Down the Tea Path
The good news is you don't need a lot to start. A minimal cost upfront far outweighs the joy you'll experience when brewing your own loose leaf teas. And, in today's fast paced society we can all benefit from taking a moment to get back to basics and carving out some time for ourselves as well as connection with loved ones through good tea.
Most importantly, instead of reaching for that general tea bag brand – the satisfaction of cutting out the middle man (or is that the tea bag?) and concentrating directly on the actual tea leafs, the tea is (literally) out of the bag and has many health benefits as well as being a budget friendly indulgence and something to enjoy and share with others.
And if you need a little more encouragement to get started, check out our guide below:
For Beginners
Good Quality Loose Leaf Tea
When it comes to purchasing tea we suggest purchasing fair trade, and organic and environmentally friendly teas (if/when possible). Not only is certified organic tea free of synthetic fertilizers, herbicides, and pesticides, organic tea agriculture sustains the health of soils, ecosystems and people. This is better for the environment and supports local farmers. With that in mind, there are numerous very high quality teas available, beyond organic varieties. The key is finding reputable growers and brands, and to know the source of your tea.
There are many tea options to choose from and with so many flavors available your taste buds can experience the broad range – yet finding the right one for you is a case of trial and error – but that's part of the fun of it! You may discover that you prefer green tea, or be surprised about the many differences in taste across oolongs sourced from different mountains or regions. Or, like many readers of TeaMinded, you may become addicted to matcha (this is a good thing, by the way).
To get started, here are a few teas to choose from; Green, White, Oolong, Black, Pu-erh, Herbal, Matcha, Chai, Artisan, Blends.
Water
We all know the benefits of water and the impacts on our bodies and health. And, when it comes to tea making the use of fresh and purified water is very important. Before preparing tea, we suggest using spring water or natural bottled water, since the natural minerals from this type of water enhances the tea's flavor. The use of water from your kitchen tap is not encouraged, however it's not harmful if properly boiled — it's all about getting the balance right. The process of boiling water to a gentle boil helps eliminates any harmful germs or bacteria (and at this point, the water is sufficiently heated and the oxygen count is high).
Brew Basket or Strainer
A vital step in the process of tea making is a tea infuser or strainer – it is one of the ultimate deciding factors in how your tea will taste. A tea infuser's job is to keep tea leaves from floating in your cup whilst pouring and draining your tea.
A brew basket, on the other hand, provides a clean and easy way to place the tea leaves directly into your cup or teapot and permits effective steeping whilst leaving ample room for the tea leaves to expand. Both products will last you many years if you care for them well.
A tall, wide cylindrical brew basket gives leeway for plenty of expansion and circulation. Consider investing in a good steel brew basket if you want more control over how long your loose tea leaves steep in the water. 
Kettle
There are a wide variety of boiling techniques and products to use when making tea, but a budget friendly kettle or teapot will more than suffice. When boiling water for your tea, temperature is important. Different varieties of tea require different temperatures. Most good loose leaf tea brands will provide guidelines on temperature and steeping times.
As a general rule of thumb, green and white tea leafs often are brewed at lower temperatures, while black and fermented pu-erh teas taste better with longer infusions and higher temperatures. The more you practice the more you will become accustomed to your tea preferences and your tastes.
Cups and Glassware
And here comes the best part…once your tea is perfected and made to your taste; it's time to pour it into your favorite mug, cup or glass. Your vessel of choice will often depend on the type of tea, combined with the volume of tea, temperature and your personal preferences. Materials like glass or porcelain are more likely to release the heat quicken, so if you want to retain the heat a little more we suggest using a thermal flask or recycled stainless steel mug.
Storage 
Storage is another tea brewing essential because loose leaves are extremely delicate. Exposing leaves to air allows them to absorb oxygen and other kinds of scents that may impact the taste. The two most commonly used storage for tea include: 
Tea Tins: Some manufacturers use tins for packaging, while others prefer pouches. If you're buying pouches, consider transferring the leaves in airtight tea canisters to prevent light, heat, and moisture from reaching the leaves. Tins are also ideal if you prefer bringing tea leaves when traveling or going to work. 
Wooden Boxes: Wooden boxes may consist of bamboo, blue gum, or pine. While it's not as airtight as a canister, it gives a more vintage touch for storing tea leaves. 
For Those Seeking a More Advanced Experience 
The tea market now offers different kinds of tools to make brewing more convenient and even more fun. Aside from the basic equipment, these things can help you prepare tea much easier every day. 
Gram Scale 
If you're having difficulties determining the precision of the amount of loose leaves to use, you can use a gram scale to get the exact brewing parameters. This is particularly helpful if you're still experimenting with various kinds of teas. With a scale, you can easily prepare an optimal tea-to-water ratio. 
Kyusu
A Kyusu is a traditional Japanese teapot made of clay, porcelain, or glass, with a notable one-side handle. While a standard Kyusu is slightly smaller than the average Western teapot, it can accommodate seven to 10 ounces of tea. It also includes a built-in filter to strain tiny loose tea leaves.
A Japanese-style Kyusu teapot allows you to brew larger tea servings in one steeping and enjoy delectable Japanese green teas such as Hojicha, Sencha, Gyokuro, and Genamicha.
Variable-Temperature Kettle
The problem with boiling water is that its temperature can scold the leaves and affect the flavors. However, you can maximize the flavor by using water at the correct temperature.
Variable-temperature kettles can heat water to different temperatures that need less-than-boiling temperatures. The main benefit of using a variable-temperature kettle is that you can set the actual measurement you want. Some models can also retain the heat for up to 60 minutes. 
Find a kettle that comes with at least 1,000 watts to ensure fast heating. You also need to choose high-quality material, such as glass and stainless steel, to preserve taste. 
How to Prepare and Make Tea – The Simplest Process
Prepare fresh water and pour into a kettle.
When the water is at a gentle boil, remove from the heat.
Pour the hot water into a teapot or teacups.
Add the correct amount of tea leaves per person to the empty pot.
Allow water to cool to temperature and pour into the pot over the tea leaves.
Steep for the proper length of time.
Strain the leaves completely into another teapot or directly into serving cups.
For Those Seeking a Tea Ceremonial Experience
If you regularly take part in the practice and tradition of loose tea leaf making, then you will be accustomed to certain historical ceremonies that make the process of tea a social and reflective experience. Today we want to delve a little deeper into two deeply seeded traditional tea ceremonies and how you can incorporate these practices into your routine in this modern world.
Gongfu Tea Ceremony
An effective Gongfu tea ceremony involves a 21 step brewing method known as Chaozhou Gongfu Cha, and originally originated from Chaozhou during the Song Dynasty. Gongfu is a traditional way of preparing tea by infusing tea into a small teapot, with multiple steepings. Some people can get confused about Gongfu, thinking it is a type of tea, when in fact it is the art of and physical act of brewing tea.
Gaiwans often play a leading role in Gongfu tea ceremonies. These steeping vessels consist of a 3 parts (cup, lid and coaster) and are mostly made from porcelain (but you will also see glass varieties in the marketplace). Though they're mainly used to steep tea, many people also use Gaiwans as tea cups to drink from. Porcelain Gaiwans also don't affect the flavor of tea, which can be an advantage. Gaiwan (steeping) or glass / transparent glasses are also a great way to appreciate the appearance of unfurling tea leaves.
Matcha Ceremony
In Japanese culture, matcha green tea is much more than a drink. The matcha tea ceremony has been an integral part of the traditional Japanese culture for centuries. A quiet celebration performed with grace and beauty, the matcha tea ritual is a bonding experience of mindfulness, respect and a focus on the here and now.
Matcha tea is primarily a grade of tea that contains 15 times more nutrients and health benefits than any other green tea, and these benefits coupled with the ceremony provides a total body and mind peace. To perform the ritual involves dedication, and a series of graceful hand movements and plenty of confidence; however you don't need to be a spiritual figure to take part in your own ceremony unless you want to practice the direct art of it (if so please keep us updated with your progress!). Traditionally, students and the master gather in a room set by the host and begins the matcha that involves a series of cleansing rituals, silence and grace.
So how can you incorporate these rather complicated and time consuming tea making ceremonies into your routine? Incorporating a natural tea routine actually makes it easier to take care of ourselves and our life as a whole – and best of all, it's all natural.
Make It Social
Dedicate a certain day or night of the week where you gather friends and family to take part in your own makeshift tea ceremonies and don the traditional practices. Touch base with your neighbors and community and plant tea seeds together, not only does this help the community and environment but it also forms bonds with your community.
Support
Support local businesses, vendors and farmers by purchasing tea directly, instead of from big corporations and chain supermarkets.
Environment
Want to help the world? Then start with the space around you. Our planet needs more love than it ever has. With global warming concerns ever-growing and our need to recycle, a natural tea routine can actually help the world and eliminates tea bag waste, which in turn helps protect the environment and animals.
Meditative and Relaxing
Taking the time out to make tea is very therapeutic and allows you to concentrate on one thing at a time. With high levels of stress and distractions in today's world, making tea actually helps us to slow down and be present and mindful (and it tastes good at the same too!)
Dating back to the origins of tea ceremonies it has been documented that the practice has meditative and healing benefits. There are many opportunities to mediate yet why don't we do it? The common answer is that we 'don't have time' yet mediation doesn't have to take much time at all, in fact it can be done relatively anywhere. There are many apps that you can download for quick bursts of 5-10 minute mediations but we suggest taking the time to make tea and then enjoy that cup of tea in nature. Being in a calm environment will significantly improve your wellbeing, as well as looking after the environment.
A New Skill
Brewing loose leaf tea is often a conversation starter as well as a nourishing hobby.
Tea is meant to be enjoyed regardless of what method you use – much like a fine wine it gets better over time, and so will you at practicing and making it.
Conclusion
Just remember to be patient with yourself as you create your new tea making routine, it can take some re-adjusting to this new way of tea preparationl, from figuring out which tea leafs to use to recycling, but always keep in the back of your mind why you want to create this routine and remember the wonderful exploration of new tastes – this will forever keep you motivated.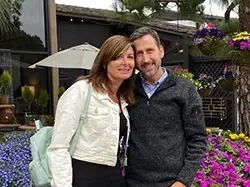 Scott is the founder of TeaMinded. He enjoys tasting and discovering teas from across the globe, with green teas and ceremonial matcha from Japan being among his favorites. He's grateful to be immersed in the tea community, always learning and sharing along the journey.