If you buy something through a link in our posts, we may get a small share of the sale.
Last Updated on April 5, 2022 by Scott
Tumblers are ideal for tea drinkers who are always on the go. They can store freshly brewed tea, whether you want to keep it warm or cold. With this review, we're highlighting some of the the best tea tumblers with features that make the drinking experience more convenient and enjoyable.
Our Top Tea Tumbler Reviews
Tumblers can affect the taste of your tea and convenience when drinking. Out of all the tumblers we tried and tested, we recommend the East Mount Temperature Control Smart Warmer Tumbler as one of the best tea tumblers because of its temperature control, leakproof lid, and durable material.
However, tea lovers still have varying preferences, so we also included more tumblers to suit different needs and budget points.
Brand
Best Overall
East Mount Temperature Control Smart Warmer Tumbler
Best for the Money
Skinny Vacuum Insulated Tumbler with Straw.
Best Cheap Pick
CamelBak MultiBev Travel Tumbler with Cup
Product



Best Overall
Brand
East Mount Temperature Control Smart Warmer Tumbler
Product

Best for the Money
Brand
Skinny Vacuum Insulated Tumbler with Straw.
Product

Best Cheap Pick
Brand
CamelBak MultiBev Travel Tumbler with Cup
Product

Best Tea Tumbler Overall: East Mount Temperature Control Smart Warmer Tumbler
As one of the most advanced tumblers, the East Mount Temperature Control Smart Warmer Tumbler rapidly heats your drink so that you can enjoy it anytime and anywhere. 
Unlike other tumblers, this one lets you select the exact temperature you prefer, much like when preparing tea at home.
You can adjust the temperature between 86 to 185 degrees Fahrenheit and wait from 4 to 9 minutes to heat. There's even an LCD that shows the drink's temperature.
Made from medical-grade stainless steel, the tumbler's body won't rust quickly. This means the East Mount Smart Tumbler is also perfect for traveling and working out, as sweat and water won't damage the tumbler.
Another fascinating feature is the AI smart chip, which instructs the tumbler to stop heating automatically when the tumbler falls, tilts, or there's not enough water to heat. 
However, the East Mount Smart Tumbler has a strong chemical smell at first. You can remove this by washing the tumbler properly and doing weekly disinfecting.
Pros
Smart temperature can keep drinks warm for up to 4 hours or cold for 12 hours. 
The built-in 9600mAh battery can charge the tumbler and a phone.
Cons
You can only use the cord that comes with it, as other USB-C chargers may not work properly. 
It can only store 10 ounces of tea, the smallest capacity on this list.
EAST MOUNT Heated Coffee Mug, Temperature Control...
[Drink Your Hot Beverage Anytime] EAST MOUT smart travel mug can heat your coffee, milk, tea, or any...
[Long-Lasting Battery] Heated coffee travel cup is equipped with a rechargeable 14400 mAh-capacity...
[Food-Safe Material and Leak-proof Tech] The coffee mug is made of medical-grade 304 stainless...
Best Tea Tumbler for the Money: Sunwill Skinny Vacuum Insulated Tumbler with Straw.
Make the whole family transition to an environmentally conscious lifestyle with the Sunwill Skinny Vacuum Insulated Tumbler with Straw that comes with an 8-pack tumbler set that features food-grade stainless steel for double-walled insulation.
Like the CamelBak MultiBev Travel Tumbler, this tumbler uses vacuum insulation technology to keep beverages hot for at least 6 hours or cold for 12 hours. The Sunwill Travel Tumbler also has a generous capacity of 20 fluid ounces so that you won't run out of tea right away.
The BPA-free lid includes silica gasket seals to prevent the tea from spilling. However, the drink hole on top of the cap only uses a sliding cover, which may cause leaking at times. 
Similar to the East Mount Smart Tumbler, the Sunwill Skinny Travel Tumbler prevents condensation due to the stainless steel body. So, you can place it in your lunch bag or hold it for hours, and the tumbler would remain sweatproof.
Pros
Highly customizable body design that lets you put decals.
Lightweight and slim design, making it ideal for carrying or putting in cup holders. 
Cons
Not microwavable nor dishwasher-safe.
The lid doesn't go all the way back when opening, so it may bump into your nose when drinking.
Sale
SUNWILL Straw Tumbler Skinny Travel Tumbler with...
Vacuum Insulated Technology: Sunwill travel tumbler are with double walled vacuum insulation...
Premium 18/8 Stainless Steel: The insulated coffee tumbler is with premium 304 food Grade stainless...
BPA Free Press-in Lid: The eco-friendly lid is completely BPA free; silica gasket seals to achieve...
Best Cheap Tea Tumbler: CamelBak MultiBev Travel Tumbler with Cup
Perhaps you want a handy and large-capacity tumbler, but you would like to save a few bucks to buy more tea. In that case, the CamelBak Multibev Travel Tumbler is the most budget-friendly option for storing brewed tea.
Coming from an award-winning company, this tumbler is part of an active lifestyle line to reinvent hydration and carry solutions. Unlike the others, this is the only tumbler with a removable cup. 
This means you have the option not to drink from the tumbler directly or use the cup to share tea with others. At 22 ounces, the CamelBak Travel Tumbler has the biggest capacity, making it ideal for long hikes, workouts, or even just lounging at home.
On the downside, this volume means the larger body is not ideal for hand-carry. So also consider this load requirement when you're going to put it in a bag or cup holder.
Despite the lower price, its vacuum insulated body uses stainless steel, much like the East Mount Travel Tumbler. It uses a food-grade silicone that you can roll and fold. However, there's a tendency for the silicone lid to slip when storing hot tea.
Pros
It contains a screw-on cup when you want to pour tea.
Includes a roll-and-fold lid for easy packing.
Cons
The removable cup isn't double-walled.
The silicone lid may become flimsy when storing hot drinks.
MultiBev Water Bottle & Travel Cup – Vacuum...
Roll and Fold Lid: Food-grade silicone, splash resistant
Pak Cap: Stores Roll and Fold Lid, leak-proof
Vacuum Insulated Bottle and Cup: 18/8 Stainless steel stays dry with sweat-proof insulation
Best Tea Tumbler with Infuser: Teami Tea Double-Walled Tumbler with Infuser
If you want to steep a fresh batch of loose tea leaves wherever you are, the Teami Tea Double-Walled Tumbler with Infuser is the ideal tumbler for you. It even has extra storage at the bottom for bringing extra leaves.
Compared to the other tumblers we tested, this is the only one with a stainless steel mesh insert for steeping loose tea leaves. You can put the leaves and let them soak in the cup while you're on the drive to work or play.
Once you get to the office or other destination, your tea is ready to drink, and you don't need a separate strainer because you only have to remove the mesh infuser. It also has a no-hassle flip-top lid that lets you take a sip without having to stop working.
Despite the 20-ounce capacity, the Teami Tumbler can only keep drinks warm for 2 hours and cold for 4 hours. While double-layered, the tumbler's main component is BPA-free plastic, which has weaker insulation than the stainless steel body of the Camelbak Travel Tumbler.
Pros
Includes a removable mesh insert for steeping loose tea leaves.
It has an extra storage compartment at the bottom for storing more tea leaves.
Cons
There are gaps on the sides of the filter, so smaller particles of tea leaves may slip through.
Not ideal for microwave heating.
Teami Tea Tumbler Infuser Bottle - Gold, 20 Ounce...
UNLIKE OTHER TEA TUMBLERS that leak, break, or leave you drinking your tea leaves, Teami's Tea...
STAY HEALTHY ON THE GO with our Teami Tea Tumbler. Perfect for teas, fruit-infused detox waters,...
UNIQUELY DESIGNED FOR FUNCTIONALITY and taste, our tumblers are designed with many desirable...
Features to Consider for a Tea Tumbler
Investing in the best tumbler can make your tea drinking experience quite enjoyable and convenient. This is only possible if your chosen tumbler has these features. To help you pick, compare these factors and see which tumbler can give you the best tea drinking experience.
Since we have varying brewing preferences, look into this comparison of how these tumblers will impact your tea drinking experiences.
Product
Design
Capacity
Heat retention
East Mount Smart Tumbler
Stainless steel with self-healing technology
10 ounces
4 hours warm12 hours cold
Sunwill Skinny Travel Tumbler
Stainless steel double-walled 
20 ounces
6 hours warm
12 hours cold
CamelBak MultiBev Travel Tumbler
Stainless steel double-walled
22 ounces
8 hours warm
12 hours cold
Teami Tumbler with Infuser
BPA-free double-layered plastic
20 ounces
2 hours warm
4 hours cold
Material
Whether it's to kickstart the day or calm after a long day of work, drinking tea can give you an energy boost or calm your nerves. However, it's crucial to pay attention to the tumbler material because it affects the insulation, convenience in use, and your safety when drinking.
Stainless steel: Stainless steel is the most effective material for a tumbler, especially if you want to ensure insulation for long hours. So if you would most likely use a tumbler outdoors, opt for the stainless steel tumblers from East Mount, Sunwill, and CamelBak.
Plastic: Plastic can also retain heat, yet only for a few hours. If you need a cheaper tumbler and you won't let the tea sit for more than 2 hours, a plastic tumbler from Teami will suit you better. However, plastic is more prone to scratching and staining.
While some stainless steel and plastic tumblers are not ideal for dishwashing due to the machine's heat cycle, these kinds of tumblers are relatively easy to hand wash using soap and warm water.
Insulation Wall Design
Aside from the material, the wall design also influences the heat insulation capacity of a tumbler. Ideally, choose a tumbler that has a vacuum-insulated and double-walled design.
If you prefer drinking iced tea, a double-walled tumbler like CamelBak MultiBev Travel Tumbler or Sunwill Tumbler will keep your hands sweat-free. For freshly brewed hot tea, the self-heating wall of the East Mount Smart Tumbler will suit you better.
The Teami Tumbler also comes double-walled. However, the plastic components mean the heat or cold would dissipate quicker.
Capacity
It's ideal that you only consume 32 fluid ounces of tea per day, considering the caffeine content of tea leaves. One of the benefits of using a tumbler is that you don't have to make frequent refills. 
We recommend the CamelBak MultiBev Travel Tumbler if you want to bring 22 ounces of tea when working at home or having long drives. The Sunwill and Teami tumblers are 2-ounce less, yet the moderate size is enough for 2 refills per day.
The East Mount Smart Tumbler can only store 10 ounces of beverage, although this already amounts to 1.25 cups. While it's ideal to have a decent-sized tumbler, check if it remains portable and easy to carry. 
Lid Design
The lid is among the essential features of a tea tumbler. It seals the tumbler to keep your tea at the right temperature. It also ensures it's safe for you to drink hot or cold tea so that you won't have to worry about accidental spillages.
The East Mount Smart Tumbler brings the most advanced design from this batch, featuring a leakproof lid with safety lock technology. While the Sunwill Tumbler uses a press-in lid, the drink hole only has a sliding cover, so there's a risk of spilling. 
Meanwhile, the Teami Tumbler uses a flip-on lid that's more secure than Sunwill's design. If you want various ways to drink tea, you'll like the roll-and-fold lid of the CamelBak MultiBev Travel Tumbler.
Infuser
If you normally use loose leaf tea, it's vital for a tumbler to have an infuser to steep the leaves without over-extraction and ensure the leaves remain in one place. The Teami Tumbler is the perfect choice for this because of its built-in infuser and strainer.
Nevertheless, a tumbler remains useful even without an infuser as long as you're using a teabag. You can do these with the East Mount, Sunwill, and CamelBak tumblers.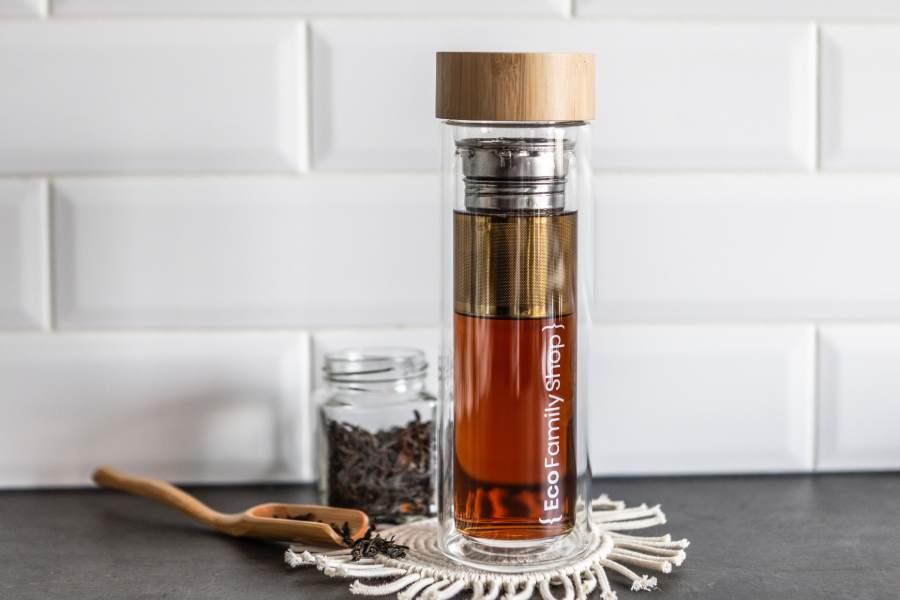 Style
Would the tumbler complement your teaware at home? Would it look good when you're carrying it? Style is more objective, although it adds aesthetics to the tumbler. 
The sleek black color of the East Mount Smart Travel is ideal for those who usually bring tumblers to offices, as the laidback design is gender-neutral. The Sunwill Skinny Travel is suitable for those who like to personalize their tumblers since you can put decals and stickers.
Meanwhile, the Teami Tumbler catches attention with its gold body, perfect for people with quirky or energizing personalities. If you prefer a more toned-down design, the dark and pastel colors of the CamelBak MultiBev Travel Tumbler would suit you better.
Frequently Asked Questions
How Often Do I Need to Replace My Tumbler?
This depends on the materials and how you're maintaining the tumbler. However, it's safe to replace stainless steel or plastic tumblers every 5 years. Consider if there's too much damage or the tumbler is not insulating drinks effectively anymore.
What's the Best Way to Brew Tea?
The best way to brew tea is the one that provides you with the most fulfilling taste and experience. It can be by using an automatic tea maker, heating loose leaves in a teapot, putting tea bags, or using mesh filters in a tumbler.
What Other Tea Accessories Should I Need? 
Aside from a tumbler, the top teaware accessories you should invest in include a tea maker, temperature control kettle, clay teapot, strainer, and teacups.
Conclusion
The best tumbler should keep your tea fresh, whether it's warm or cold, for long hours. However, there are different kinds of tea tumblers, yet the right one depends on your needs. Make sure that it has an insulating material, large capacity, and a leakproof lid.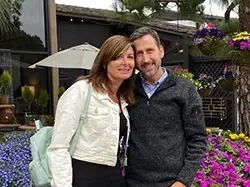 Scott is the founder of TeaMinded. He enjoys tasting and discovering teas from across the globe, with green teas and ceremonial matcha from Japan being among his favorites. He's grateful to be immersed in the tea community, always learning and sharing along the journey.