If you buy something through a link in our posts, we may get a small share of the sale.
Last Updated on June 16, 2022 by Scott
In your search for the best snacks to pair with tea, you may encounter something called cream tea. Yet, what is cream tea? And, what makes it ideal for tea time? Let's dig in and explain everything there is to know about cream tea — including its history, how to make it, and tea etiquette.
What Is Cream Tea?
Cream tea is a light tea snack consisting of tea, scones, clotted cream, and jam. Some people also use whipped cream and butter. It has variations depending on the location, including Cornwall and Devon.
Regardless of how you want to enjoy tea, trying out a cream tea gives you a new savory experience.
History of Cream Tea
There's still a debate on the exact origin of cream tea. However, historians and records suggest that the earliest tradition of eating bread with jam and cream existed at Tavistock Abbey, Devon, in the 11th century.
During a Viking attack back then, laborers at Devon only ate bread with cream and jam to survive while working. However, tea only became popular in Britain by the 17th century, which is why Cornwall disputes that the complete cream tea set originated in Cornwall. 
Cream Tea Variations
Despite the dispute about cream tea's origin, the boom of cream tea started during the opening of railways in the 1850s. During this period, people gained more access to traveling to the southern countries to get sunshine.
The concept of sitting in the sunshine while taking cream tea became appealing and fashionable among tourists. Due to such history and popularity, Devon Cream Tea and Cornish Clotted Cream became protected names. Since 2015, there's also been a National Cream Tea Day every last Friday of June.
Now, we have two main regional variations that you can follow at home.
The Devonian Cream Tea
The Devonshire method splits the scone in two, covering each half with clotted cream before putting strawberry jam on top. In Devon, people believe that you shouldn't include butter. The region also uses Chudleigh, a white split that's lighter than a scone.
The Cornish Cream Tea
Instead of a scone, the traditional Cornwall cream tea served Cornish split, a slightly sweet white bread roll. This version splits the bread in two, spreading strawberry jam on each side, before topping it with a spoonful of Cornish clotted cream.
Making and Preparing Cream Tea
In the 1840s, most British people ate two main meals: a huge breakfast and an 8 PM dinner. Despite having an informal luncheon in between, Anna Maria Russell, Duchess of Bedford, complained about a 'sinkful feeling' during the long snack-less gap between the 2 meals. 
Eventually, she requested tea and snacks at around 4 PM. Soon after, the London high society also started serving snacks in the afternoon.
This is why, at present, spending at least 30 minutes on cream tea is a great way to wait for dinner without feeling too hungry. It's essential to serve these when making your own cream tea party.
Scone: Devonian cream tea serves traditional scones or Chudleigh, whereas the Cornwall version uses Cornish splits or cheese scones. Modern cream tea also introduces Victoria sponge cake. Your choice may depend on the availability of pastries in your area, although you can also try to bake them.
Clotted cream: England's southwest typically produces clotted cream for cream tea parties. The cream has a smooth yet thick yellowish texture. By heating milk slowly, the cream content rises to the surface, forming lumps or clots.
Jam: Strawberry is the most universally used jam for a cream tea. However, you can also try blackberry, tarter, raspberry, and blackcurrant.
Tea: Steep loose tea leaves in a teapot for 3 minutes. While the type of tea can be anything you prefer, black, white, Darjeeling and hibiscus teas work well with scones.
English Cream Tea Etiquette
Whether you want to host a tea party or attend one, etiquette is integral to taking cream tea. This involves how to handle the utensils, prepare the snacks, and drink tea.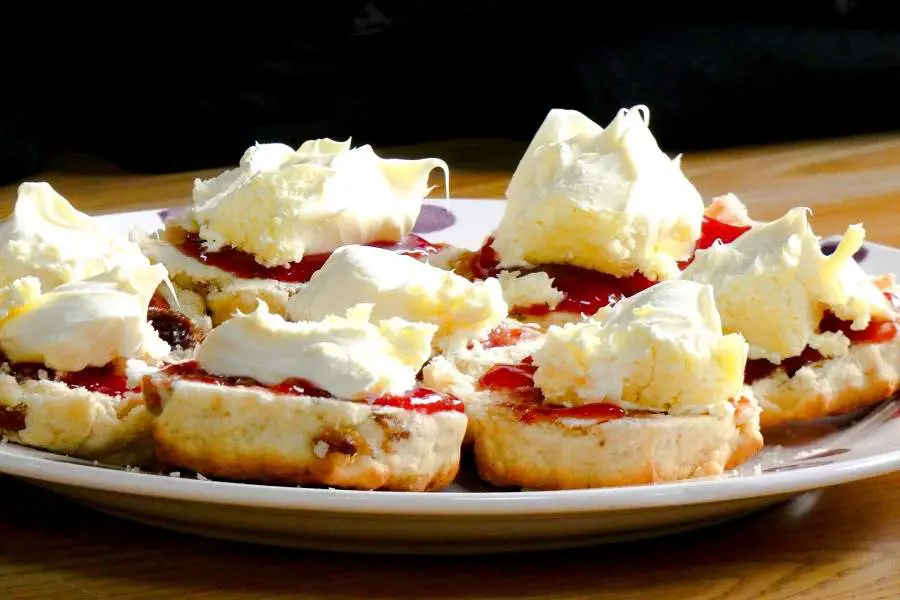 Darren McGrady, the former personal chef to Queen Elizabeth II, says that jam always comes first in tea parties at Buckingham Palace. Even the Queen put homemade Balmoral jam first with clotted cream on top.
If you're in Britain, use the version practiced in the region you're staying in, out of respect for traditions. If you're in America, you can try both versions, whichever works for you. Regardless of your location, these are the general etiquette for taking cream tea.
Eat 2 scones: 2 is the optimum amount of scones you should eat when taking cream tea. This is because cream tea is usually taken around 4 PM, and it shouldn't make you feel too full for dinner.
Break the scones apart: There's no need to use a knife to slice the scones apart. Freshly baked scones should break apart with a gentle tug.
Spoon on saucers: Place the spoon on the saucer after stirring milk and sweeteners into your tea.
Put your pinky finger down: Don't stick your pinky finger out when sipping tea. The proper way to drink tea is to hold the cup between the thumb and forefinger. 
Sit close to the pot when serving: It's English cream tea etiquette that the person sitting closest to the pot serve everyone at the table.
Frequently Asked Questions About Cream Tea
Q. What's the Difference Between Cream Tea and Afternoon Tea?
Cream tea only comes with scones, whereas an afternoon tea often includes 3 courses of food, which are sandwiches, scones, and pastries. Traditional afternoon tea offers a selection of finger foods and more delicate brews than cream tea.
Q. Is Cream Tea the Same as High Tea?
Cream tea isn't the same as high tea because high tea is a spin-off of afternoon tea. High tea became popular in the working class back then as they couldn't take an afternoon tea due to working times. Instead, they serve high tea at dinner, which has a higher table.
Q. Is Cream Tea Popular in Other Countries, like Australia?
Yes, cream tea is enjoyed around the world, but has it roots in the UK. In Australia, cream tea is commonly referred to as Devonshire Tea.
Q. What is clotted cream?
Many readers from North America might be wondering what clotted cream is, since it's not common in the States. Clotted cream is a sweet cream that has a thickness best described as somewhere between yogurt and soft butter.
Conclusion
Whether you prefer Earl Grey or matcha tea, pairing it with freshly baked scones lets you enjoy the relaxing feeling of preparing cream tea. After discovering the wonderful world of cream tea, the next step is to choose what kind of tea to serve using the best teaware and accessories.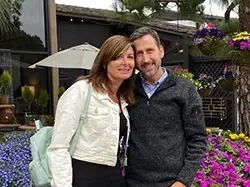 Scott is the founder of TeaMinded. He enjoys tasting and discovering teas from across the globe, with green teas and ceremonial matcha from Japan being among his favorites. He's grateful to be immersed in the tea community, always learning and sharing along the journey.