If you buy something through a link in our posts, we may get a small share of the sale.
Introducing the Rishi Tea Simple Brew Loose Leaf Teapot 
This Rishi Teapot is created for ultimate convenience. You can watch your tea unfurl and steep in this high quality glass vessel. The unique design of this teapot is made with ease-of-use in mind.
All you need to do is add your loose-leaf tea and hot water, before you seal it with the infuser lid. When the tea has steeped to your liking, simply pour into your favorite cup. The built-in mesh filter stays in place, keeping your tea leaves contained and your beverage perfectly filtered.
Using the Rishi teapot allows you complete control over every aspect of the tea brewing experience. It is ideal for making multiple steeps of tea, and is great for preparing other filtered single-serve beverages (such as fruit-infused water, ginger drinks, and other unique recipes).
Benefits
The main benefit of the Rishi Looseleaf Teapot is convenience. It's a product you can use wherever you are, at home or work. The infuser makes cleanup very easy, and its dishwasher safe.
The brewpot has a stainless steel lid that snaps right in place with ease and the kettle has a handle for easy grip and handling. The drip-free spout makes for easy pouring. Brewing loose leaf tea has been made much easier with this teapot.
High Quality
The teapot is made of heat resistant glass and high-grade stainless steel infuser, which will not only enhance the quality of your tea, but will also last you for a very long time. The teapot is also equipped with a handle so you can easily avoid the hot surface.
Environmentally Safe
The product does not contain any materials, such as plastic, that could be environmentally unsafe.
Design
The glass of the brewpot is made with borosilicate, which is heat resistant and the infuser is made up of high grade stainless steel infuser. Together it gives the brewpot an elegant and innovative look, and not to mention the drip-free sprout for easy pouring.
Affordability
The Rishi Tea Simple Brewpot is affordable. Consider the time you will save in cleaning and brewing with this highly convenient brewpot. Not only will you make tea brewing an easy task but you will also get to enjoy the amazing aromas and flavors of loose leaf teas and other infused beverages.
If you are a tea enthusiast or simply want an easier way to brew tea, then the Rishi Tea Simple Brew Loose Leaf Teapot is a good solution.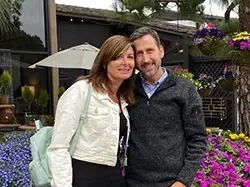 Scott is the founder of TeaMinded. He enjoys tasting and discovering teas from across the globe, with green teas and ceremonial matcha from Japan being among his favorites. He's grateful to be immersed in the tea community, always learning and sharing along the journey.