While brewing tea can be a simple process of placing tea leaves in hot water, having the correct tools can highly enhance the flavor of the end result. A Yixing teapot can help a good tea taste excellent.
What is a Yixing Teapot?
The Yixing Teapot is a traditional teapot used for brewing tea. Originating in China, this type of teapot is made from unglazed Yixing clay. This clay comes from the areas surrounding the Chinese city of Yixing in Jiangsu Province. Yixing clay is also known as purple sand clay or zisha.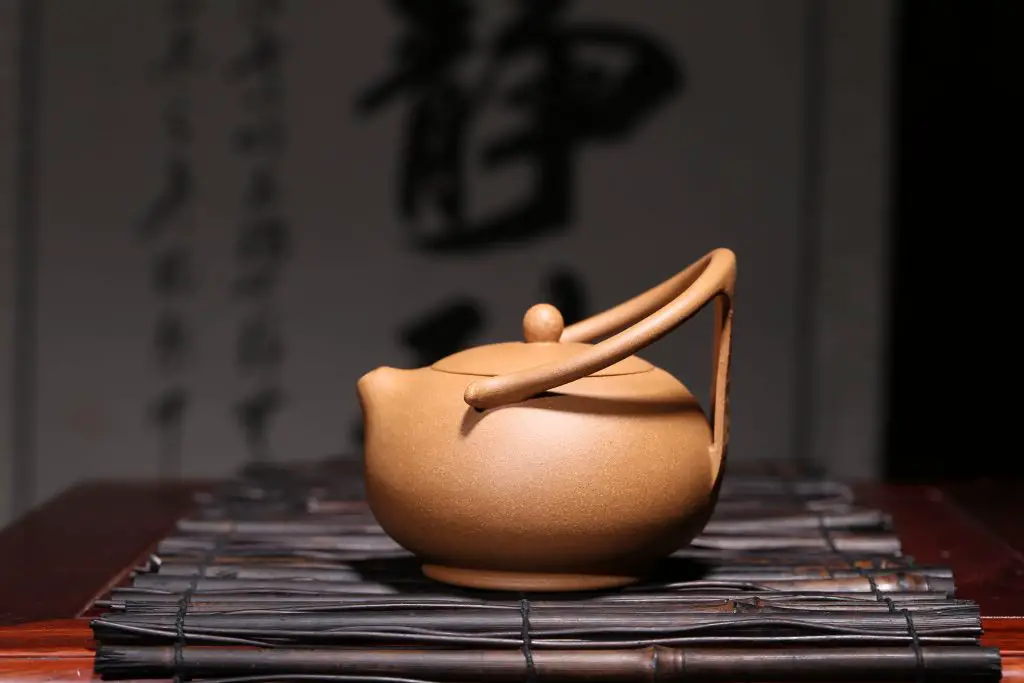 Yixing Clay
Higher quality Yixing clay is weathered for up to several years before being processed, but mechanical weathering and crushing has become a popular way to speed up the process. After the clay is weathered, it is ground into a fine powder and the excess iron content is removed with magnets.
There are three primary kinds of zisha clay used to make Yixing teapots.
Purple Yixing Clay – Most common. Despite the name, this clay turns dark brown once it is fired.
Green Yixing Clay – Rare. Normally used as decoration, or mixed with other Yixing clay colors.
Red Yixing Clay – Rare, but more common than green Yixing clay. Also known as Zhuni or Hongni clay. Sometimes used as a coating over teapots which are primarily constructed of purple clay.
Yixing Teapot Manufacturing
Western style pottery is often turned on a wheel, but Yixing pots are classically formed by hand. Yixing teapots were originally completely manufactured by hand on a piece-by-piece basis, with artists keeping their methods secret. With advances in manufacturing technology, the process is completed more quickly, but perhaps with a little less individuality.
One of the best combinations of speed and craft are the Yixing teapots that are created halfway by machine and halfway by hand. The separate pieces of the teapot are machine-molded, but they are assembled by hand. Completely machine-made teapots exist as well and can provide excellent value.
Different Firing Temperatures of Yixing Teapots
Yixing teapots can be fired at high or low temperatures, with the end results performing differently. 
Pots fired at a higher temperature end up with a finer, thinner clay. They can be used for any type of tea but are especially recommended with milder teas such as white, green, or mild oolong teas.
Yixing teapots fired at a lower temperature tend to be thicker and more porous. These types of pots work well with black tea, pu-erh, and stronger oolong tea.
Yixing Teapot Shapes and Profiles
Yixing teapots, in general, are made in very simple shapes. Tea is very sensitive to temperature change, and more complex shapes can create hot and cool zones around the pot. 
Some of the more popular Yixing teapot shapes:
Shui Ping – A thin-walled, high-fired pot with low walls, good for most teas. 
Xi Shi – Very similar to the Shui Ping, it has a lovely rounded shape that is meant to be reminiscent of a beautiful woman's face.
Fang Gu – This style of the Yixing teapot is taller, helping with the brewing process for mild teas.
There are taller (high profile) and shorter (low profile) yixing teapots. High profile teapots favor mild tea leaves such as green or white teas and lighter oolong. Low profile pots do well with stronger teas like black tea, dark oolong, and Da Hong Pao.
When considering which shape of teapot to purchase, one of the things to look at is the size of the lid and top opening. Smaller top openings keep the scent and fragrance of the tea inside the pot, while a larger opening allows some of the fragrance to escape.
Yixing teapots with a smaller opening help lighter teas that focus on fragrance like white, green, or light oolong teas. Wider openings benefit teas with a stronger flavor and less fragrance such as black tea.
Look for teapots with a wide open spout. Gongfu tea brewing is a quick process, so the tea needs to be able to leave the pot at a fast pace.
Using Yixing Teapots
Yixing teapots are well suited for darker teas. Green and white tea can be infused in a Yixing pot, but it can be easy to over-brew the leaves. This form of teapot maintains a high water temperature for a long period of time so it is important to pay attention to the steeping time.
How to Properly Care for a Yixing Teapot
A Yixing teapot should only be used for one type of tea, or at least the same class of tea. Since the pot is unglazed, it will retain the oils and tastes of the last tea leaves used. Over time, the buildup will help smooth out the taste of tea brewed in the pot, as well as adding its own unique flavor.
When a new teapot is purchased it will need to be "seasoned." This process will help open up the pores of the clay, clean any manufacturing residue, and prepare it for brewing.
Scrub the inside of the pot with a clean, non-abrasive sponge or cloth. Rinse any residue out, then fill it with water. Let the filled teapot sit overnight.
With the teapot inside (without the lid), fill a large pot with water. Put tea leaves of the class you plan to brew in the teapot, and bring the pot to a light boil. Let boil for about 30 minutes.
Turn the stove heat off and allow to cool slowly. Let it sit overnight.
The next day, remove the Yixing teapot and rub off any new residue that has accumulated. Rinse the teapot with clean water, place back into the large pot, and repeat the boiling/cooling process.
After the pot has cooled and has sat out overnight, remove the teapot and rinse it with hot water. Allow to dry and it is ready for use.
If at any point the class of tea you wish to brew in the Yixing pot is different from the one you have been using, simply re-season the pot using the same process but with different tea leaves. This method can be used when purchasing antique or used pots, but the removal of those oils can also take away the benefits that a used pot can bring.
To clean a Yixing teapot, just empty the leaves and rinse with hot water. Do not use soap – the oil buildup and tea stains are normal signs of use and will help with the flavor of future brews.
Always pour any extra tea over the outside of the teapot and occasionally polish with a clean, soft cloth. This will add to the unique look of the pot over the years.
Brewing Tea Leaves With a Yixing Pot
With different kinds of tea leaves, temperature and steep time will differ. Consult your tea provider for this information to make sure that the leaves will be properly steeped.
Heat water to the correct temperature in a stovetop or electric kettle.
Place the Yixing teapot, cups, and any other needed teaware on a surface that can get wet, such as a bamboo tea tray.
Measure the desired amount of tea leaves directly into the teapot. A strainer or infuser can be used, but it is not recommended.
When the water is at the correct temperature, pour the water gently over the tea leaves.
Cover the teapot with its lid and let steep for a short amount of time.
Pour this first batch of tea into a pitcher.
Refill the teapot with hot water and cover. This will be the tea that is served, so steep for the correct amount of time.
Pour the tea from the pitcher over the teapot.
Pour the tea from the teapot into teacups.
Use any excess tea to pour over the outside of the teapot, using the pitcher.
There are many different tea ceremonies that can be performed when steeping and serving tea from a Yixing teapot, some up to or over 21 different steps. The gongfu style of brewing tea is very popular and an excellent way to brew different types of tea leaves.
Best Yixing Teapots
When shopping for a Yixing teapot, be sure to think of the type of tea leaves you will be brewing, as some different shapes and profiles work better for different classes of tea.
Best Overall Yixing Teapot: Chinese Yixing Purple Clay Half Moon Tea Pot
This Chinese Yixing Purple Clay Handmade Half Moon Tea Pot is a simple low profile teapot with a half-moon shape. They are each made by hand with the artist's stamp on the bottom.
[amazon fields="B00OSRPMPO" value="thumb" image_size="large" image_align="center"]
Made from purple zisha clay, this teapot has the normal straining holes normally found in a yixing teapot. It could be considered large for a single person when using the popular gung fu brewing method, but when serving more people, it will be very useful.
The low profile and wide top opening of this Yixing teapot will work well with darker teas like black tea or a dark oolong. 
[amazon box="B00OSRPMPO" template="horizontal"]
Best Yixing Teapot for the Money: Chinese Yixing Black Sand Heijingan Tea Xishi Pots
The Chinese Yixing Genuine Black Sand Heijingan Tea Xishi Pots are made from China Yixing Heijingang clay. Its sleek design has a nice reddish/brown color with lighter flecks throughout. The filter area is in the shape of a ball protruding into the inside of the teapot, keeping the leaves from pouring into teacups.
[amazon fields="B074QGC7SH" value="thumb" image_size="large" image_align="center"]
The shape of this teapot is a little more rounded on the bottom than our overall choice, but also has a low profile and wide top opening. This makes it suited for the same darker teas, especially Da Hong Pao.
To keep the lid from being misplaced, there is a secure rope that attaches the lid to the teapot, a nice addition. It arrives gift wrapped, making it an excellent present for any tea lover.
[amazon box="B074QGC7SH" template="horizontal"]
Best Cheap Yixing Teapot: Never King Chinese Yixing Xishi Hu Tea Pot 
If looking for a lower-priced option, it is hard to beat the Never King Chinese Yixing Xishi Hu Tea Pot. It is made of natural Yixing clay and has a capacity of 220cc. This smaller capacity makes it an excellent choice when preparing tea for one person.
[amazon fields="B074R7YZGG" value="thumb" image_size="large" image_align="center"]
It has a slightly higher profile than the other Yixing teapots mentioned, which makes it work well with lighter, more delicate teas. The top opening is of about average size, large enough to fit full tea leaves into but small enough that not much fragrance will escape.
Reviews state that there may be an issue with the fit of the lid, it is not quite as solid as the higher-priced options. In most cases this will not matter, but it is something to consider when pouring tea – if tilted too sharply, it may leak.
[amazon box="B074R7YZGG" template="horizontal"]
Best High Capacity Yixing Teapot: Adagio Teas 10 oz. Zibo Yixing Teapot
With a capacity of 10 ounces, the Adagio Teas 10 oz. Zibo Yixing Teapot is a great choice when brewing for multiple people. It is made in China, exclusively for Adagio, from purple zisha clay. The handle is very large, helping to keep hands from burning.
[amazon fields="B004XYONW0″ value="thumb" image_size="large" image_align="center"]
In the product features, the manufacturer claims that it is "great for steeping oolongs and pu'erhs." However, from the high profile of this teapot we would recommend using it with more delicately flavored tea leaves such as green or white tea.
[amazon box="B004XYONW0″ template="horizontal"]
Enjoying Yixing Teapots
Teapots can often be extravagant and gaudy pieces of art that are more suited for display than serving tea. Yixing teapots, on the other hand, are simple tools that are meant to do one thing and do it well.
After years of use and care, Yixing teapots will build up oil from tea leaves, developing their own unique look and character. This patina will not only change the way the teapot looks, but also add to the taste of the brewed tea. After a while, your Yixing teapot will truly be one of a kind.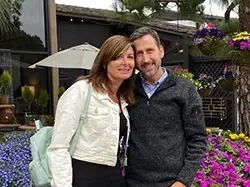 Scott is the founder of TeaMinded. He enjoys tasting and discovering teas from across the globe, with green teas and ceremonial matcha from Japan being among his favorites. He's grateful to be immersed in the tea community, always learning and sharing along the journey.