Chamomile tea has many things going for it: a history of wide-ranging health benefits, wide availability, and a pleasing aroma and taste.
Another plus: It's very easy to make and enjoy every day. If you're wondering about how chamomile tea may help your overall health and need answers to questions such as, "How long should I steep chamomile tea?" — we're here to help.
Here's our basic guide to understanding chamomile tea and how best to make it from home.
What is Chamomile Tea?
Herbs have been used for medicinal purposes for thousands of years and chamomile is one of the oldest plants used around the world to combat such ailments as an upset stomach and anxiety.
Chamomile is in the daisy family and grows around the world during the summer months. Chamomile tea is derived from the plant's dried flower petals. It has a strong floral fragrance that comes from the very aromatic chemical compound chamazulene. It's chamazulene that brings analgesic and anti-inflammatory properties to chamomile tea, which is caffeine-free. 
Health benefits of Chamomile Tea
Chamomile tea's ability to provide calm, helping with digestive trouble or sleeplessness, has led to its popularity. Two types are usually used for tea: Roman chamomile and German chamomile. 
While it's most commonly used as a relaxation beverage, there are many other potential health benefits packed into chamomile. It's loaded with antioxidants called flavonoids which help with overall heart health.
It has been shown to help relieve indigestion, headaches, and reduce menstrual pain. It also has anti-inflammatory properties. 
Chamomile tea has even been a part of treatment plans for diabetes, osteoporosis, cancer, skin conditions, and the common cold.
How to Prepare Chamomile Tea
Chamomile tea is widely available in tea packets or loose tea leaves sold everywhere from drugstores and big-box retailers to holistic health shops. It's also extremely easy to brew yourself.
One popular way to prepare the tea is to boil water in an electric kettle to warm a teapot, swirl around in the pot and then discard.
Next, put the chamomile tea in the teapot, add hot water, cover, and steep. Then, you'll need to strain the chamomile and pour the tea into a cup to enjoy. You can also steep a teabag in hot water in a covered mug and wait for it to cool.
How Long to Steep Chamomile Tea? 
Many recipes recommend steeping the tea for just five minutes or so, up to 10 minutes. The longer it steeps the stronger your tea will be. Try out different steep times if you're unsure of the strength you prefer. 
In addition, cold-brewed chamomile tea can be steeped for up to 24 hours in your refrigerator.
How Much Chamomile Tea Can I Drink Each Day?
Chamomile is considered generally safe for most people. Most doctors agree that it's fine to drink a cup of chamomile tea every day  — even up to five times a day.
Those who are allergic to chamomile and related plants should not ingest it in any form. As with any type of health plan, it's best to talk to your doctor before integrating chamomile into your daily routine.
The Bottom Line
One of the oldest and most popular herbs used for medicinal purposes, chamomile can calm sleeplessness and has anti-inflammatory properties when used in tea form.
Using it each day is generally safe and beneficial, but double-check with your doctor if you have related allergies or any health concerns.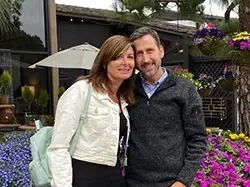 Scott is the founder of TeaMinded. He enjoys tasting and discovering teas from across the globe, with green teas and ceremonial matcha from Japan being among his favorites. He's grateful to be immersed in the tea community, always learning and sharing along the journey.