Material Matcha is a brand that was started with the intent of bringing high-quality matcha green teas from Japan. They produce multiple blends and flavors of matcha tea ranging from sharp and intense (MMU01) to full-bodied and smooth (MMU03). This hands-on Material Matcha Uji MMU01 review will show you the benefits and drawbacks of their signature tea.
Material Matcha Uji MMU01 Review
Matcha often has different flavor profiles, but these are normally based on the quality of the ground tea instead of focusing on the varieties or cultivars like many other green teas. Ceremonial grade is what we normally look for in matcha for drinking, as the higher quality grinding process and younger leaves create a smooth, rich flavor. 
Material Matcha has gone a step beyond and created blends from different leaf varietals to focus on specific flavors. The matcha tea we are reviewing today, MMU01, is billed as sharp, wild, and intense. It is a blend of the Okumidori, Zairai, Samidori, and Yabukita varieties. Zairai, literally "native" leaves, come from old trees and help add the additional kick.
Pros
Creative packaging
Sharp and vibrant flavor
Deep umami on the back of the tongue
Smooth, even grinding of the powder
Vibrant green powder color
Soft mouthfeel
Cons
Pricey, but can be found on sale
Thin foam
Material Matcha Packaging
The box and other packaging material for Material Matcha are very unique. There is an outer protective sleeve, then you slide out the main package. This package in turn features a slide-out drawer where the tea is stored. The tea comes in a reflective, resealable mylar envelope, with raised lettering down the middle.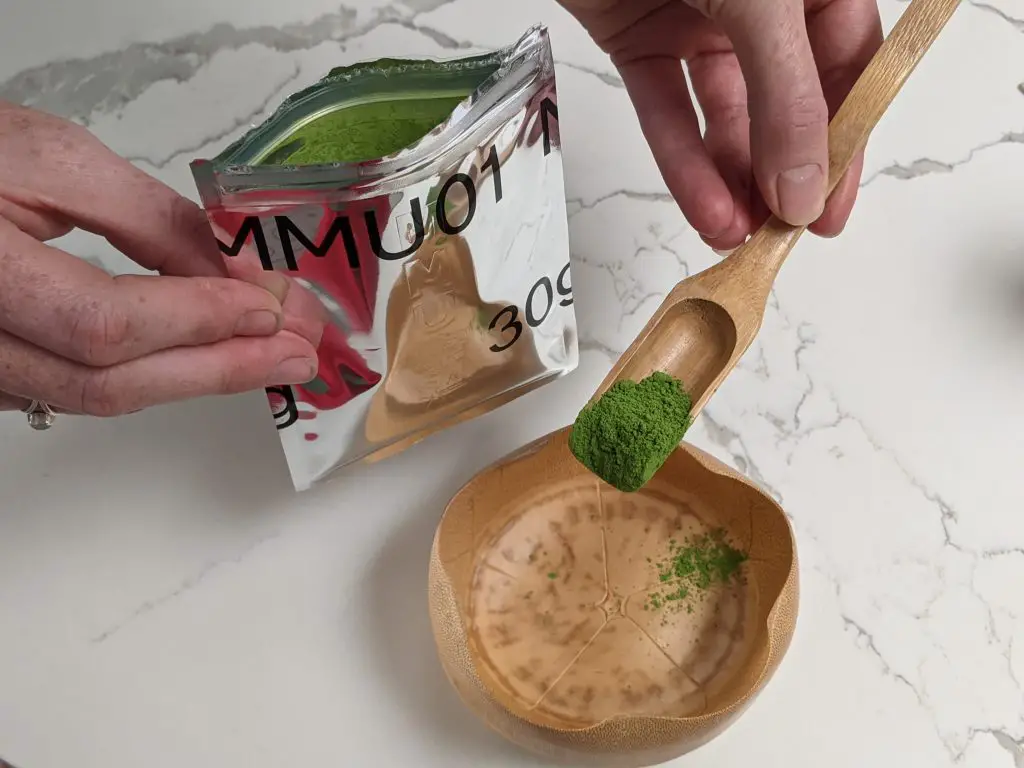 Included in the package is a handbook, printed in the old Xerox style like a pamphlet you might pick up at an indy book store. This booklet contains information about the company, pictures of Japan and the Uji region, matcha in general, and great instructions on how to blend Material Matcha tea. It is a very nice touch for this premium product.
Blending Material Matcha
Using a tip from the included booklet, we started off with a small amount of cold water to mix the matcha powder into a paste. This helps to remove any clumps of powder and produce a smoother drink at the end.
The booklet recommends that you blend the Material Matcha tea between 60C-  70C (140F – 158F). We blended it at the higher end of that temperature scale. This created matcha that was immediately drinkable so the powder did not have any chance to separate.
Whisking together the water and paste in the final step using a chasen was a simple operation. The powder did have a tendency to stick on the sides of the chawan (whisking bowl) that we used, but that is fairly common since it is made from bamboo.
Tasting Material Matcha Uji MMU01
The taste of this matcha is unique to anything we have tasted here. "Sharp" is an excellent description of how the flavor first hits your tongue. We are used to matcha that has a mellow round flavor to it, but this one throws a lot of flavors at once. It is earthy, grassy, and has a touch of bitterness right off the bat that develops into a sweet coating.
The foam that developed was a little thin, but that didn't make much of a difference in the overall flavor or texture. The texture and mouthfeel were surprisingly soft for matcha without a thick foam layer.
High-quality matcha generally has a grassy but mellow flavor, with bits of umami and a combination of sweetness and bitterness. MMU01 expands on the grassy umami flavor, especially in the aftertaste. It doesn't taste like the grassiness of a brewed green tea, but it settles in your throat and spreads out almost like the texture of a chamomile tea.
Adding Flavoring to Material Matcha Uji MMU01
In our testing, we decided to see how layers of additional flavor would affect this matcha. We quickly realized that almost anything added masked the inherent flavors of MMU01. 
A teaspoon of honey: made the matcha far too sweet.
Splash of vanilla almond milk creamer: all we could taste was the creamer, with a faint matcha flavor in the background.
A very small drop of agave: this was the best complement, if you wanted to remove all bitterness from your blend.
Conclusion
Overall, the flavor and quality of Material Matcha Uji MMU01 are very good! Material Matcha is available directly from the Material Matcha website, along with other blends that we are looking forward to trying out soon.
If interested, you can also learn more about other matcha we have previously tried.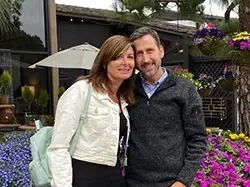 Scott is the founder of TeaMinded. He enjoys tasting and discovering teas from across the globe, with green teas and ceremonial matcha from Japan being among his favorites. He's grateful to be immersed in the tea community, always learning and sharing along the journey.