If you buy something through a link in our posts, we may get a small share of the sale.
Last Updated on May 31, 2022 by Scott
Having a good teapot can make a superior brew and elevate the tea-making experience for tea lovers. The right teapots are capable of steeping the correct amount of tea. However, teapots come with different features and designs made using different materials.
We have reviewed the best teapot to keep tea hot and to deliver great-tasting tea. Before buying your teapot, consider the type of tea you will be using it for, and its capacity to suit your needs. Also take into consideration of warming up your teapot before use, to bring out the flavors and aromas of your tea.
Our Best Teapot to Keep Tea Hot Reviews
Brand
Best Overall
Happy Sales HSCT-ABK01
Best for the Money
Tealyra Drago Ceramic Teapot
Best Cheap Pick
Tea Beyond Duo Set
Product



Items Included
One teapot, one trivet, & two cups
One teapot & one pack of Fab Flowering tea (4 blooms)
Best Overall
Product

Items Included
One teapot, one trivet, & two cups
Best for the Money
Brand
Tealyra Drago Ceramic Teapot
Product

Best Cheap Pick
Product

Items Included
One teapot & one pack of Fab Flowering tea (4 blooms)
Best Overall Teapot to Keep Tea Hot: Happy Sales HSCT-ABK01
The Happy Sales HSCT-ABK01 teapot boasts of an enamel finish that prevents the different tea flavors from brewing into the cast iron model. This is ideal for tea lovers that enjoy tasting various types of tea regularly.
The cast iron teapot arrives with two cast iron matching cups and a trivet that is perfect for those people with wooden tables. The model also comes with a stainless steel removable infuser that allows you to prevent tea leaves from entering into the cup while pouring tea.
It also allows the tea leaves to expand fully to enhance the flavor of your tea. The elegant Chinese inspired teapot is the perfect centerpiece for your living room table. The Japanese tea aficionados have also adapted this teapot set, which means it is functional and extremely durable.
Like all other cast iron teapots, the happy sales model brews a delicious pot of tea and will keep it hot for longer. The only issue with this teapot is that the cups become too hot to hold after pouring in hot water because there are no handles.
What We Like
Two cups, one trivet, and one teapot
Porcelain enamel interior finish
Ergonomic handle for robust grip
Removable infuser
Non-dripping spout
Safe handling
What We Don't Like
Difficult to hold cups after pouring hot water
Expensive
Best Teapot for the Money: Tealyra Drago Ceramic Teapot
The Tealyra Drago Ceramic teapot features high-fired ceramic and is 100% environmentally friendly, lead, and BPA-free. It is also dishwasher friendly and able to withstand extreme temperatures. The teapot has an extra-fine infuser capable of preventing the tiniest leaf particles from entering your cup while pouring tea.
The infuser will allow you to increase or reduce the number of tea leaves you use and enhance the intensity of your drink, depending on your personal preferences and the amount of tea you want to serve. The pot also doesn't lose its properties over time, making it durable.
The Tealyra teapot has a capacity of 37 ounces to allow you to make up to six teacups. This makes it an excellent option for tea enthusiasts that like sharing their tea experiences with friends or hosting tea events.
The teapot's large capacity makes it ideal for multiple occasions, such as serving tea after dinner or entertaining visitors in your home. The spout features anti-drip technology to prevent you from making a mess while serving tea.
Additionally, the teapot has a stainless steel cover that closes tightly. You can easily remove this cover for cleanup. The Drago Ceramic teapot has modern finishes with a classic design to ensure it looks great in your living room or kitchen.
Tealyra - Drago Ceramic Teapot Turquoise - 37oz...
HIGH-FIRED CERAMIC. Our Tealyra Drago teapot is made of ceramics - environmentally friendly and safe...
EXTRA-FINE INFUSER. Use infuser teapot to brew tea leaves (small and large) or sachets. You can...
BEAUTIFUL AND FUNCTIONAL. Tealyra Drago best teapot allows you to carefully pour the drink into the...
What We Like
Ability to withstand extreme temperatures
100% environmentally friendly
Extra fine infuser
Lead and BPA-free
Dishwasher friendly
37 ounces capacity
What We Don't Like
Best Cheap Teapot to Keep Tea Hot: Tea Beyond Duo Set
The Tea Beyond Duo Set teapot comes with a glass lid and robust glass construction.
The teapot is among the most beautifully designed and versatile in the industry. Freshly dried flowers and silver needle green tea make up The flowering tea included in the package.
The flowers are vacuum-sealed to ensure your tea remains fresh for long, no matter the time you take before drinking it. Each flower can give you up to 10 cups of tea, making it ideal for sharing with friends.
The 16-ounce capacity teapot comes with stainless steel wire at the spout to let you brew both flowering tea buds and loose leaf tea without having residue in your cup to enhance your tea drinking experience.
Although you can use this model with tea bags, the teapot enhances the visual appeal of tea as it provides enough room for blooming tea to expand inside the teapot.
Tea Beyond Fab Flowering Teapot Duo Set
Teapot Duo 16 oz. comes with one glass lid, one stainless steel wire at the spout and glass teapot...
Flowering tea is made of silver needle green tea and freshly dried flowers hand sewed by artisans
Teapot DUO 16 oz. is hand crafted; Non dripping; Makes tea drinking a more enjoyable experience
What We Like
Vacuum sealed flowers to keep your tea fresh for long
Can be used for blooming tea or loose leaf tea
Stainless steel wire at the spout
 Included flowering tea
Glass lid
Anti-drip spout
What We Don't Like
Delicate as it requires extra care
Ideal for one person
Teapot to Keep Tea Hot Features and Considerations
Choosing the best teapot to keep tea hot can be tricky as there are several factors to consider. While shopping, you should pay attention to its capacity, the type of tea you will use it to serve, and how you intend to use it. Here is a guide to help you select the right teapot.
Material
Teapots feature different materials, with each having its own cons and pros. While you may be familiar with the popular ceramic models, here are other models you will also find in the market:
Ceramic Teapots
These models can be used to prepare different types of tea and are good at retaining heat. They also come with glazed interiors to prevent tea flavors from being absorbed into them.
Porcelain Teapots
These teapots are perfect for delicate teas like white and green tea. They are also great for brewing different types of tea since they don't absorb tea flavors. However, they don't retain heat, making them less favorable for steeping black teas.
Glass Teapots
Like their porcelain counterparts, they also don't retain heat or absorb tea flavors. They can be used as ornamental pieces, especially when making flower blossom teas.
Clay Teapots
These types of teapots are not ideal for steeping multiple teas because they retain flavors. However, they are great at retaining heat.
Stainless Steel Teapots
These models are elegant, durable, and good at retaining heat. However, they require special care.
Cast Iron Teapots
Although these pots are heavy, you can use them to brew delicate teas.
Capacity
It is crucial to consider the number of people you intend to serve tea while selecting your teapot. If you like hosting tea lovers at your home, the teapot needs to be larger. On the other hand, a teapot that can serve one to two teacups is ideal if you do not have visitors. That said, keep in mind that teapots are available in a range of sizes, from 12 up to 40 ounces and sometimes even more.
Shape
While this factor may seem less important, it will have a big impact on your tea serving experience. The wrong shape can make your pot to drip, leak, or even make a mess while serving tea. Additionally, if you misplace the handle, it can become too hot to handle. Some teapots also have lids that may be too loose or don't fit properly. This can be annoying when pouring tea.
Brewer/Infuser Basket
A teapot can have a removable or non-removable infuser. However, some people prefer the removable option because you are able to lift it out of the pot to remove the steeped leaves. The infuser is necessary as it allows the leaves to come into contact with the boiling water without dispersing freely in the water.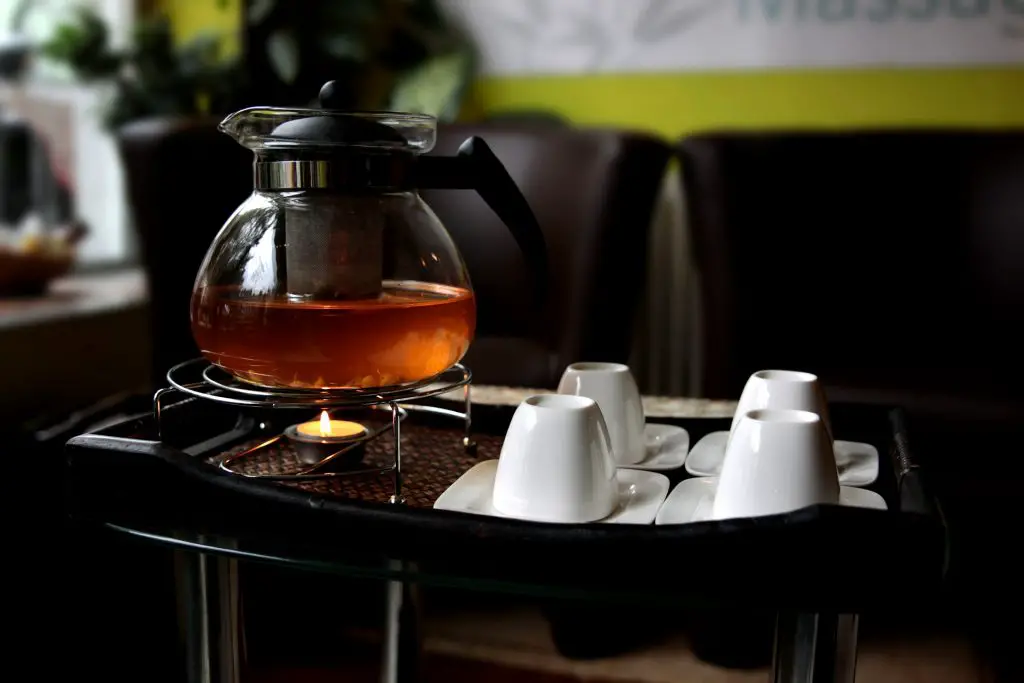 This prevents excess steeping and makes separating easy. The amount of tea you plan to steep and the size of the teapot will determine the size of the infuser you will need. However, if you want your tea leaves to move in the pot freely to release maximum flavor, opt for a smaller teapot.
Aesthetics
During each tea serving session, you will be looking at your teapot. So, apart from brewing the perfect tea, you may want to choose a pot that is attractive to the eye. Glass teapots are beautiful visually, especially if you steep blooming teas that unfold as they brew in the pot of hot water. Watching the teas spread their flavor and color into the water looks stunning.  Since there are many elegant teapots available, choose the one that suits your liking.
Conclusion
Enjoy your cup of tea using any of the teapots we have reviewed above. Choose any of these teapots for use at home as they are durable, have infusers for loose leaf teas, capacities for two or more people, and can keep tea hot for a long period. They also have elegant designs to add to your kitchen's décor.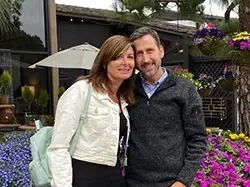 Scott is the founder of TeaMinded. He enjoys tasting and discovering teas from across the globe, with green teas and ceremonial matcha from Japan being among his favorites. He's grateful to be immersed in the tea community, always learning and sharing along the journey.