When thinking of tea from India, we often imagine that the teas will be very robust and spicy. This is true when speaking of darker, more oxidized Assam teas, but the best Darjeeling tea has a light flavor and floral aroma. The muscatel flavor, often related to the wine of the same name, is one of the trademarks of Darjeeling tea and one of the things to look out for.
Our Top Darjeeling Tea Reviews
Because of the limited nature of Darjeeling tea, prices seem to go up over time. Keep that in mind when looking to purchase tea from the same brand or manufacturer year over year. Prices rose over 40% on average between 2018-2019.
Brand
Best Overall
Pantenger Darjeeling First Flush Loose Leaf Tea
Best for the Money
VAHDAM First Flush Darjeeling Tea
Best Cheap Pick
Harney & Sons Darjeeling Tea
Product



Flavor
Organic Darjeeling First Flush Black Tea
Best Overall
Brand
Pantenger Darjeeling First Flush Loose Leaf Tea
Product

Best for the Money
Brand
VAHDAM First Flush Darjeeling Tea
Product

Flavor
Organic Darjeeling First Flush Black Tea
Best Cheap Pick
Brand
Harney & Sons Darjeeling Tea
Product

Best Overall Darjeeling Tea: Pantenger Darjeeling First Flush Loose Leaf Tea
This first flush Darjeeling tea from Pantenger is grown on a single estate, with the gardens covering land at an altitude between 4000-6500 feet. This fairly high altitude combined with winter weather in that area helps the tea bushes to go dormant, preserving the qualities that show in the final flavor of the tea. When spring arrives, the warmer weather makes the plants explode with new leaves.
The flavor of this first flush Darjeeling is very mild, as first flush teas should be. It is not fully oxidized, maybe 80%, so there may be more in common with a darker oolong tea than your classic black teas from the surrounding regions. It has a golden color when brewed and the scent is floral with hints of peach and apricot. The sweetness is not overpowering, but it can definitely be tasted.
Pantenger Darjeeling FTGFOP1 whole leaf tea is certified USDA organic, gluten-free, Kosher certified by OU, and Non-GMO. This high-quality tea arrives in a beautiful airtight sealed tin that can be reused for tea or other storage. Pantenger Tea also offers a 100% satisfaction guarantee, so it is worth giving it a try.
What We Like
Quality loose, full leaves harvested from a high elevation during the spring
Light, mild flavor
Reusable tin
What We Don't Like
Price can be costly
The flavor may be a bit too mild for some tastes
Darjeeling First Flush FTGFOP1. 2021 Harvest....
Pantenger Darjeeling First Flush tea is cultivated on a single estate in the heart of Darjeeling,...
The temperature range, rich soil, and pure water descending from the high mountains give the...
The cold winter weather makes the tea bush dormant for several months. With the arrival of the...
Best Darjeeling Tea for the Money: Vahdam First Flush Darjeeling Tea
Well known tea producer Vahdam produces another fantastic product with their First Flush Darjeeling Tea. Harvested during the springtime from single estates in the Darjeeling region, this is not a single-origin tea but a blend. By blending different tea leaves from the same general area, they are able to produce a Darjeeling that is consistent and flavorful.
Vahdam's Darjeeling black tea blend has a lower amount of caffeine than many other black teas, and the flavor profile is more balanced than you may typically find. There is a hint of grassiness in the flavor along with dried figs, and it has a flowery bouquet. The aftertaste has notes of citrus that linger on the tongue.
As with most first flush Darjeeling tea, you will get the most out of these leaves by brewing them at a lower temperature, somewhere around 190F. Treat it more like a green tea in your brewing procedure and it will produce a perfect golden cup. Brewing this tea with water that is too hot, or brewing for too long may increase the amount of bitterness and astringency.
What We Like
Blending different estate leaves creates a more consistent product
Low caffeine
Mellow, flowery, grassy taste notes
What We Don't Like
Mild flavor and lower caffeine content may not work for everyone
Easy to over steep
VAHDAM, First Flush Darjeeling Tea - 50 Cups...
PURE DARJEELING BLACK TEA - Savor the essence of spring with our Darjeeling Premium First Flush...
DIRECTLY SOURCED FROM PREMIUM PLANTATIONS - Experience the finest Whole Loose Leaf Tea, sourced from...
A BRAND WITH A BILLION DREAMS - VAHDAM India is one of India's largest digitally native, global...
Best Low Cost Darjeeling Tea: Harney & Sons Darjeeling Tea
While our first two recommendations for Darjeeling tea are comprised of first flush leaves, Harney & Sons Darjeeling Tea is a blend of first flush and autumnal (generally second flush) leaves. This makes for a stronger flavor and higher caffeine content, but can lose some of the more subtle notes of the first flush teas.
This tea has a medium body and has a higher oxidation level than the Vahdam Darjeeling. The caffeine content is higher and the sweet, woody flavor is stronger. The presence of some first flush leaves in the blend is noticeable in the bright, fruity aroma of the tea, but not as much in the flavor. It also has a much wider range of water temperatures and steeping times.
For a good afternoon tea with moderate flavor and caffeine, and that can stand up to milk and sugar, this Harney & Sons Darjeeling is an excellent choice. Harney & Sons is a proud member of 1% for the Planet, contributing at least one percent of their annual revenue to causes that support the environment.
What We Like
Blend of first flush and autumnal leaves creates a unique flavor
Fruity bouquet
Easy to brew
Pairs well with milk
What We Don't Like
Does not have the subtlety of Darjeeling made from only first flush leaves
Can be bitter to some
Harney & Sons, Tea Black, Darjeeling, 4 Ounce
High in the mountains, deep in the Himalayas is Darjeeling, the Queen of Teas
Darjeeling tea is a blend of First Flush and Autumnal teas from the best gardens
Darjeeling has developed a reputation among tea drinkers for over 150 years of excellence
Best Darjeeling Tea with Muscatel Flavor: Golden Moon Darjeeling Tea
The muscatel flavor that Darjeeling tea is known for stands out more prominently in second flush leaves. The leaves for Golden Moon Darjeeling Tea are picked in the Autumn harvest season when the leaves give a richer and more developed flavor. The tea is still lighter than its bolder black tea relatives, but definitely has more punch than most first flush Darjeelings.
This Darjeeling has a full body with a nutty plum and muscatel flavor. There are floral notes but they can get a bit overwhelmed by the rich jamminess. The finish has a touch of spice to it. There is very little bitterness or astringency, but if you really like tea with milk, you can brew it with a higher tea to water ratio to make sure the flavor holds up without being diluted.
The Golden Moon Darjeeling tea is grown on the Makaibari Tea Farm in Darjeeling, where the owners focus on very heavily organic growing methods. No pesticides are used, native plants and herbs are encouraged to grow around the tea bushes instead of being treated as weeds, and the farm is integrated into the local rainforest.
What We Like
Second flush leaves provide a stronger flavor
More full-bodied than most Darjeeling tea
Muscatel is very noticeable
Biodynamic farming
What We Don't Like
Darjeeling Tea - Organic - Loose Leaf - Bulk - Non...
CHAMPAGNE OF TEAS - Darjeeling black teas are known for refined and complex flavors. Ours improves...
BIODYNAMIC FARMING - We source premium Darjeeling from the world-renowned Makaibari Tea Farm in...
NO ADDED NATURAL OR ARTIFICIAL FLAVORING - Golden Moon Darjeeling Tea never contains artificial...
Features to Consider for Darjeeling Tea
Known as the "champagne of teas," both for the protected geographical designation and for the light, golden color, Darjeeling tea comes from one specific area of India. This is the Darjeeling district of West Bengal, very close to Assam, in the Lesser Himalayas. Because of the specific terroir, this tea has a generally consistent flavor profile even when it is harvested from different farms.
Darjeeling tea is generally one of the lighter black teas available on the market. The type (or color) of tea is determined by the level of oxidation. Because of the lower oxidation that Darjeeling leaves go through, they could almost be considered oolong instead of black tea. Green teas are also made from the leaves in this area, but they are rare and hard to find.
Darjeeling Tea is Unique
Tea is grown all over the world, but the unique terroir of the Darjeeling district creates some of the finest tea available. Here are some of the parts of what makes Darjeeling tea so special.
Darjeeling tea is grown at a very high elevation, some of the highest elevation farms in the world. The only farms at a similar elevation are in the Lishan range in China.
The high elevation makes for different daytime and nighttime temperatures as well as higher ultraviolet ray exposure. Humidity and even oxygen levels can be much different at elevations such as these.
All Darjeeling tea leaves are picked by hand. Mechanized farms often end up with large amounts of broken leaves, but it is rare to find many in a bag of Darjeeling.
First and Second Flush Darjeeling
Leaves picked in the Spring, called "first flush" leaves, have the lightest flavor and a bright floral aroma. These leaves are highly sought after and can become quite pricey, as they have to be treated very delicately as opposed to leaves harvested later in the season. They also should be packaged and shipped as soon as possible to maintain freshness and bring all of the flavor and scent properties to your cup.
The second flush, or leaves picked during the Summer harvesting season, are generally more hearty than the first flush leaves. There is a noticeable increase in flavor and scent, and the deeper notes like stone fruit and muscatel are pushed forward in place of the subtle flavors of the springtime leaves. Interestingly, first flush Darjeeling tea leaves can contain up to three times more theanine than second flush leaves.
The Monsoon and Autumnal harvest seasons are generally very wet as the monsoons are beginning to arrive. These tea leaves generally are the most oxidized and have the deepest flavor, but can sometimes be strong and bitter like many Assam teas. Many excellent teas combine Autumn Darjeeling leaves such as breakfast blends and chai.
Counterfeit Darjeeling Tea
Because the demand for Darjeeling tea is so high, but the amount produced every year is limited by the number of farms in one geographical area, there is a real problem with counterfeit tea.
Some may claim that it is just mislabeled, or that it is the same plant or general area. This would be acceptable if the tea was sold at a lower price but it is usually not.
Many of the "fake" Darjeeling teas come from directly over the border in Nepal. The terroir is identical, and the same family of tea plants is used. Even a biologist would not be able to tell the difference between leaves grown 100 meters apart across a man-made line.
The only way to certify that the tea you are receiving is true Darjeeling is by knowing the entire supply chain from farm to table.
This is why we recommend sticking with well-known, trusted tea companies that keep tabs on what farms the leaves are coming from, or even own the farms themselves.
What to Look For in Darjeeling Tea
When shopping for Darjeeling tea there are a few things to look out for that can tell you a lot about the product before even opening it. While there are similarities between the different tea farms and their teas because of the shared terroir, the variances on how the leaves are handled after harvesting as well as trade secrets will create different flavors.
Make sure the flush is stated: What part of the year the leaves are picked, or the flush, can tell you a lot about the final product. First flush teas will generally be lighter, and second flush teas will have a fuller-bodied taste and finish.
Look for the year: In mass production teas, it would be almost impossible to find out when the leaves were picked, since they may be sitting in a warehouse for years. For smaller vendors try to get first flush tea as soon as possible, but second flush tea can keep for longer periods of time.
Look for a grading: Whole tea leaf grading has emerged to identify the quality of leaves in a package. Most of the time with loose leaf you are looking to make sure they are not broken.
Look for the farm name: In trying to judge whether the tea you are receiving is actually from Darjeeling, the name of the farm it is from, hopefully with certification, should be enough to prove it.
Avoid buying Darjeeling tea in supermarkets: Mass-produced Darjeeling in the grocery store will generally be of very low quality. Fannings and tea dust in loose tea bags are what you will typically get, and probably a very small amount of Darjeeling tea mixed with Assam or another easy to find black tea.
Smell the tea if possible: If you are in a specialty tea store, examine the leaves and smell the tea. First flush should put out fragrant floral aromas. If there is a deep richness to the scent, it may be blended with leaves from in-between flushes or even Monsoon harvest.
Conclusion
Darjeeling tea has an interesting story, with its incredibly high elevation farms, all located in one specific region of the world. The unique flavor of this tea makes it highly prized in many circles, with different flushes and blends able to produce different notes ranging from woody to grassy.
Brew and enjoy first flush Darjeeling tea as you would an oolong or green tea, and feel free to treat second flush as you would a black tea. You can even add milk and a sweetener, but it is often not needed.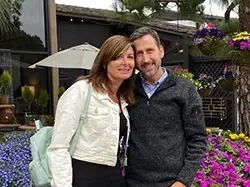 Scott is the founder of TeaMinded. He enjoys tasting and discovering teas from across the globe, with green teas and ceremonial matcha from Japan being among his favorites. He's grateful to be immersed in the tea community, always learning and sharing along the journey.