If you buy something through a link in our posts, we may get a small share of the sale.
Last Updated on May 30, 2022 by Scott
Starting the day with a bold cup of English breakfast tea along with a hearty morning meal can get things off to a great start. A bit on the mellow side as compared to coffee, the best English breakfast tea can help wake you up as well as balance out the strong flavors that can come along with a classic British breakfast.
Our Top English Breakfast Tea Reviews
Since English breakfast tea is generally a blend of tea leaves, and each company that produces them has its own secret blend, a tea from one company called English Breakfast may taste completely different from one produced by another. We will explain the differences between some of our favorites in the following reviews.
Brand
Best Overall
VAHDAM English Breakfast Original Black Tea
Best for the Money
Twinings of London English Breakfast Tea
Best Cheap Pick
Taylors of Harrogate English Breakfast Tea
Product



Best Overall
Brand
VAHDAM English Breakfast Original Black Tea
Product

Best for the Money
Brand
Twinings of London English Breakfast Tea
Product

Best Cheap Pick
Brand
Taylors of Harrogate English Breakfast Tea
Product

Best Overall English Breakfast Tea: VAHDAM English Breakfast Original Black Tea
Vahdam Teas has been producing excellent quality tea from many different regions and cultivars of India. With their focus on high quality products going directly from farm to cup with no middlemen, this is the only English breakfast tea in our selections to come packaged as whole loose leaf. This gives you the flexibility to brew Vadham English Breakfast Tea as strong or as weak as you choose, while also being able to tell the quality of the leaves themselves.
The flavor of Vahdam English Breakfast Tea is malty, showing off its Assam roots. The leaves used to create this version of Vahdam tea are 100% Assam, as opposed to some others that blend teas from different regions. There are hints of caramel and cocoa to round out the finish, and a rich color in the cup that has a bit of a reddish hue.
This is a very strong and bold black tea blend with a higher caffeine content than many other English breakfast teas. It pairs well with milk and sugar when brewed for a longer time, but the astringency is not so powerful that you cannot drink it black. For a little bit of an extra kick, add a squeeze of lemon into a moderately brewed cup without milk, and with a bit of sugar.
Tea Tip: Vahdam English Breakfast Tea has the perfect flavor and consistency to make iced tea or kombucha.
What We Like
Quality whole, loose leaf tea provides versatility and transparency
Robust flavor that is not overshadowed when milk and sugar are added
Good value for this quality and quantity of tea
What We Don't Like
Only available in large packages
Original English Breakfast Black Tea Leaves (200+...
STRONG & BOLD BLACK TEA - A robust, rich & aromatic, bright LONG LEAF English tea. A delicious...
PERFECT GIFT FOR LOVED ONES - There is no better gift than the gift of good health. Present...
A BRAND WITH A BILLION DREAMS - Established in India by a 26-year-old, 4th generation Tea...
Best English Breakfast Tea for the Money: Twinings of London English Breakfast Tea
Well known for producing teas of consistent quality since 1706, this English breakfast tea from Twinings of London is their most popular blend, and for good reason. As one of the longest producers of this blend, Twinings has found a way to keep the flavor consistent over centuries by blending cultivars from many different regions.
The balance for Twinings English Breakfast Tea is achieved by blending leaves from:
Kenya and Malawi for briskness
Indian Assam for a rich, full bodied flavor
China for classic consistency
Indonesia for subtle floral notes
What you end up with is a moderately strong flavor with different notes that keep the palate interested. The more subtle leaves in the mix also make for a less bitter taste when brewed for long periods of time, while the flavors from the Kenyan and Assam leaves keep the deep flavor needed to mix with milk and sugar.
For those trying to switch from coffee to tea, it may be worth steeping this one for a little longer than the instructions say. This will give it both more flavor, as well as a bit more caffeine content in the cup.
A solid choice when trying to balance cost and flavor, give Twinings of London English Breakfast Tea a shot.
What We Like
Trustworthy history from Twinings of London
Individually packaged tea bags allow for a long shelf life
Excellent value
What We Don't Like
A little lower caffeine amount than some of our other choices
The small dust and fannings in the tea bags can sometimes end up in the final product
Twinings of London English Breakfast Black Tea...
FRESH FLAVOR: One box of 100 English Breakfast Black tea bags. Complex, full-bodied, lively cup of...
ONLY THE FINEST QUALITY: Our expert blenders source only the finest leaves cultivated to our...
ENGLISH BREAKFAST TEA: English Breakfast is our most popular tea. To create this well-balanced...
Best Cheap English Breakfast Tea: Taylors of Harrogate English Breakfast Tea
While not as established as Twinings of London, Taylors of Harrogate (since 1886) is still a very popular provider of tea in both the United Kingdom and across the world. Their English Breakfast Tea is non-GMO verified, is blended for both flavor and brightness, and is an all-around winner for the price.
The Taylors of Harrogate blend is comprised of black tea leaves from India and East Africa. As with the other blends reviewed, Assam leaves from India cover the bulk of the flavor and body of the English breakfast tea, and in this case, the East African tea that is blended with it adds a bit of refreshment to the mix. A touch of lemon adds even more brightness.
When tea bags are used, often the tea that goes into the sachets is smaller than the openings in the fabric. This is noted as happening quite often with Taylors of Harrogate. Whether the tea used is too small, or the sachet openings are too big, this can be a problem with losing the product before it even gets to your cup. We hope it will be addressed in future packaging updates.
What We Like
The balanced taste is suitable for all types of tea drinkers
High in antioxidants
Bright aftertaste
Low price
What We Don't Like
Takes longer to brew than other English breakfast teas
Reports of quality control issues in the tea bags
Taylors of Harrogate English Breakfast, 50 Teabags
This much-loved classic is a special blend of teas from two of the world's most famous tea growing...
The taste is full-bodied, rich and refreshing, with a bright, inviting colour, making it the ideal...
For the perfect cup we recommend that you use one tea bag. Add freshly boiled water and infuse for...
Best English Breakfast Tea Without Sugar: PG Tips
To be clear, tea bags are almost never packaged and shipped with sugar added. We are looking for the English breakfast tea that tastes the best without adding sugar, and PG Tips is at the top of our list. It is no wonder that it has been England's #1 tea off and on throughout its history.
While some tea drinkers prefer a very bold, strong tasting, and astringent tea that benefits from the addition of sugar (or milk, or lemon, or honey), some others appreciate a more mellow, rounded flavor. The taste of this Kenyan blend from PG Tips is not weak by any means, but it is also not overwhelming like stronger English breakfast teas that are primarily made of Assam leaves.
The flavor of PG Tips is fairly round with a bit of maltiness but not much brightness. It has a very dark color that can almost be compared to coffee if brewed long enough. This is not a fancy tea – it is an average workhorse that will get you through the day with a decent flavor that is not too weak nor too strong. We would still recommend adding a splash of milk, but sugar is really not necessary.
Tea Tip: PG Tips is packaged in different countries. Look for the UK version as it is superior to the others. 
What We Like
The taste without sugar is not offensive
Easy to brew
Inexpensive
What We Don't Like
Not much flavor to look forward to
Hard to tell which country packaging you will receive
Sale
Features to Consider for English Breakfast Black Tea
Black tea along with its relatives green tea, white tea, and oolong, are pure teas. This means that they are all made simply with one type of leaf and processed in one particular way. Black tea has been fully oxidized, put through a heating stage, and then dried. This creates a large amount of flavor and caffeine (as opposed to other pure teas).
Different Manufacturers Create Different Breakfast Blends
English breakfast tea is blended using different black teas, with the tea master aiming for a strong, dark blend with just a touch of brightness added to it. This is why it is sometimes considered more of a morning tea than single-origin black teas. This does, however, make it impossible for all teas using the same name to taste exactly the same.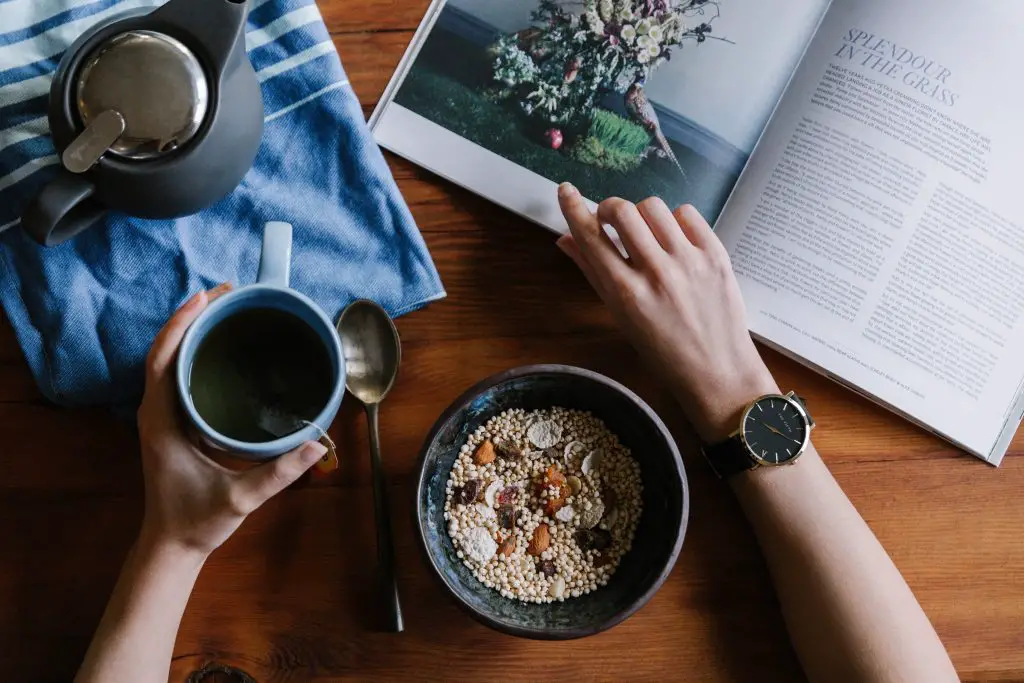 Whether because of the preference of the tea master who is blending the tea, access to different countries or tea farms, or simply cost differential, each tea company has its own unique blend of black teas that make up English breakfast tea. 
For makers who have one particular flavor that they aim for year after year, they have to make sure that their supply of particular leaves from specific farms are consistently available. This is easier for larger companies that have established their own farms, or relationships with particular growers, and are also able to spread their own tea plants to specific areas of the world.
Different Tea Leaves Produce Different Flavors
The country of origin of the tea leaves are often listed on the packaging, so for a brand you have not tried before, you may be able to get a sense of how it will taste once brewed. Here are the main types of tea leaves, or tea origins, typically found in English breakfast tea.
Assam – The majority of manufacturers base their English breakfast tea on Assam, a tea originating from the region of India by the same name. This leaf helps with the malty flavor most tea drinkers come to expect, and also adds a rich color to the tea when brewed.
Ceylon – The country of Ceylon has since been renamed Sri Lanka, but the tea from that area is still called by the same name. Ceylon adds a spiciness to tea blends that it is featured in, with slight hints of citrus.
East Africa (Kenya, Rwanda, and others) – Black teas are the primary type of tea coming out of this region of the world. They are known for their rich depth of flavor, building on the unique terroir that is available to them.
China – No discussion of black tea would be complete without China taking part. While Chinese black tea is not used as often in English breakfast tea, it adds a different type of complexity to the blends that are hard to match with other cultivars.
Other Teas from India – Darjeeling often makes an appearance in high-end flowery English breakfast teas. Nilgiri has a specific earthy scent and a very strong taste.
Caffeine Levels in English Breakfast Tea
Compared to coffee, tea generally contains quite a bit less caffeine.
Of teas that are brewed with water, black tea generally contains the highest caffeine content, white tea has the least, with green and oolong teas square in the middle. Black tea contains about half as much caffeine as coffee.
Since English and other breakfast teas are blends of different teas, the difference between the level of caffeine from one tea company to the other can be quite large.
For example, the Vahdam English Breakfast Tea reviewed above has a very high level of caffeine for a tea, while Twinings would generally have much less.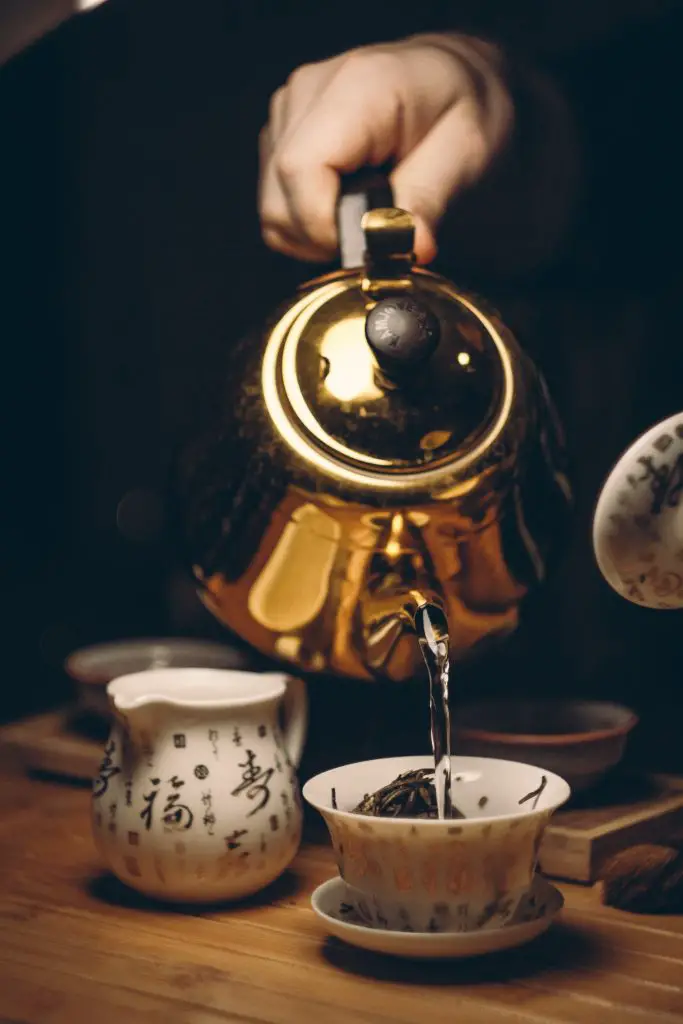 This could be due to the fact that Vahdam's breakfast tea is made of whole leaves, while the others are crushed and cut leaves within tea bags. Or, it could simply be that the blending of Assam, generally a high caffeine tea, with the other varieties in Twinings reduces the caffeine content. Vahdam uses 100% Assam leaves in their blend.
Other Types of Breakfast Tea
Before the term "English breakfast tea" was coined in New York in the mid 1800's, it was common for people to mix together different types of black teas for breakfast blends in their own homes. The blends typically called "breakfast tea" are identified by their high caffeine content and a strong flavor that stands up to milk and sugar.
Irish breakfast tea generally has a higher percentage of Assam tea than Ceylon. By this description, you might say the Vadham breakfast tea could be considered Irish instead of English, but that would be splitting hairs. The main difference is that Irish breakfast tea tastes even more malty than English, with less brightness.
Scottish breakfast tea adds another layer of complexity by including Darjeeling tea in its blend. Boasting the most powerful taste of the three breakfast teas, the addition of Darjeeling in Scotting breakfast tea creates a wonderful experience by adding a flowery bouquet to the mix.
Conclusion
What started out as a simple blend of a few different black tea varieties eventually turned into a market for what some consider to be the most popular blend in the world. The best English breakfast teas often have specific qualities that make them more attractive for different tastes and budgets, so we hope this article has helped you choose the next tea with which to start your day.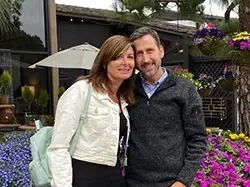 Scott is the founder of TeaMinded. He enjoys tasting and discovering teas from across the globe, with green teas and ceremonial matcha from Japan being among his favorites. He's grateful to be immersed in the tea community, always learning and sharing along the journey.