If you buy something through a link in our posts, we may get a small share of the sale.
Last Updated on June 16, 2022 by Scott
One quick visit to the Stash website is enough to see that their Stash White Christmas White Tea is one of their most sought-after infusions. You'll see several customers begging they bring back their Tea Bag Limited Edition. That's why I felt particularly lucky when I had the privilege of trying one, and just in time for the holidays!
You see, every aspect of this blended white tea screams Christmas, from the Pacific Northwest peppermint to the subtle ginger root notes. It's good with an added touch of sweetener. I only needed to add a bit of my favorite sweetener to enjoy an enchanting cup of this holiday infusion!
Now, I'm often skeptical of infusions that claim to taste like something– especially when this something is Christmas– but, oh wow! This tea definitely delivered the flavor it promised, and I wanted to share my overall thoughts and experience with this tea.
The Brand Behind White Christmas White Tea
Founded in 1972, Stash Tea can look back on over 47 years of experience in the production of high-quality tea bags. This company started in Portland by Steve Lee, Dave Leger, and American tea entrepreneur, Steven Smith. From an old Portland Victorian-style house, they began producing its classic flavors: Lemon Ginger and Chai Spice.
Stash Tea began supplying loose herbal teas and bulk herbs to natural food stores. Soon after, they became one of the first companies to use peppermint for teamaking. They grow the most flavorful, fragrant and potent mint in their own Pacific Northwest backyard.
Since then, Stash Tea has broadened its focus to include bagged teas among other specialty teas and tea products. They also expanded their offer to fine restaurants and individuals through mail catalogs. They even opened their own retail store in 2005.
The Best Ingredients
When it comes to tea, the best ingredients are important requirements for quality. Stash Tea believes that sourcing the best ingredients is the key to creating quality tea. That's why they've partnered with farmers and suppliers who also share this conviction.
Their focus goes beyond sourcing the best ingredients. They only source ingredients and materials that are GMO-free. All this is done to make sure their products are not only safe for you, but also to the environment.
Most popular tea packages often include plastic that comes from GMO-Corn. Stash Tea uses tea bags that are free of plastics and instead come from sustainable, unbleached natural fibers. I drink Stash confidently knowing that every component in my tea is free of GMOs.
The Teas
With over 250 different flavors to choose from, saying they offer a great variety of teas is an understatement. You're bound to find a flavor that easily becomes your next favorite. Instead of listing all their available flavors, it's best to divide them into four categories:
Loose leaf
Organic
Premium
Holiday specials
Loose Leaf
Stash Tea offers premium loose-leaf tea you can brew in a strainer or tea press for a remarkable cup of tea. They source their loose leaf teas around the world and blend them in Oregon.
Organic
Their organic teas are available in a wide variety of flavors and the full range of caffeine levels. These go from herbal tisanes to English Breakfast. They are all certified Organic by the National Organic Program.
Premium
Stash Tea also makes a premium line with high-quality tea from some of the finest tea estates around the world.
Holiday Specials
Stash Tea also makes Holiday Special flavors like the Stash white Christmas White Tea. These flavors mean to transport you to favorite holiday moments. For many people, enjoying an enchanting cup of tea is a big part of the holiday experience.
Stash White Christmas White Tea Review
Stash is famous for its unique blends, and this particular tea lives up to that reputation. Keeping with this Stash Tea tradition, the Stash White Christmas White Tea is a bold taste. The first thing you notice when you open a package is the pleasing fragrance, very fitting for this time of year.
What makes this tea unique is the flavorful balance between the refreshing notes of peppermint and the right amount of ginger. The peppermint was cool and refreshing, while the ginger root was subtle. While ginger can be too overpowering sometimes, it was a nice contrast to the coolness of the peppermint.
The Stash White Christmas White Tea doesn't need any sweetener and it's good enough straight-up. Just to follow the holiday sensory experience, I added a drop of maple syrup and it was awesome! This minor addition really kept up with the Pacific Northwest vibe of the brand, in my opinion.
For our usual readers, take note this is a white tea. So, the ideal temperature for steeping is between 150°F and 170°F. You should also remember to steep it between 1-2 minutes. Especially good as an after-meal tea, we recommend you try this out after your holiday dinner.
What I Like
The pleasing, festive fragrance
Peppermint was refreshing and cool
The right amount of ginger root was used
Convenient Tea Bag Limited Edition
High-quality Sourced GMO Ingredients
What I don't like
This flavor is only available as loose leaf when it's out of season – this is not a deal-breaker by any means, but I do think it's worth mentioning.
Final Thoughts
As I said, I'm sometimes a skeptic when a brand claims that something tastes like Christmas. It's hard to translate a complex experience like the holidays into one cup of tea. I must say that this particular tea definitely delivers on that promise. As I tasted this tea, I can easily find myself closing my eyes and dreaming of sleigh rides, sitting by the fireplace, and opening presents.
The Stash White Christmas White Tea is a very enjoyable, high-quality tea. The unique combination of peppermint and ginger root gives you a flavorful combination that delivers on that promise of tasting like Christmas. I'd go as far to say that it is an ideal tea to quietly sip while creating new memories with your loved ones, or just going back to all the special, old ones.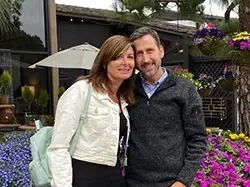 Scott is the founder of TeaMinded. He enjoys tasting and discovering teas from across the globe, with green teas and ceremonial matcha from Japan being among his favorites. He's grateful to be immersed in the tea community, always learning and sharing along the journey.