There are many types of herbal teas available in the marketplace, but one of our favorites is dandelion tea for its variable taste and health benefits. Depending on whether the tisane is made with dandelion root or its leaves and flowers, you can get many different flavors from this common plant. Today we will discuss what we think is the best dandelion tea in a few different categories.
Our Top Dandelion Tea Reviews
Dandelion extracts and teas have long been a staple of Native American and Chinese medicinal culture. In addition to being naturally caffeine-free and full of antioxidants, dandelion is also an excellent source of different vitamins and can give you some excellent health benefits. Do not ignore this everyday backyard weed, because dandelion offers a little something for just about everyone.
Brand
Best Overall
The Republic Of Tea
Best for the Money
Dandy Blend
Best Cheap Pick
Kiss Me Organics
Product



Best Overall
Product

Best for the Money
Product

Best Cheap Pick
Product

Best Overall Dandelion Tea – The Republic Of Tea Organic Dandelion Superherb Herbal Tea
The Republic Of Tea always produces excellent quality teas, whether herbal or caffeinated, and this one is no exception. Their The Republic of Tea Organic Dandelion SUPERHERB... adds the flavor of vanilla to the dandelion root, elevating the taste to a higher level, and it is certified USDA Organic.
Dandelion root by itself, especially when toasted, has a bit of a coffee flavor and can become bitter when over-steeped. The addition of organic vanilla flavor to this blend helps tone it down and mellow out the final aroma and taste. We do recommend adding a bit of fat, whether from dairy or coconut oil, to really smooth out the flavor and mouthfeel of this tea.
Sweeteners are not really needed with this organic tea, but a touch of maple syrup goes a long way to bring out the vanilla flavor.
One of the few drawbacks of this Republic of Tea dandelion tea is that it comes pre-packaged in tea bags. The sachets are of a high quality, but they seem to have a small amount in each. For larger mugs, you will definitely want to use two tea bags, or steep one tea bag for a very long period of time, to get the most flavor and extraction.
What We Like
High quality organic dandelion and organic vanilla flavor.
The addition of vanilla is subtle and adds just enough flavor to make a difference.
Well designed sachets do not lose material.
Certified "Compact by Design" packaging.
What We Don't Like
The amount of herbs in the sachets seem a little small.
The dandelion that the roots are gathered from are grown in China. The tea is certified USDA Organic, so that should allay any questions about the health benefits, but we would prefer a closer source.
The Republic of Tea Organic Dandelion SUPERHERB...
SUPERHERB DANDELION TEA: Arabian physicians have used dandelion root as a medicinal herb since the...
PREMIUM INGREDIENTS: This herbal tea features organic roasted dandelion root and natural organic...
SUPPORTS DIGESTION: This organic digestive tea is known for its cleansing properties
Best Dandelion Tea for the Money – Dandy Blend Instant Herbal Beverage with Dandelion
This interesting product is not quite a tea, but not quite a powder mix – it lies somewhere in between the two. Dandy Blend has created an Instant Herbal Beverage that mimics instant coffee but is more along the lines of an herbal tea. This particular blend is based around dandelion, so we felt it would be an excellent addition to our list.
In addition to water soluble ground dandelion root, Dandy Blend also contains chicory root extract, barley extract, rye extract, and sweet beet roots. The organic version does not contain sugar beet root, but the way the extraction process is done, fructose is converted during the extraction process, allowing for it to still be slightly sweet.
The blend of all of these extracts is water soluble and ready to stir into water or other beverages. It can be served hot or cold, but we prefer it mixed into a thick, hot mixture reminiscent of a rich espresso. You can use this as a base for a cappuccino or other steamed milk drink. As with most dandelion teas, it is caffeine free.
Dandy Blend is gluten free. Even though it lists barley in the ingredients, the barley is extracted with a process that uses water and does not produce malt. They use ELIZA tests for gluten and gliaden, ensuring that you can be confident in the gluten free status of their product. It is also Non-GMO, Kosher, Vegan, and Vegetarian.
What We Like
Large amount of dandelion root as well as other natural ingredients.
Great flavor.
Easy to prepare in a drink, smoothie, or even to bake with.
Gluten free, Kosher, Vegan, and Vegetarian.
What We Don't Like
It can be confusing if you will be receiving the Organic or Original version.
You have to be very careful to seal the packaging after use so moisture does not make its way into the packaging.
454 Cup Bag of Original Dandy Blend Instant Herbal...
Made from the water soluble extracts of roasted barley, extracts of roasted rye, extracts of roasted...
Has the consistency of instant coffee and can be served hot, cold, or in your favorite recipe....
Used as a coffee substitute or complete replacement for coffee as it tastes like a full bodied cup...
Best Cheap Dandelion Tea – Kiss Me Organics Dandelion Root Tea Detox Tea
This tea from Kiss Me Organics is a little different from the previous teas since the dandelion root is raw instead of roasted. Dandelion Root Detox Tea contains raw dandelion root blended with hibiscus and Ceylon cinnamon, helping to create a fuller taste with a little sweetness to it.
Raw dandelion root, while it can be a slight bit bitter, also preserves the bioavailability of the multitude of vitamins and minerals that are provided by the all natural organic ingredients. This tea has a plentiful amount of vitamins A, C, D, and B-complex. It also contains minerals such as Zinc, Potassium, and Iron.
Kiss Me Organics advertises this tea as a detox tea. While there are no official rules as far as what constitutes a good detox tea or supplement, the main thing to look for is how much of a diuretic the ingredients are, helping you flush the body on a more regular basis. Dandelion tea, whether from the root or leaves, is an excellent diuretic to help you detox.
What We Like
Low entry price to try out dandelion tea.
Impressive flavor where the sweetness of the hibiscus stands out more than the bitterness of the raw dandelion root. Cinnamon is barely noticeable.
Raw dandelion keeps the nutritional and medicinal properties stable as opposed to roasted.
USDA Organic Certified.
What We Don't Like
The packaging can be inconsistent, with teabags accidentally being opened with their individual pouches.
Can be too effective for people with sensitivities to diuretics since the root is raw.
Dandelion Root Tea Detox Tea - Raw Organic Vitamin...
NATURAL INGREDIENTS - Our dandelion root tea is formulated from raw ingredients to preserve...
DELICIOUS - Made from dandelion root, hibiscus, Ceylon, and cinnamon, our dandelion tea is a...
DETOX TEA - Our 100% organic dandelion root tea is rich in antioxidants - its detoxifying properties...
Most Sustainably-Sourced Dandelion Tea – Traditional Medicinals Organic Roasted Dandelion Root Herbal Leaf Tea
When it comes to dandelion tea as well as any tea that you will be preparing at home, it is important to trust that the source comes from sustainable origins and is grown and harvested as naturally as possible. The Traditional Medicinals Dandelion Root Tea follows the Traditional Medicinals tradition of sourcing in the most ethical way possible.
The tea itself is made of pure organic dandelion root, ground and roasted for a heavier flavor than leaves or petals might show. It is not blended with any other herbs or leaves so you can count on the effectiveness of dandelion not being overshadowed by anything else in your brew.
As mentioned above, Traditional Medicinals deals as directly as possible with the farms that they receive their herbs and leaves from. The dandelion in this tea is harvested from wild meadows in Eastern Europe. Their high standards are very difficult to beat, and their foundation sets the bar for preserving and advancing ethical tea sourcing.
The Traditional Medicinals dandelion root tea is organic, Non-GMO verified, Certified Organic, Kosher, and Caffeine free. It comes in easy to use teabags
What We Like
Transparent, ethical sourcing of ingredients.
Pure roasted dandelion root, not a blend.
USDA Organic Certified.
What We Don't Like
Inconsistent amounts of material in tea bags.
May be a little too bitter for individuals who are just getting introduced to dandelion tea.
Traditional Medicinals Tea, Organic Roasted...
Stimulates the liver and supports healthy digestion.
Non-GMO Verified. All Ingredients Certified Organic. Kosher. Caffeine Designation: Decaffeinated
Consistently high-quality herbs from ethical trading partnerships.
Features to Consider for Dandelion Tea
Dandelions are normally considered an intrusive weed, popping up in the middle of a well-manicured lawn and annoying homeowners. However, botanists consider the dandelion an herb, and just like most other herbs, it has properties that have been appreciated by shamans and healers for centuries.
Dandelion Tea Benefits and Effects on the Body
Dandelion tea has been used to try and help with liver function, improved digestive processes, and primarily as a detox supplement. Some benefits of dandelion on the body have been studied, but many are only anecdotal, although it has been used for these reasons for a very long time.
Vitamins and Minerals in Dandelion Tea
Dandelion tea is a good source of minerals as well as vitamins. It is estimated that one cup of dandelions has over 100% daily value of vitamin A and five times the daily recommended amount of vitamin K.
Minerals
Beta-carotene
Zinc
Iron
Calcium
Magnesium
Vitamins
Vitamin A
Vitamin C
Vitamin K
Diuretic Properties of Dandelion Tea
Dandelion has been proven to be an effective diuretic, whether consumed whole or strained into tea form. Because of this, it is often recommended or labeled as a detoxification (or detox) aid to help flush the body. When drinking dandelion tea as part of a detox plan, be sure to follow precautions so you do not end up being dehydrated.
Dandelion Tea and Liver Function
Dandelion contains polysaccharides that can help with the way the human liver functions. DRP1 and DRP2, two polysaccharides in dandelion, can help keep the liver from being too damaged. In a 2017 study by China Pharmaceutical University, they concluded that "DRP1 and DRP2 might be suitable as functional foods and natural drugs in preventing APAP-induced liver injury."
While this is not absolute scientific proof that dandelion will help with your liver, the methodology is sound, and may in fact benefit you.
Dandelion Tea Side Effects
As with many other medicinal herbs, dandelion is considered safe for most people, but there are exceptions. Some people are allergic to dandelions themselves, not only when they eat it or drink dandelion tea, but sometimes simply from touching it. These individuals should absolutely avoid dandelion tea or any food product with dandelion as an ingredient.
You should not consume dandelion tea if:
You have with allergies to echinacea, marigold, chamomile, ragweed, chrysanthemums, or daisies.
You are taking any of the following medications: Cipro, lithium, or any diuretics.
You experience gallbladder inflammation or digestive obstructions.
You are pregnant or breastfeeding.
Different Types of Dandelion Tea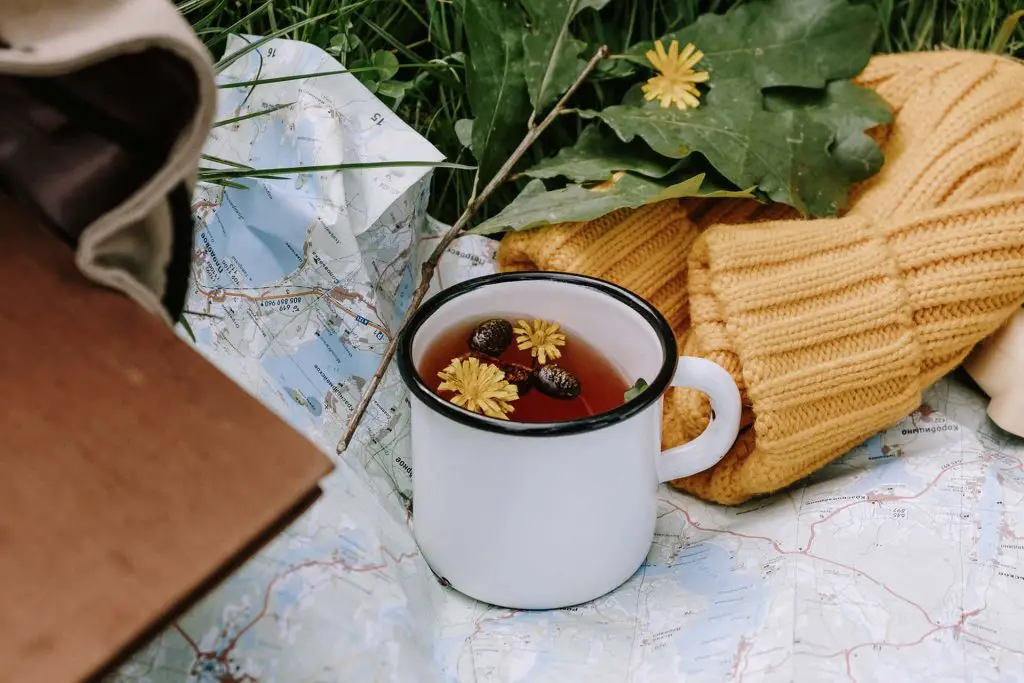 Dandelion tea can be made in a few different ways. The most common difference is whether the dandelions have been roasted or not. Roasting brings out more flavor from the dandelion root, but also breaks down the helpful vitamins and minerals so they will not have as much of an effect on your body.
Parts of the Dandelion
There are also different parts of the dandelion that can be used for tea and other purposes. While the roots are most commonly used for tea, the leaves and the head can be used as well. In their raw form, the leaves take a very long time to steep, but they do not hold up to roasting as well as the roots to. Because of this, it is generally recommended that you save the leaves for salads.
Dandelion leaves are also a stronger diuretic than dandelion root, and as such should be consumed with care.
Dandelion Tea Blends
Dandelion is often blended with other herbs or flavorings when packaged as a tea. Cinnamon and vanilla are consistent flavors that show up, and often it is mixed with flowers like hibiscus to add a sweet flavor and improve the aroma. Chicory is a common additive as it is very much like coffee.
Be careful if you are looking for caffeine free dandelion tea. Some blends, although they may be very few, may combine tea leaves in the blend as well. While this may create a very tasty beverage, it will add caffeine where you may have thought there was none.
Conclusion
You can make dandelion tea by collecting all the dandelions from your garden, stripping the leaves and heads off, and roasting the roots. However, it is a long process, and we have some excellent suggestions for dandelion tea you can purchase without all the extra work.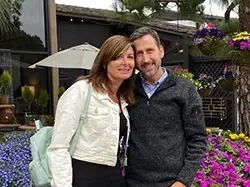 Scott is the founder of TeaMinded. He enjoys tasting and discovering teas from across the globe, with green teas and ceremonial matcha from Japan being among his favorites. He's grateful to be immersed in the tea community, always learning and sharing along the journey.