An ongoing goal here at TeaMinded is to highlight great tea websites and resources…and The Daily Tea definitely qualifies for recognition on many fronts.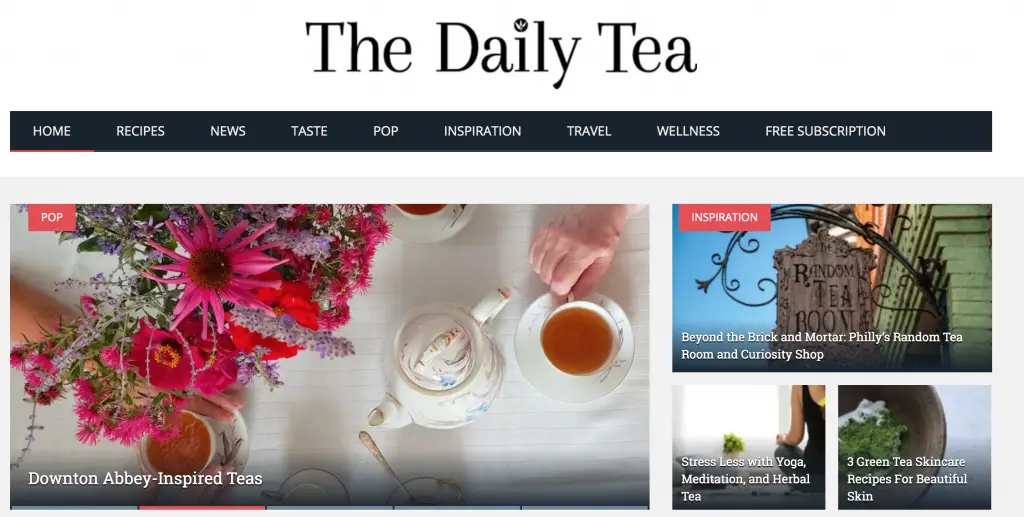 How It All Started & What's It All About
It was in 1994 that Pearl Dexter started this magazine to fulfill her vision and passion for tea. She wanted to create a tea community where every tea lover could visit and share their thoughts on everything that has to do with tea making, brewing and teaware. However, in 2012, Pearl passed on that vision to Media40 and they have been continuing her work by striving to foster her vision even further with their motto, 'We Want to Grow the World of Tea.'
The Daily Tea is for all tea lovers of all levels, from hardcore tea drinkers to the casual/occasional ones. The aim is to be more than just a online magazine that tells its readers about tea, it's about inviting you to the fascinating culture of tea, the people who grow it, their tradition of tea making and drinking, the rituals and the peace that comes after having a nice cup of tea.
It's very evident that the folks at The Daily Tea want you to learn the art of making and enjoying quality tea. As the old saying goes, 'It isn't what you do; it's the way you do it'. Coming up with fun and useful ways of tea brewing, readers of this online magazine will find lots of educational stuff when visiting The Daily Tea website. There are a lot of stories told by different people about how they ended up as tea lovers, how they came up with a new way of brewing and blending different teas. The world of tea is full of amazing people whose lives orbit this fascinating beverage. Visitors have the option of signing up for a daily, weekly or monthly newsletter so they don't miss anything that goes on in the world of tea.
Features of the Daily Tea Website
When you visit the Daily Tea website, you will be greeted with an aesthetically beautiful, yet simple website. The design is much like an e-magazine that focuses solely on the love and spreading the word of tea. The different sections of the website's homepage show you the latest updates. From new recipes to news that gives the reader an inside look into the health benefits and other uses of the huge varieties of tea that are present in the world today. The different sections of the website are:
Let's have a look at each section of the website.
Recipes
The recipe section of the Daily Tea website is an archive of different recipes of not only simple tea brewing, but different ways of making different blends of teas, dishes that go with tea, iced teas and so much more. By looking at the recipe list alone, you will know how much the people at the Daily Tea love their work. There are not many places online where you will find people putting this much effort into the art of tea.
Among the most recent posts you will get to read recipes on how to make Matcha donuts, Thai Iced Tea Float, Oolong donuts with Milk Tea Glaze and how to make a Peach Tea Punch to cool yourself down in the summer heat. These recipes are fairly easy as the ingredients and teaware required is easy to find online. Most homes may already have the kitchenware to make these different blends of beverages and sweets. Who could have thought you can make donuts with tea? This is what sets the Daily Tea apart from the rest, an amazing list of recipes to charge your taste buds.
At the time of the time of this writing, The Daily Tea is preparing to launch a show that is all about showing you new recipes of tea brewing and baking desserts to have with your cup of tea. The star of the show is Alexis Siemons, a professional tea chef who shares with you new and amazing teas and desserts. You'll be able to tune in to watch The Alexis Show on a weekly basis to learn mouth-watering recipes to make for your family and friends.
News
The news archive is where you can read everything that is tea. From its health benefits to the many different ways you can use the tea powder or tea petals in different aspects of your life. This section is full of interesting articles about how teabags can be beneficial for dogs, how tea is conquering the world with its taste, discussions about the differences between organic and non-organic teas and how herbal teas can help reduce chances of colon cancer.
This page is updated regularly so it is a good idea to visit it on a regular basis to read new interesting stories and facts related to the world of tea. The fascinating stories coming in from all over the world are a must-read for any and all tea lovers.
Taste
This section is all about the taste of teas. There are hundreds of different types and blends of teas in the world. With so many varieties, there has to be someone who keeps you posted on how they are grown, picked, packaged, and most importantly brewed. The Daily Tea is full of people who love tea and their love makes them try new blends, mix and match different teas and share with the world. Tea lovers and tea chefs from all over the world share their experiences through the Daily Tea as well.
You can learn ways of making your tea even tastier with spices, the time for which you should steep a particular tea, how to grow your own tea and how you can use tea to power through your exams. It is interesting stuff like this that makes the Daily Tea website a must visit. Whether you are a tea lover or not, you will likely find something fascinating to learn. Something you can share and talk about with family and friends.
Pop
The 'Pop' page is all about tea pop culture. Here, you will get to read about the many cultures and how tea has been and still is a part of their tradition and heritage. Every culture brings with it their own unique teas, ways of brewing these teas and the teaware used for brewing and drinking them. They all have their different methods and teaware in various designs and shapes. For example, you will see Chinese teaware with dragons and other mythical creatures gracing the teapots and teacups, while the Japanese will often have different sceneries with mountains and trees.

There is so much to tea than simple brewing and drinking. The world is full of amazing teaware and tea blends, more than you can even imagine and this is where you get a glimpse of how vast the world of tea really is.
Inspiration
This page is all about the inspiration. People need something to inspire them to succeed in their lives. The world has become a battleground when it comes being plugged-in, managing work-life balance, careers and other aspects of life. Everyone struggles to be at their best but not everyone succeeds in following their dreams. They need something to inspire them to keep them going forward. They want encouragement but also peace of mind to move ahead. This is where tea comes in.
There is nothing better in this world to calm and sooth the mind than tea. Many people have found tea beneficial in relieving stress and calming their minds. This is where the Daily Tea inspires. Updated 2 to 3 times per week, you will find nothing but inspiration on this page. If you need a jolt to kick start your day, brew yourself a cup of your favorite tea and wallow in the inspirational words on the Inspiration page.
Travel
As the name suggests, people travel the world in search of the perfect tea. Many go to Asian countries like China, India and Japan in search of the perfect tea. Some travel to find new teas and blends to add to their tea brewing and enjoyment. The writers on this page share their stories and tales about their many adventures around the world. Most of the people who travel to these regions also go to establish business with the local farmers. With the demand for good organic tea growing in the US and around the world, it has become imperative for all tea merchants that they acquire their tea from the source so that it is pure, fresh and organic.
If you are a fellow traveler yourself, you can also read up about the different teashops in the place you are going to. For example, if you are going to London and are a tea lover, you can find articles that talk about the different teashops in the metropolitan city. Same is the case if you are traveling to other parts of the world.
Wellness
You may have read about the numerous health benefits of tea. With so many teas and tea blends to choose from, you can easily get confused as to which tea to drink to remedy your ailment. The articles on this page are all about how these different teas can be helpful in energizing your brain cells, soothe your voice, cleansing your inside organs and how to lose weight with the help of tea.
You cannot find a more natural way of treating any health issue you may have. Teas has been associated with helping people with diabetes, blood pressure, cholesterol and even Alzheimer's and cancer. Read up and increase your knowledge about the many health benefits of tea in the Daily Tea wellness archives.
The People behind the Daily Tea
The team who work to keep the Daily Tea informative and useful describe themselves as a fun bunch, which they are when you read their bios. They love what they do and share a common love and passion for tea. You will see that love and passion when you visit the site and get a look at its aesthetics and user-friendly design and navigation. So, who are these people who love tea so much and bring us tea enthusiasts such great content?
Graham – The Boss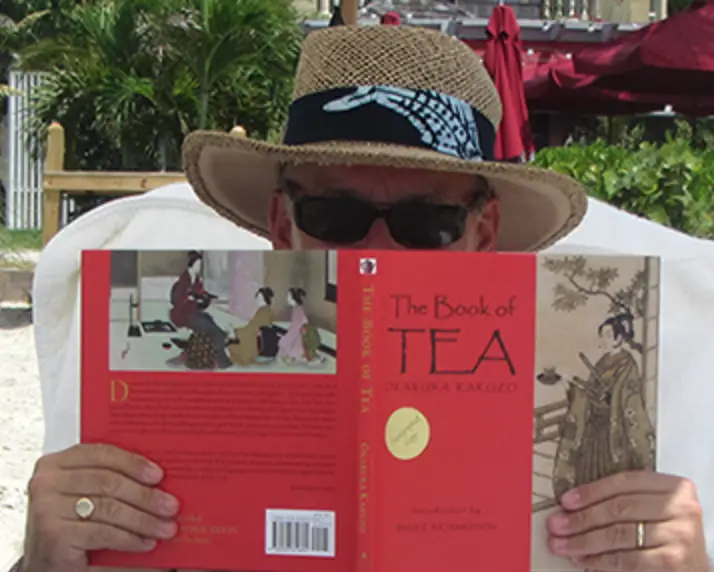 Growing up in England, Graham has Tea written all over his DNA. If you read about the history of tea, you will know how the British love their black tea in the mornings and evenings. However, his love for tea didn't just come from his heritage. It came from his experience while working in Japan, China and Taiwan. These are the birthplaces of tea and how can someone not fall in love with tea when you get it in its purest and traditional form.  For Graham, every day is tea day.
Eileen – Admin Manager
Eileen's love for tea started with her visits to her grandmother's house. For her grandmother, sharing and drinking tea with her loved ones was considered special. While her grandmother enjoyed a fusion of lemon and honey, Eileen loves hers with sugar and milk. To this day, every day has been the same for Eileen as it was with her grandmother all those years ago. She has started adding other varieties of tea ever since she joined the Daily Tea and tries out new ways of brewing. However, for Eileen, there is nothing better than a good cup of robust black tea with sugar and milk added.
Note – this is a glimpse of just some of The Daily Tea team (the ones highlighted on their "Us" page).  There are a range of other contributors and key players, and a variety of Brand Journalists and tea writers who regularly contribute to The Daily Tea with great content.
Conclusion
If you want to be a part of the Daily Tea community you can sign up at the website with your very own account. By signing up, you can stay up-to-date with everything that goes on in the Daily Tea website and in turn, stay connected with the world of tea. There is always someone posting something interesting in the comments section, so take part in the conversation and get to know other tea lovers too.
All in all, the Daily Tea website is a great resource for all tea lovers. There is always something new to learn and share and you never know when you might make a new friend. With an amazing team writing and curating quality and useful content, the Daily Tea (as its name suggests) is a place that deserves a daily visit.
What are your thoughts? Do you regularly read/visit The Daily Tea? If so, what do you like most? What other websites and resources would you recommend for tea enthusiasts? Please share your thoughts in the comments section below, as we work to build a thriving tea community!
You can also find The Daily Tea on Facebook and Twitter
Photos copyright: The Daily Tea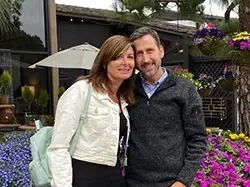 Scott is the founder of TeaMinded. He enjoys tasting and discovering teas from across the globe, with green teas and ceremonial matcha from Japan being among his favorites. He's grateful to be immersed in the tea community, always learning and sharing along the journey.